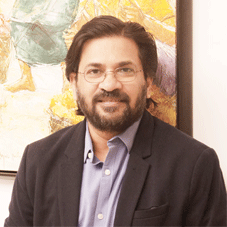 For the longest time now, paintings and artworks are confined to four walls of traditional art galleries. Breaking the odds, Pisarto – the tech-enabled online art gallery has taken the digital-first approach to bring Global Art to the doorstep of art lovers at a reasonable price.
The founder of Pisarto, Pinaki Gupta, left his corporate job in a leadership role, after working for two decades with a TATA Group company. Though it was a tough decision, today, Pinaki is glad to chase his passion of democratizing the art industry. His single-minded focus is to encourage and empower talented artists while bringing about a change in the buying behavior of art lovers. "On one side we are allowing art buyers to acquire art at attractive price points along with making the buying process easy.
While on the other side we are offering a platform for artists to gain access to a wider audience and not be restricted to their local markets or cities," he proudly informs. CEO Insights engages an interview with Pinaki to get more about his brand as a top online art galleries of 2021.
How did you conceive the idea of Pisarto Online Art Gallery?
The idea for coming up with an online art gallery goes back almost a decade. Two events/experiences had a huge impact on shaping the way Pisarto has been conceptualized. Firstly, buying my first piece of art – There was a painting I liked and to acquire it had to break the bank. In fact I had to wait for a couple of years to buy it. Secondly, the experience of visiting art galleries – This was such an overwhelming experience and gave an impression of being too elitist.
The experiences made me realize that there were many buyers in India like me who were either first-time buyers or avid art lovers but did not find either the price point attractive or the buying experience very comforting. Pisarto set out to address these two issues for art lovers.
Tell us about the artworks featured
on your website. Also, throw some light on sourcing process followed for these artworks along with the pricing model.
Pisarto offers a rich mix of artworks, namely paintings and sculptures curated from established and emerging talent. Our sourcing model is mostly directly from the artists or Trusts. We avoid having resellers and agents. Quite a few of our listed artists are regular on the exhibition circuits & galleries and have already made a name for themselves.
We encourage artists who have a distinct style to list their works on our platform. The works are evaluated by a curating panel before we onboard them. There is a strict process of evaluation of artists and selection of their works that finally get listed on Pisarto.
Pisarto's pricing model is guided by our core philosophy of making art available to buyers at attractive prices while making it exciting for the artist
Our pricing model is guided by our core philosophy of making art available to buyers at attractive prices while making it exciting for the artist. Our artists spell out their price and we charge our fees for value add that we provide through marketing, platform, and delivery services. More importantly, artists do not need to pay anything for registering or listing their artworks.
How do you ensure the quality & authenticity of artworks sold on your online gallery?
Quality, authenticity, and originality are key aspects of the art business. We understood this requirement upfront and hence we set up a curating panel of eminent and experienced artists who can evaluate the art for quality. We insist on a certificate from the artist to substantiate their claim for authenticity and originality.
For every artwork that's sold on Pisarto, the artist has to ship it to our warehouse in Mumbai. We do physical verification of the art from a quality perspective before we ship it to the customer. We believe in providing great quality products and services to our customers.
Along with a user-friendly online interface, we wanted our buyers to experience as much as they would in a physical gallery. An example of
that is the "Art on Your Wall" feature that allows one to see how the painting would look like on some canned home environments as well as allows one to upload an image of their home and experience how the painting will look like in their actual home environment. One can move the painting to change its location on the wall as well as resize it to get a better feel.

Throw some light on your team of artists and their professional experiences.
On our platform, we have works of established and prominent artists apart from upcoming talent from India and Southeast Asia. We have some very unique artists both in terms of themes and techniques. For us what matters is the talent, creativity & originality of the theme, and the final output. We do not go so much by the academic or professional experience of the artists.

One segment that we are very proud to promote is the women artists. We consciously encourage them. We have a separate segment on our website for them so that their works get an opportunity to stand out.

Are you planning to upgrade Pisarto Online Art Gallery with new artworks and paintings in the future? If so, tell us about it.
We are continuously looking out for artists who have the potential to bring them to our platform. Apart from that, we also keep adding new works of the artists who are already empaneled. Every week on average we approve and empanel - 3-4 artists although we get a request from 10-15 artists on an average every week.

We are increasing our offering and product portfolio as we are moving ahead. A step in that direction has been adding sculptures. We have more than 50 pieces at this point and we plan to grow this collection in the days ahead.

We are also trying to reach out to a wider audience by partnering with institutions like ICICI Bank and Kotak Bank to give their customers a differentiated offering.

Highlights :
• Pisarto aims to encourage & nurture established and emerging talent by providing them a platform to showcase their work and reach out to a wider audience.
• At the core of Pisarto is simplifying the art buying process.
• Pinaki's vision is to make art accessible and help bring art to every home & office or as he likes to say "You have a wall; we have a painting!