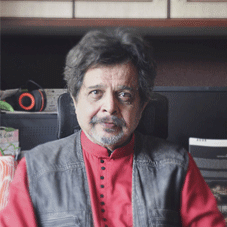 How did you come up with the idea of an online Art Gallery? What was the motivation behind the establishment of the Painternet?
I have been encouraging art and assisting artists in finding new ways to show their work, as well as dabbling in modern and contemporary art myself. I often used to market and sell art offline in galleries, art fairs, and to corporate companies in the late 1990s. It became tedious to procure a specific piece of art (painting, sculpture, relief, installation) whenever a client wanted to see it. At the same time, a few artists started sending us their work through email, which gave us the idea for an on-line repository/gallery where people could find a variety of works of art on a single platform. We conducted extensive research to create a vibrant website with 500 registered artists because there were few online galleries.
What were the initial challenges that you had faced at the beginning of your journey as an entrepreneur?
We were a motivated group with a clear goal in mind: to create an online forum to encourage artists' work. However, there were a few obstacles to overcome. Since the online medium was still relatively new, the technological experience
was limited, and funding to support this project was difficult to come by. Another obstacle was reaching out to artists both inside and outside of the world. We also had to work on raising consciousness about art and its value as an investment among those who were unfamiliar with the concept. We also had to focus on our lack of understanding of the vast array of online possibilities.
Painternet aspires to foster a creative dialogue between artists, collectors, fans, critics, and investors, as well as to create an atmosphere that connects art to a wide range of people
What is it that keeps you constantly motivated at work? How do you ensure the quality & authenticity of artworks at your online gallery?
Art has always been a constant source of inspiration for me; I have always been fascinated by the different types of art and how artists portray it through various mediums and develop their own language. I enjoy keeping up to date on art and art events in and around the world, as well as having discussions about current and future market conditions. Encourage and inspire new talent, guide young artists to curate their own shows, and meet-ups with collectors to share ideas are just a few of the things that keep me going.
Based on their success in modern and contemporary work, exhibits hosted by them, awards and accomplishments, and involvement in art work-shops and live demonstrations, we have a selection committee that chooses work from the applications we receive. We ask the artist to provide us with a letter notifying the quality and copyright of their artwork in order to check its authenticity. If the artist is deceased, we obtain a letter of authentication from a member of the artist's immediate family, if possible, or have the work validated by a certified curator/critic of art.
Painternet has the distinction of being India's first online art gallery and has served the art community and enthusiasts to cater to aficionados of today's art world.
Kindly elaborate more on this.
Painternet.com was established in January 1999 with the belief that every artist needs a forum to display their work, and that because art galleries have limited space; we looked for a virtual/online space for this art domain. The enthusiasm, purpose, and reach were so transparent and genuine that we had the two doyens of the art world, Late Shri Balasaheb Thackeray, a cartoonist known for his deep-rooted sarcasm, and Late M. F. Hussain, a contemporary and talented artist and Padma Bhushan awardee, come together for the first time to inaugurate our online gallery.

Painternet.com is an effort to identify with the variety of artists we have across various genres, their work, and their modest stories, with the aim of the gallery to bring the essence of art into the lives and homes of those unaware of its varied colors and languages. Painternet.com aspires to foster a creative dialogue between artists, collectors, fans, critics, and investors, as well as to create an atmosphere that connects art to a wide range of people!

What is your success mantra in life? How do you maintain a balance between your personal and professional life amid the entrepreneurial challenges?
My success mantra is this very online art gallery that was conceptualized about 20 years ago, added to this is my personal collection of over 1000 works of art (paintings, sculptures, and antiques) collected over many years, as well as interactions with Master and young artists who have always broadened my view about art.

Prashant Shah, MD
An alumnus of J. J. Institute of Applied Art where he completed his G. D. Art, Prashant Shah has been running an advertising agency for the past 45 years. Prashan He enrolled artists who were exhibiting their works in art fairs and galleries when he started the process of setting up the online gallery, which helped Painternet register a large number of artists on their website. Also Prashant's interactions with various artists and sculptors as well as sales from the gallery outside of Asia, resulted in an enthusiastic response in terms of registrations on the site, which houses about 30,000 works of art.
Location: Mumbai