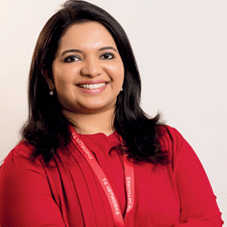 India is eminent for its heritage, culture, values, education, medicine, yoga, varied languages, cuisine, cricket and so forth. Although we are in par with many of the Western, European and Asian countries, when it comes to technology, there are a lot of gaps between the users & technology, which have been left unattended. Truth is, the façade of being a developing nation overshadows a lot of genuine opportunities. Having worked with MNCs in India & overseas, Vineetha Beth(Founder & COO, VA Networks) clearly understands this phenomenon and the areas she needs to concentrate on, as she was exposed to diverse peer interactions, challenges and work processes internationally.
Eventually, Vineetha decided to unveil VA Networks a firm that operates as a technology partner or rather a technology enabler for establishments and projects of all walks (be it an SME, MSME or MNC) across the globe and assuring services that focus on costeffective customer engagement solutions, brand promotions and so on. Possessing more than 16+ years of successful cross-functional experience, predominantly in the Travel & Hospitality industry(13 years) both into operations & sales Vineetha in an exclusive conversation with CEO Insights, shares about various aspects of her personal & work lives. Here are the excerpts:
Kindly throw some light on the unique selling proposition of VA Networks.
The travel & tourism industry is one of the most customer-oriented arenas, where you learn the importance of reaching-out to your prospects in the right away, at the right intervals, be it your existing or prospective clients. The perils of
being in the industry is to be blithe, understand the importance of socialising, keeping upbeat with industry trends, delivering solutions within the allotted timelines and making sure that each customer experiences our services and not just hears or reads about us and comes on-board.
Our company's foundation & soul is aimed towards making hassle-free customer engagement a key ingredient in the success recipe of every single brand we are to get associated with.
There is a constant need for ways to put your self or your brand right out there in the market periodically. If you do this bit right, there are endless possibilities of tapping good business at all times. When VA Networks was formed, I ensured that our company's foundation and soul was aimed towards making eloquent customer engagement a key ingredient in the success recipe of every single brand we were to get associated with.
And that is exactly what we do today through our flagship messaging platform The SMS Buddy. We have further navigated forward and launched our CPaaS (Communication Platform as a Service) products to enable & offer our customers a great platform to reach manage and engage their customers. We position ourselves to be the best in the messaging industry, and this has helped us build great customer relationships across the globe. One of the key aspects that enterprises trust us is the way we handle their data. Our enterprise grade security & compliances to all necessary IS (information security) standards make us stand unique from our competitors.
Family plays an important role in every person's life. How has your family supported you in your career so far? Also, how do you manage to balance between your personal & professional life?
The hardest time frame whilst
starting one's own business is arguably during that immediate period of transitioning from a normal nine to five job where you get your pay check every month to that of a Founder. Particularly when only two in every ten Indian businesses/startups survive over five years! However, despite all this the future remains encouraging for women entrepreneurship. This is possible mostly when you have a great support system at home & at work. I have been fortunate enough to have both these, and I count each one of them as a blessing.

Running your own business doesn't equal to 'no stress'. There are daily challenges of managing cash flow, setting priorities and working beyond the traditional eight hour day practice. All these said and done, we as a team and family, have learned to establish boundaries(like no phones on the table) once back from work prioritize exercise & sleep, and get closer to nature to release and destress.

I truly believe and also suggest that there shouldn't be a division between work and home lives. It's all simply life at the end of the day, and it would automatically be balanced. Despite the job security, when working for someone else, I learnt through my experiences that I am driven and motivated by high risk environments and am much happier as a person when in control of my work and being able to take-up tasks and risks, which are majorly inclined towards projects that are the need of the hour in all sectors.

Key Management:
Vineetha Beth, Founder & COO
An MBA Aviation Management Post Graduate from Coventry University, UK, who has worked in various countries with different cultures within Middle East and India, Vineetha possess an exceptional strength in ensuring delivery of high-quality services to support customer business needs. She also mentors startups and helps them build their dreams.

Offerings: Messaging Solutions, Voice & VoIP Solutions and CPaaS & CRM Solutions

Favourites:
•Hobbies: Music, Motivational books food and travel
•Food: Italian and African cuisines
•Travel Destination: Dubai