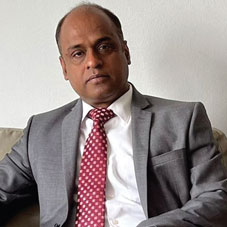 Working with a leading Conglomerate in Saudi Arabia, offering best in class products and services to its customer. In addition to staying in line with the transformation programs, the company has also been exemplary with its business strategies built around staying Agile and providing avantgarde solutions clubbed with best fit operating models. Vishal Gaurav, Head of Governance, Risk & Compliance, has been instrumental in the company pursuing such a progressive growth trajectory. Vishal brings to the table almost two decades of experience, spanning across Strategy, Business Process Management, Corporate Governance and Operational Excellence. His extensive experience covers geographies like India, Europe, Singapore, and Middle East and areas such Designing Strategies and Target Operating Models,developing & implementing BPM, Corporate Performance and GRC (Governance, Risk & Compliance)framework, Corporate Policy Creation and Trans formation. CEO Insights engages in an exclusive interview with Vishal who walks through his professional journey, and the latest endeavors of the company.
Over the past two decades, you have worked in key positions across continents with companies such as Hewlett Packard, Infosys, Yokogawa, Mobily, STC and Saudi Electricity Company. What inspired you to start your professional career in the Process and Governance segment? Also, what drives you today?
After Starting my career in the technical arena as a part of organizational trans formation I got involved in a few key BPM and Governance projects. In the early days itself, it drew my attention in terms of benefits and excellence it brings into an organization, and thereon I decided to pursue my career in Strategy building, Governance and Process & Performance. The ardour to bring values, and helping the organization grow, mature and excel is what keeps me driving every day.
How would you define your organization and its posit on in the market? Also how does your
company differentiate itself from the competition?
In a short span, my company has already established itself as a major player in the market. The company also has concluded a number of partnerships at the local and regional levels to serve the development objectives, and is looking forward to speeding up obtaining additional licenses to enable it to fulfil its mission and role in accordance with the National Transformation Program.
We believe in the growth of our employees, clients, and partners, thereby achieving our vision of serving society
Providing unmatched experience to the customers existing or potential and the transparency that we bring in are the key propositions that set us ahead of our competitors.
You have over 20 years of experience and an envious track record. What is your success mantra?
I firmly believe is the famous saying- 'If you fail to plan, you plan to fail'. I achieved this feat with a simple mantra that precise & fact based vision, and planning in line with optimal governance and controls is what helps you stand and deliver every single time and provides you the opportunity to gauge and improve continuously. Secondly and more importantly, as the dynamics, technology and market requirements are ever changing, keeping yourself updated is the key. It can happen only when you continuously keep learning. Gathering a set of information is commendable but enhancing and enriching the knowledge is the key to compete with the bests. Since early days, I kept my learning continued and underwent multiple programs, courses and certifications in the areas of my interests, such as Business Administration, Strategy & Operations, Economics and International Business, evolving technologies, etc.
How has been your response to the challenges posed by the Covid affected market and the need for new strategies?
Our proactive measures and foresightedness helped us combat most of the challenges this pandemic would have, or rather did pose. Be it the readiness in terms of strong and uninterrupted supply chain, mobilization of ground forces in planned and well ordered manner, or business continuity for delivery and maintenance. We made ourselves ready to adapt to the
remote working culture and collaboration mechanism much before it was required and mandated. When the time came, we found ourselves all set to get going and counter any disruptions or deviations.

Going forward, what are the changes in market behavior that you anticipate and what are the opportunities that you foresee?
In the last few years, and more so in last two years due to the pandemic, we have seen a huge shift in the market behavior and trends, which is going to grow further many folds with evident yet intermittent and unpredictable market and customer behaviors. The customers' inclination and expectations towards availing services or buying products online, having more transparency and unparalleled customer experience, value based purchasing and Omni channel submission are a few consumer behaviours impacting the market currently.

We have witnessed many businesses going down due to erratic consumer requirements and behaviours during the pandemic, yet many of them anticipated the shifts in consumer behavior and leveraged on them to their advantages. Understanding the current trends and anticipating the consumer behaviour certainly provide opportunities and upper hand over competitors. Just focusing on one's offerings or customer demand is not going to help grow, but analyzing, assessing and anticipating consumer behavior, utilizing AI and ML platforms are the opportunities that I see fit and plan to take up.

Vishal Gaurav, Head of Corporate Governance, Risk & Compliance
An engineer and Business Management expert with 2 decades of diverse experience and expertise in International Business, Strategy, Corporate Governance, Process & Performance Management and Risk & Compliance. Holding key management positions, Vishal has worked globally, managed projects/programs across domains and technologies, and helped organizations excel. He has a keen and profound interest towards excellence and possesses experience & expertise in developing solutions and structures from scratch.

Hobbies:Sports, Music and Literature
Favorite Cuisine:Indian and Italian
Favorite Book:The Virtue of Selfishness and Wings of Fire

Awards & Recognition:International and national technical paper publications and multiple Awards & Recognition through out the career