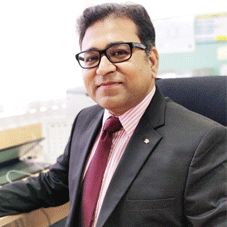 Being one of the World's leading transport solutions provider, it's been quite a while since Volvo became a significant part of Indians' commute plans. The Volvo Group provides an unparalleled opportunity for skilled people to make contributions that matter towards the future-building. The company today is at the forefront of new technologies and services, developing sustainable transport solutions and believes in constantly innovating itself to make its products stay relevant in today's dynamic world. This vision opens-up a broad way of opportunities for passionate professionals and determined freshers alike. The group recently designated the 20-year industry veteran Amit Sharma (Vice President & Head - HR, Volvo Group India) with the demanding task of taking its 4000 people strong workforce to the level-next. CEO Insights engages Amit in an exclusive conversation.
You joined the Volvo Group earlier this year. Going forward, what will be your role and what's your vision of HR leadership?
My current role entails providing strategic HR leadership across the Volvo Group in India. I strongly believe that employees are the driving factors of any organization and I am passionate about people processes that unlock employee potential towards achieving the organizational vision and objectives. Amongst multiple roles I have, one of my favorites is to invest in building and engaging the workforce. This allows us to drive higher value for our customers and enable our people to have the career progression that they desire.
At Volvo, our culture is defined by our values of customer success, trust, passion, change and performance. These values express our shared beliefs across regions & entities and create the foundation
for a high performing culture. We promote transparency between the company and our employees, and we trust our employees to do their best to ensure customer success. Open dialogues and collaborations are always encouraged. Our employees are the drivers of their own careers and we build the right capabilities and competencies in them, while also providing the best work & enjoyable environment that's poised to help them grow and achieve their ambitions. This culture not only attracts top talent, but also retains them.
We are moving away from the traditional attendance tracking system to a more trust-based flexible way of working
With Volvo, what plays the major role in attracting & retaining fresh and experienced talent?
Today's young minds look for more than a good pay-package while deciding their best suited organization. For us in the Volvo Group, technology means the aspiration to move forward, constantly work together to improve, and do better. It leads to having an inhouse team of creative and innovative talent and effective problem solving. We constantly refine today's technology in parallel with the development of new, disruptive technologies within automation, electro mobility, connectivity and alternate fuels. We also encourage local initiatives, sponsorship and volunteer activities in our communities. Our employees share our vision to make a difference and join us on this journey. We trust that every employee has the capability and determination to improve our business operations. At the same time, we have the capability to fuel the ambitions of these professionals by upskilling or reskilling them to improve their competency. The Volvo Group University helps a lot in this regard.
How do you enable your employees to balance their personal & professional lives? To what extent your flexible work schedules contribute towards this?
Work life balance has been one of our key focus areas. We are moving away from the traditional
attendance tracking system to a more trust based flexible way of working. Being a manufacturing organization, this is a pioneering step towards making our employees become more responsible, and helping them manage their work and personal spaces. Our work-from-home policy provides an opportunity for employees to take care of their personal needs at the right time. On the other hand, while our maternity leave policy allows them up to one year of break, our onsite & offsite crèche facilities support employees to help nurture their children while they are at work. Our adoption and surrogacy policies are also quite future forward and ahead of its time in India. We also have a progressive insurance policy that provides support to even the physically/financially dependent or specially abled siblings of our employees. Another initiative is that we have started to establish ergonomic desks and height-adjustable workstations so that employees incorporate an active lifestyle in their workplace as well. In an effort to further extend a helping hand to our people, we have tied-up with an external agency to establish employee assistance programs in the form of counseling, where they can discuss their issues confidentially and get professional help.

How do you spark enthusiasm among employees and create the 'one big family' feeling?
We have multiple employee interest groups within the organization that meet on a regular basis and run events based on the diverse interests of our employees. It builds camaraderie between people besides helping them sharpen their organizing and execution skills. 'FIKA' sessions happen on a regular basis where teams have discussions over coffee. There are also other team building programs such as offsite meetings to take teams out of the traditional office setting. These sessions have been successful in rejuvenating employees and giving them a much needed breather.

Key Management
Amit Sharma, Vice President & Head HR
Amit is an HR professional with more than 20 years of experience in various HR roles. Over the past decade, he has been quite successful in leadership positions.

Offices: Bangalore (India Headquarter)