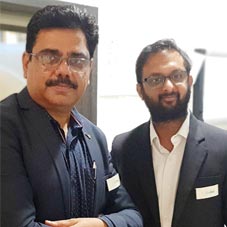 WEBRAD TELERADIOLOGY's works tirelessly and smartly in collaboration with renowned hospitals and diagnostic centres in India, ensuring customers' requisites are addressed. With the observed challenges, WebRad entirely understands hospitals and diagnostic centres' requirements, especially in tier 2 cities. Headquartered in Delhi, WebRad has served 270 clients, spread pan India and worldwide. WebRad is connected to a chain of medical centres in Africa, Eastern, Europe, and CIS countries. Sanjay Sharma (CEO, WebRad) shares inception and growth of WebRad.
In conversation with Sanjay Sharma, CEO, WebRad
The healthcare market in India is said to present much bigger opportunities. What, according to you, is the driving force behind this growth? How is WebRad positioned in such an evolving market scenario?
Today, any medical establishment or even an individual doctor can utilize the services of experienced and super specialists like musculoskeletal or neuro radiologists, using WebRadTeleradiology reporting services while seated in their clinic anywhere in the world.
WebRad is an open-ended framework and does the flexibility for your studies to be reported by the relevant specialist's radiologists
on our panel. Suppose the need for a radiologist arises on holiday or at night or other difficult moments; in that case, our experts are at your disposal who also interact with the referring doctor, if need be to discuss the case.

What is the USP that segregates you from several other competitors in the business?
WebRad was promoted by Dr Mahesh Gupta, a senior radiologist, NABH assessor, entrepreneur having own chain of premier diagnostic centres. Hence, WebRad knows the diagnostic industry, its working, challenges, and expectations - very well. We are from the diagnostic fraternity. As such, we are the most suited company to understand our clients' needs and are highly skilled in offering premier reporting services.

We work for clients driven by quality services - as the patient's overall treatment relies on the radiology report's quality. We see our clients as partners and work closely with them to achieve the results they can measure.

WebRad healthcare platform provides different kinds of healthcare services. Tell us about the unique benefits it offers? Also, mention the other features of this platform?
Images from MRI, CT Scan, Digital X-Rays, Nuclear Medicine, and other DICOM Modalities can be instantly submitted to our server and viewed by our expert radiologist from any location. The patient data is secure as per international HIPA standards, is freely distributable as per the need.

WebRad platform provides state of the art tools like 3D reconstruction, annotations and markings, and many more for the reporting doctors. This aids in an accurate analysis and hence proper reporting. All our generated reports are ready to be printed, adequately formatted, and digitally signed.

Brief us about the experts' team and how their collective experience and expertise help the company emerge as a leading player inhome healthcare services?
We have a team of highly qualified radiologists with expertise from the best institutions in the country. They include specialists with special
training in their respective regions of interest. The in-house team of radiologists have a collective experience of reading and reporting 18 million scans.

What are the various ways in which WebRad offers safe and quality assured services to the customers?
We have developed a proprietary teleradiology framework to protect the privacy of your patient's data. Only approved personnel are allowed to access the data at any time. We have set up a framework and guidelines to prevent any possible misuse of the customer's data. We guarantee the accuracy of the reports you get.

We set the highest standards for our radiologists, and the clinical head regularly audits 10% of the overall cases. Before induction, the radiologists are carefully examined, and during service, their records are cross-checked for accuracy and quality.

The healthcare segment is one of the fastest-growing and impactful sectors in the globe. What are the future roadmaps you have set for the company?
Artificial Intelligence is being interlinked rather strongly for assessing scans and aiding the radiologists for faster and accurate analysis. WebRad is the foremost player in data validation for AI development companies.

WebRad is working towards ushering in a new era of filmless radiology in the country. WebRad is firmly working towards creating a platform that all the stakeholders can use wherein we shall stop using the plastic films for a scan like X Rays we see now.

Sanjay Sharma, CEO, WebRad Teleradiology
Sanjay Sharma is a second-generation entrepreneur and is also Managing Director at Gepco, India's premier manufacturer of construction equipment, and is an Executive Director at Healin - premier Ayurveda healthcare institute. Sanjay completed is a technocrat, graduated from Bangalore University. He is a constant guide and mentor to youth and spends most of his time developing the new generation. Mr. Daksh Gupta, executive director at WebRad, is his prodigy.