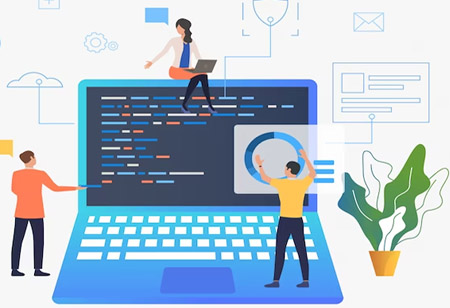 Projects for software development are increasingly being outsourced, which has become a genuinely global trend. The predicted $92.5 billion worldwide outsourcing industry for 2019 is expected to increase. There aren't many firms or sectors that require or profit from software development for their brand. Below is a list of the best offshore software development countries you can hire from:
7 Best Countries for Outsourcing Software Development
Ukraine: Ukraine is at the head of Eastern Europe, taking the lead in offshore software development. In reality, over half of the more than a million software professionals educated and trained in Eastern Europe are in Ukraine and Poland. Although they have expertise in many fields of software development, some of Ukraine's top software projects involve mathematics, security, and distributed systems.
Poland: Poland is the perfect location for outsourcing software development. The nation is a member of the WTO, EU, NATO, UN, Patent Cooperation Treaty, Berne Convention, Paris Convention, Madrid Protocol, and a bunch of other organizations, in addition to having a strong talent pool (80,000 new IT graduates per year). This makes it simpler for their businesses to send data and information securely, which is not always the case, for example, with offshore software development companies from Asia.
Hungary: Hungary is ranked fifth among the best countries to outsource web development, according to research. This indicates that choosing Hungary for your bespoke software requirements improves your chances of discovering a reputable and experienced development company. Building databases and creating code in Shell, C++, and JAVA are some of Hungary's top software development initiatives.
India: India is the second-most populous nation in the world, but its 2.6 million STEM (science, technology, engineering, and mathematics) graduates are even more significant. The fact that an Indian software developer typically costs between $10 and $15 per hour—considerably less than the $60 per hour that U.S. software development firms commonly charge—makes India one of the best countries for offshore software development.
China: How can you expect anything less than hundreds of IT specialists to emerge from a nation that places such a strong focus on science and mathematics in its schools and universities every year? You can see why China ranks so highly among the top offshore software development countries in software development outsourcing when you consider that Chinese programmers and developers typically excel at functional programming, Python, Shell, and other technologies and that the average salary for a software developer in China is $19.232, compared to his U.S. counterpart's salary of $69.083 per year.
The Philippines: More than 4 million skilled Filipino workers, according to some estimates, have some prior experience working for a foreign firm. That serves to highlight how in demand they are for outsourcing. More than 112 IT and engineering graduates with expertise in Java, API development,.NET, and other technologies graduate each year in The Philippines.
South Korea: What can be said about South Korea if not regarding its technological industry? South Korean tech giants Samsung, LG, and Hyundai rule the world in their specialized fields. Without a pool of skilled software engineers, they wouldn't be able to achieve that. Fortunately, not all South Korea's top developers are in demand, and more than half of the nation's outsourcing industry comprises software development projects.
What does it cost to hire from offshore development countries?
You might have wondered how much it costs to hire an offshore development company from other countries. It depends on several factors, like:
How soon do you want your project completed
The complexity of your project
The number of people working on your project
The average pay of the country you would like to hire from
As you look for the best countries to outsource software development, there are several principles you should consider.
You should anticipate that offshore agencies will bill the following rates for each worker and per hour of labor.
Eastern Europe will bill $25-$50
Africa and Asia will bill $20-$40
North America bills $100-$200
This clearly illustrates how much more costly American software engineers may be on average when compared to other areas. And it usually is the same level of job quality as others from other countries.
The best countries for outsourcing software development are Eastern European nations. Thanks to their low prices, they often have the greatest skill in software development and provide a significant return on investment. Additionally, Eastern European nations have an attitude similar to that of Western companies, which suggests that despite the time difference, collaboration may be simpler, and productivity may be higher.