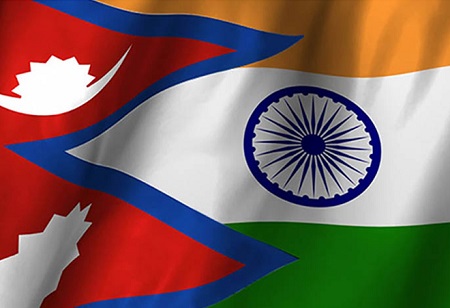 After talks between the two prime ministers in New Delhi on June 1, Nepal and India renewed their transit treaty and agreed in principle to export Nepali electricity to Bangladesh.
The boundary issue was also discussed during the talks.
Nepali Prime Minister Pushpa Kamal Dahal was on his first foreign visit to India since taking office in his third term as the Himalayan Republic's premier. He was accompanied by his youngest daughter, Ganga Dahal, who is expected to be his political heir, as well as an 80-member delegation.
Following the talks, the two leaders virtually launched six connectivity projects, including the construction of integrated checkpoints, rail lines, and power transmission lines.
Seven agreements were signed in the presence of the prime ministers, which included the key transit treaty that had expired in 2019. The amended treaty will allow Nepal to access India's inland waterways for cargo transportation to sea ports.
"In this, along with new rail routes for the people of Nepal, a provision has also been made for the facility of India's inland waterways," said Prime Minister Narendra Modi in his press statement.
Prime Minister Dahal noted that the two leaders had also directed their commerce secretaries to direct the initiation of the process to review the trade treaty.
He also revealed that India has been asked to give non-reciprocal market access with more "flexible and easy quarantine procedures" for Nepal's agricultural products, as well as, simplified Rules of Origin for other products. Besides, India was also asked to remove anti-dumping duty on Nepali jute products.