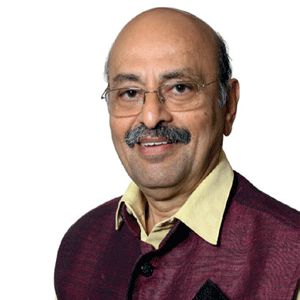 Janak is a progressive entrepreneur who earned his B.Tech stripe from IIT – Delhi. From incepting Century Pharmaceuticals and incorporating a veterinary division to adding a research division for working on novel molecules in 2006 for addressing the unmet needs of the pharma industry, every endeavor
has presented him with different challenges that he has vanquished with the enthusiasm of a new entrepreneur.
Half a century ago, U.S. accomplished one of the most inspiring technological achievements in the history by setting its foot on the moon, thanks to John F. Kennedy, the former U.S. President, who dared to dream so big and had the resolve to face the challenges it spurred. While Dr. Janak Sheth (Managing Director, Century Pharmaceuticals) has nothing to do with the moon, possessing the perseverance to tread a path fraught with exhausting challenges to achieve the dream is a trait that defines his entrepreneurial journey.
Embarked on this venture in 1982 by formulating Century Pharmaceuticals as an Active Pharmaceutical Ingredients manufacturer and research of novel biotechnology molecules, this first-generation entrepreneur has been consistently nurturing the company with ever-expanding product range by adeptly handling whatever curve ball the market throws at him. Today catering to top-notch clients (Zydus, Abbott, Pfizer & many more) worldwide, Janak's sharp focus on placing Century Pharmaceuticals amongst the best in its segment has bestowed it with a plethora of good honors, including the GOLD accreditation from ZED and Gold Medal for excellence in innovation from Lockheed Martin, just to name just two. The following excerpts of
Janak's conversation with CEO Insights highlights upon his entrepreneurial journey and the road ahead for Century Pharmaceuticals.

"With a longterm strategy, I was able to retain good talent and had consistency in our day-to-day working"

What kindled you to take the road to entrepreneurship and how has been the journey so far?
It was my desire to be an entrepreneur since my school days. I took-up my first employment with the clear focus to learn enough and then venture on my own. Since my family was not financially well-off and had no idea about business, I faced many hiccups initially with finance and also with business intricacies. I had to learn management while handling business. I began with the technical capabilities and then mastered the artof HR, administration, marketing and later finance. With a long-term strategy, I was able to retain good talent and had consistency in our day-to-day working. Initially, my honesty paid dividends with customers and banks. Once proven with my sincerity, I overcame the initial financial challenges and then brought the company to stability by building on a sound customer base. Once settled with the manufacturing, I have embarked upon research of novel recombinant proteins and innovative regenerative medicine without any side effect.

Explain us regarding your experience with raising funds or pitching to VCs.
We had a hard time to get funds initially, since I didn't have the required equity to begin with. We were over leveraged then. Slowly, we paid-off all the debts and there after didn't pick-up any long term debt. However, the inception of our research division required huge investments and hence we got a VC on board. Now, we are working to give an exit to the VC who has been with us for more than ten years now. The experience has been very comfortable with banks.

How has been your family's support through out? How do you create balance between personal & professional life?
I'm truly blessed to have a supportive family. My family has not only helped me to focus on the business by not stressing me for the routine chores, but also supported me very well in times of business exigencies.
I have a lot of energy and hence don't get exhausted after work. This lets me have a good time with my family. I enjoy travelling and hence I am able to take breaks with family for vacations and holidays. Many times,we combine the business with a trip, so we are able to balance both simultaneously. I enjoya bit of sports, walking and socializing and work towards helping the less fortunate people in our society.

How do you update yourself with the latest technologies & industry trends?
I constantly travel and meet customers to know about industry trends and participate in national and international exhibitions for knowing the current scenario and changing customer needs. I also like to participate in monthly meetings with peers where hot topics are discussed. I do get the chance to mentor startups & young students (recently got invited as the chief guest to the Annual Day at a local College of Pharmacy) and I enjoy motivational programs as well. I am engaged in industry associations at a senior level to organize industry meets and to organize foreign delegations. Furthermore, I keep reading latest technological developments in our industry journals and articles.

What opportunities do you foresee in the current market for Century Pharmaceuticals' growth and how are you effectively leveraging them?
Century Pharmaceuticals is at a vantage point and we are on the verge to take a leap forward in expanding our business both on the number of products manufactured and also the breadth of our global markets. Currently, we are engaged in the research of novel compounds and see a bright spot at the end of the tunnel for the investments we have made so far. This will be a watershed moment for Century.

Offerings:
Products:
Active Pharmaceutical Ingredients– Products & Research, Animal Health and Innovative Biotechnology Research products

Services:
Contract Manufacturing, Contract Research in Biotechnology, Studies for research products

Headquarter:
Vadodara, Gujarat