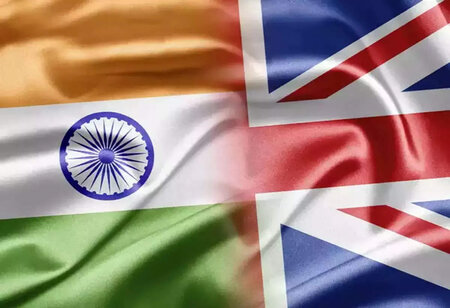 Recently, one formal Free Trade Agreement (FTA) negotiation has been launched by India and the UK, which both countries envisage concluding by the end of 2022. Before the trade agreement concludes, both countries are contemplating an interim free trade area, which will lead to tariff reduction on most of the items. According to sources, both the countries have agreed to opt for an early harvest scheme or a restricted trade agreement to lessen tariffs on a minor set of goods along with the simplification of rules for selected services. Another significance of this India-UK Free Trade Agreement is to avoid interfering with any sensitive sectors such as dairy and agriculture and exclusively concentrate on areas where there is more complementarity. Also, a goal of amplifying the trade between India and the United Kingdom (UK) up to two times by 2030 has been set.
What is FTA?
Free Trade Agreement (FTA) is a contract between two or more nations to lessen obstructions related to imports and exports among them. After implementing a free trade policy between countries, trade of goods and services can easily happen across international borders with little or no government tariffs, quotas, subsidies, or prohibitions, ensuring a smooth exchange without any inhibitions.
India-UK Trade Relations and Their Significance
India and the UK endorse a partnership built on their shared history and rich culture. The diverse Indian diaspora settled in the UK adds further vitality to the relations between the two countries. Amongst the G20 countries at present, the UK is one of the largest investors in India. According to some of the predictions of Industry stalwarts, the successful execution of these trade deals with the UK could upsurge exports for large job-creating sectors such as textiles, leather goods, and footwear. Along with the Mutual Recognition Agreements (MRAs) on the Pharmaceutical segment, which could provide additional market access, India is also anticipated to demonstrate a substantial hike in the export of Marine Products through the acknowledgment of approximately 56 marine divisions of India. Visa restrictions have always been a significant issue for India to enhance services trade. Expected to bring forth certainty, predictability, and transparency, this FTA is expected to craft a more generous services regime meanwhile ascertaining a great potential for increasing exports in service sectors like IT/ITES, education, Nursing, and healthcare, including AYUSH as well as audio-visual services.
Since the UK is one of the permanent members of the UN Security Council and one of the strategic partners of India, strengthening trade bonds with it can ensure support for India on global issues like the standoff with China in the Ladakh sector and demand for a permanent seat at UNSC.
UK-India Business Commission
The Confederation of Indian Industry (CII) and Britain's biggest business organization CBI have signed a Memorandum of Understanding to fabricate a new joint commission called UK-India Business Commission. The major notion behind the establishment of this commission is to bourgeon cross-industry collaboration and coxswain the UK-India free trade agreement (FTA) over the line.
Providing a critical forum for discussion to ensure an FTA works to the benefit of businesses in both countries, the commission will guarantee repeated oversight and meet ahead of key milestones to keep an eye on trade-offs, breakdown barriers to market access, and help feed in on-the-ground business intelligence at a ministerial level in India and UK," according to an official statement issued by CII. "This partnership is a prospect to address shared concerns, recognize common interests and nurture greater understanding to address the issues of economic and global concerns," said Chandrajit Banerjee, Director General, CII, expressing his views with The Economic Times.
According to CII, UK's renewable sector will be playing an essential role in India's transition towards clean energy. Apart from that, plummeting tariffs on green exports such as solar, onshore, and offshore wind could open novel opportunities for firms in India. "Securing this free trade agreement could almost double UK exports to India, boost Britain's total trade by as much as £28 billion a year by 2035, and increase wages across the UK regions by £3 billion," CII further added, as per The Economic Times.
Future Prospects
During his recent visit to London, the UK, from the World Economic Forum in Davos to interact with stakeholders and business people ahead of the fourth round of FTA negotiations, Commerce and Industry Minister Piyush Goyal stated that the free trade agreement (FTA) between India and the UK could be ready by Diwali without the need for an interim early harvest agreement, as things have been moving faster than expected. Diwali in October has been set as a timeline for a draft FTA after British Prime Minister Boris Johnson's exclusive interaction with Prime Minister Narendra Modi during his last visit to India. Reflecting her views in this regard, Indian High Commissioner Gaitri Issar Kumar states, "Prime Minister Johnson has already requested his Indian counterpart to visit the UK to sign off on the draft agreement once it is ready later in the year."
Conclusion
According to the latest official figures released by the Indian High Commission and a report shared on the website portal, not only does the total trade between India and UK stand at USD 16 billion FY 2021-2022 (Apr-Feb), but the UK was also India's 17th largest trading partner during the Fiscal Period of 2021-2022 (Apr-Feb). However, according to policymakers and industry stalwarts of our country, FTAs signed by India with the UK have not been able to demonstrate the anticipated tangible profits and, on the other hand, have exploited the country's manufacturing segment due to generous rules of origin. India being one of the fastest-growing economies in the world, it is believed that FTA with the UK will play a significant role in enhancing the trade volume of the country. Therefore, there is a necessity for a thorough assessment of FTAs in terms of goods, services, and investment flows by all the stakeholders who will be affected due to their involvement in this agreement, either directly or indirectly.