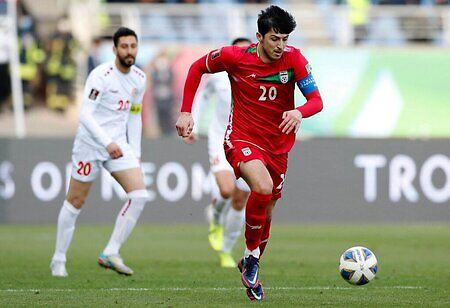 Qatar is the first Middle-Eastern country and second Asian country to host the FIFA World Cup 2022 after South Korea and Japan in 2002. The opening ceremony of the world cup flagged off with Kpop's global sensation BTS (Bangtan Sonyeondan) Jeon Jungkook's performance, releasing his new song Dreamers. This year the technology used at the event is both an endpoint and the foundation of a whole new era. It took years of research and testing to get the technology a full FIFA certification. That technology is the Goal-line sensor that employs a ball-tracking mechanism. What makes its rollout groundbreaking is that FIFA's use of the ball sensor will serve as a highly referrable public use case for years to come. Its applicative value could quickly attract the public eye for further exploration.
How it Works
Termed, semi-automated offside program, the technology is largely operated by AI features, but possesses a vital element of human confirmation. Every match ball contains a gadget created by KINEXON, a significant player in the performance-tracking industry across many sports. There are two separate sensors functioning simultaneously, Ultra-wideband (UWB) sensor and the Inertial measurement unit (IMU) sensor. The first sensor helps position the object and the second, projects granular movement in three dimensions. Meaning, the system picks up the ball at 500 frames per second, for every time the ball is kicked or moving. The data is sent in realtime to a local positioning system (LPS) that stores the information for immediate use. It doesn't matter whether a ball is thrown out of the bounds or a new ball is replaced, KINEXON's backend system automatically focuses its attention on the new ball with any human assistance.
Adidas' suspension technology supports KINEXON's in-ball gadget, which houses the sensor at the ball's center interior point and maintains it stable in a fixed position. This ball sensor is coupled with Hawk-optical Eye's camera tracking system, which is well-known for its performance in tennis. Around the stadium, twelve Hawk-Eye cameras are installed, and they track each player and the ball 50 times per second. Players' bodies are monitored at 29 different places, including their limbs.
Combining these two data sources enables FIFA to prioritize this World Cup cycle by making offside rulings that are not only extremely accurate but also available much faster than in the past.
In light of this, data from both KINEXON and Hawk-Eye is processed by artificial intelligence software that is set up to automatically inform officials in the game's video room when a player is offside. AI systems automatically create alarms that can be verified by video match officials rather than manually going through plays, which would take a lot of time.
To provide viewers a clear image of how each reviewed call was made, the software also creates 3D reconstructions of the geographic data, which will be superimposed onto TV broadcasts and in-stadium monitors.
The FIFA World Cup will mark the first time that players have exclusive access on-field performance data through a smartphone app. Enhanced football metrics, physical performance, and football intelligence are the three categories into which the data is split.
Adding New Layers and Changing the Way VAR Technology is Viewed
Although VAR has received immense criticism for poor decisions in leagues across many nations, usage has grown over time. There is no doubt that this World Cup will write a new chapter.
Be it Jude Bellingham of Borussia Dortmund being denied an equalizer against Manchester City in the UEFA Champions League quarter finals of 2021–2022, or Maxwell Cornet of West Ham having his goal disallowed this season due to an alleged foul on Chelsea goalkeeper Edouard Mendy.
FIFA is making an effort to add additional layers to the data that guides judgments regarding close calls, including offsides, goals, penalty decisions, and tackles.
As a result, VAR technology is gaining fame, as well as being widely accepted in the sports industry and with improvements of course.
For automated ball identification and building three-dimensional models of player position, this will mainly rely on AI. There are more cameras recording player and ball movement, and the ball is returning movement data, so calculations regarding the kick point or point of tackle, for example, should be more precise.
To determine matters considering whether a player is interfering with play or impeding an opponent, the human element is still required, which is why a team of referees using technology is needed.
Before we know it, the combination of ball and optical tracking could become a familiar tool for those in the sports world. The accumulated data could become a referral material or guide book for teams and players for generation tactical analysis. Beyond that, broadcasters can use the data for visual representation of the game and the football fandom could access statistics that were never possible before.
A Heightened Vision of Tracking the Ball and Player Movements
Now with the latest, semi-automated offside technology, the world cup will track the ball through the eyes of 12 tracking cameras mounted underneath the roof of the stadium.
The cameras will collect 29 data points consisting of limb movements of every player at the rate of 50 times per second to calculate the exact position on the pitch.
Again, with the combo of limb and ball tracking data including AI, the technology will provide an automated offside alert to the video match officials at the video operation room, for each time the ball is received by an attacker who was in offside position when the ball was played by a teammate.
For one, fans could enjoy new ways of viewing the sport through the advanced tech. It could portray improvements through 3D immersive graphics and also observe the overlaid on-screen data displaying tracking information, along with a digitized view of the court during the game.
Even further up is when the virtual reality world could make it possible for viewers to watch the match directly from the vantage point of their favorite players. In conclusion, this tech will continue to shape the way of viewing sports.