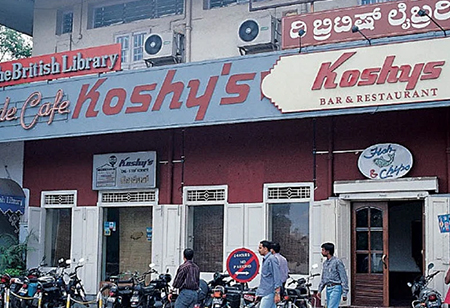 Growing up in Bangalore in the 2000s meant hearing all the urban tales that were tucked away in the city's nook and cranny. You could also partake in the peculiar, sentimental, yet oddly unifying oral history that sprung out of it.
Similarly, the contrast of the colonial historical buildings standing amid the busy streets and soaring skyscrapers on M.G. Road showed both the past and the present of this IT Center rather accurately. The famed Koshy's restaurant can be found on that very strip, near the famous Hard Rock Café and nestled between a line of bars and pubs, and local drinking watering holes.
To most Bangaloreans, Koshy's is a living breathing organism gazing countless stories unfold before its eyes and probably the Krusty Krab to kids. When my parents began taking me to Koshy's, they would order lamb burgers, mango melba and coffee without looking at the menu. Looking at the menu here, would give away that you are a nonregular. Better yet, you are a veteran regular if the waiters or waitresses place your orders for you just by reading the look on your face.
From Selling Bread to Becoming the First AC Restaurant in South India
The origins of Koshy's can be traced back to the 1940s, when a former bank executive named P Oommen Koshy decided to stay in Bangalore rather than travel back to his native Kerala due to World War II. He made 'army loaves' of typical English bread, which were sold to the garrisons for an anna each. The bakery expanded into a department store on MG Road from bicycle-delivered home deliveries of bread and biscuits.
Koshy moved his bakery to a land he leased at the corner of St. Marks Road and the cathedral with the aid of his friends. He opened the Parade Café next to it in 1952 or 1953 without realizing it would become Bangalore's most recognizable and adored restaurant.
Since 1952, Koshy's has virtually not changed. The slight change from cane chairs and gingham-covered tables with engraved silver sugar bowls and teapots to wood, formica, and foam furniture may be noticeable to old-timers. Nonetheless, the overall simple, cozy atmosphere of this colonial relic's waiting room still has charm.
Jewel Box Café is the slightly more expensive and private air-conditioned annexe, however people still enjoy the noisier non-AC area with its antiquity creaking fans and walls covered with black and white images of bygone Bangalore's amazing sites.
In this classic establishment, a ground-breaking addition didn't happen until 10 years later, in 1962. As the first restaurant in all of South India to have such amenities, Koshy's reputation was enhanced by the installation of air conditioning, a live band, and a dance floor. A pleasant addition to this was a jukebox that played the customers' preferred music for four annas.
Classical Dishes and Interesting VIPs
Regarding its dishes or menu, Koshy's being a continuation of Parade Cafe was not a particularly innovative concept. That was the time when Indian bakeries and cafés in the colonial style first appeared in the city, therefore, as one of the last ones still in operation, it's interesting to see what makes the place iconic and well-known even now.
Politicians, lawyers, artists, writers, actors, students, and vagrants are just a few of Koshy's diverse customer base.The British royals and soldiers were known to chow down plates of roast chicken at the nearby Bowring Club, where Koshy's used to serve as the official caterer. The Queen of England herself was one of these famous patrons who had dinner at this restaurant. Pandit Jawaharlal Nehru and other notable individuals from India's colonial history came after this.
People are drawn in by the constancy and authenticity of the recipes to come back time and time again for comforting flavors from their childhood. The secret heirloom blend of Coorg, Chikmagalur, and Kerala coffee that connoisseurs swear by has been brewed for more than 46 years in the same old bell metal coffee filter. When Koshy's first opened, their menu boasted an overwhelming assortment of 1,200 items, but the staff had to scale back the selection since the cash register could only handle 900 items. Koshy's menu currently features a variety of items. It features meals with Indian origins from the family's ancestors as well as international favorites like South African brie and Korean fried fish that were influenced by Koshy's travels. The roast chicken is undoubtedly the most well-liked dish, but other customer favorites include the mixed grill, fish biryani, cutlets, chicken puffs, and, of course, potato smileys, which are french fries shaped like smiling faces.
Staff Carry the Legacy through Ages of Time
The white uniformed crew is waiting to be called, smiling quietly in the background. By the looks of it, one could infer that they are an extended family carrying on the establishment's tradition. That is what makes the place beautiful. Everything is handled by the employees. They continue with it. The majority of them have been around for 30 to 40 years; they have supported the diner and carrying it on their shoulders. They even recall what someone ordered fifty years ago out of the 900 or so things on the menu. Patron customers don't even have to look at the menu or even speak your orders to the staff. They could get you exactly what you want just by recognizing you.
For this to happen, the founder gathered a number of skilled chefs to create a variety of dishes, from pickles to desserts, and then sold them out of a store. This is when he realized how important it was for professionalism to complement talent in order for any endeavor to be successful.
Also, it is said and seen that the staff are responsible for making sure that everybody who drinks alcohol at their table gets home safely. The waiters left their uniforms behind, called a taxi or rickshaw to take customers home, and then they came back.
Took a Hit from the Pandemic and Bounced Back
The pandemic also had an effect on Koshy's. During the lockdown, Koshy's was shuttered for an extended period of time but later reopened with sanitized protocols, masks, fewer tables set exclusively for two people, and a condensed menu. The entire old crew is still there, and the reputation they've built over the years has kept them going strong.
What Draws Customers? The Food? Ambience? Sentiment?
The popularity of Koshy's, which has often been on Bangalore's must-visit restaurant lists, has stayed unchanged throughout the long line of Koshys. Prime ministers, members of the royal family, artists, politicians of all stripes, and tourists from all walks of life have all been mesmerized by the restaurant's enduring charm at some point in their lives.
But it's not just the food that keeps folks coming back to Koshy's. In contrast to an ever-changing Bangalore, whose name, for example, was changed to Bengaluru in 2014, the restaurant delivers a sense of timelessness and permanence.