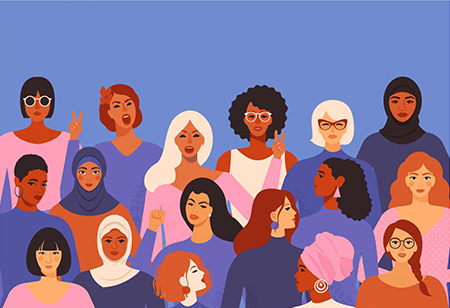 For most of us, mom is the first superwoman. Even though, in most parts of the world, women still seem to be trailing men. Women are the embodiment of power, love, selflessness, and bravery. Women now play a much different and better role in the modern world. 21st-century women are resourceful, educated, and financially independent. Whether it is in politics, athletics, or academia, women have achieved enormous success. Let's know more about some of them.
Adeeba Kamarulzaman: Fighting to End AIDS
Professor Adeeba Kamarulzaman, a renowned infectious disease specialist in HIV and AIDS research and response, works at the University of Malaya in Malaysia. She has devoted her professional life to defending vulnerable populations throughout Southeast Asia and beyond. Adeeba has been a strong proponent of a public health strategy that puts the treatment and support of drug users ahead of their criminalization in her fight against the prejudice that marginalized people experience. The esteemed 2022 Merdeka Prize for Health, Science, and Technology was given to her in recognition of her contributions to reducing the spread of infectious diseases like HIV/AIDS in Malaysia. Adeeba's influence on Malaysia's drug policy reform led to her appointment as the first Malaysian commissioner of the Global Commission on Drug Policy in 2022.
Gagandeep Kang: Reimagining Our Health Systems
Gagandeep Kang is a professor at Vellore's Christian Medical College in India and a champion of public health. Through her extensive study of enteric diseases and vaccination, she has significantly improved children's health in low- and middle-income nations. Kang intends to keep enhancing the control of infectious illnesses and address health inequities in India by building robust training programs for students and young faculty. In joining prominent scientists like Charles Darwin and Isaac Newton in the oldest organization in science, the Royal Society in London, Kang made history as the first Indian woman to be elected as a Fellow.
The budgeted expenditure on healthcare is now 2.1 percent of the GDP in India. There are form or function flaws that require adjustment in the organization of medical education, the construction, staffing, and operation of health and wellness facilities, and the regulation of healthcare practitioners at all levels, from the village to the five-star hospital. The SARS-CoV2 experience has shown us the value of preparation and planning. Still, it has also brought to light the urgent need for trust and communication whenever public health issues call for action. In the past six months, a lot has happened. The researchers now understand the value of diagnostics and the need to scale it up to offer information on infectious diseases. They have started producing kits, tools, consumables, and other items that we have never produced on a large scale previously. Then they understood that major control points must be understood in order to strategically plan for disasters because international supply chains are susceptible to disruption.
Asha de Vos: Guardian of The Blue Whales
De Vos was born in Sri Lanka in 1979. Her parents started bringing her used National Geographic magazines when she was six years old. Looking through the pages, she'd picture traveling to places no one else would ever go and seeing things no one else would ever see, motivating her to anticipate a future as an intrepid scientist. She is the organization's founder and director. Oceans well is the first marine conservation research and education organization in Sri Lanka.
She thinks that locals are crucial to the well-being and future of coasts. She contends that parachute science, which involves Western researchers gathering data in underdeveloped nations before leaving without educating or assisting the inhabitants of the area, is unsustainable and undermines conservation efforts.
Asha also enjoys solving the puzzles of Sri Lanka's distinctive, non-migratory blue whale population. De Vos champions diversity, equity, and inclusion in scientific research as the first Sri Lankan to get a Ph.D. in marine mammal conservation and the first National Geographic Explorer from her country. She created Oceans well, a marine conservation and education initiative to empower local communities to save their coastlines, and she is a TED fellow. De Vos, who is conducting fieldwork off the southern coast of Sri Lanka, advised aspiring female scientists to work to be recognized for their abilities rather than their gender.
Rong Wang: Singapore's Clean Water Warrior
Singapore, which is surrounded by water, mainly relies on desalination facilities to provide clean water to its citizens. The Singapore Membrane Technology Centre's (SMTC) director, Rong Wang, has played a key role in that effort. She has made numerous contributions to the subject, including developing membrane technology to reduce energy use in water reclamation. President's Technology Award in 2022 and the Alternative Water Prize of the Prince Sultan Bin Abdulaziz International Prize for Water (PSIPW) from Saudi Arabia in 2016 are two notable honors given to Wang for his work.
Phung Kim Le: Turning Waste into Sustainable Solutions
According to Phung Kim Le, an associate professor at Ho Chi Minh City University of Technology in Vietnam, there is no such thing as trash. Phung went on to do groundbreaking research using Vietnam's plentiful biomass to create biofuels and bio-based products after graduating from the same university. Crop waste is converted into highly effective cellulose aerogels for wastewater treatment using Phung's eco-friendly, innovative, and economically viable green technology. She received the 2022 Hitachi Global Foundation Best Innovation Award for her work, which enabled her to scale up her efforts.