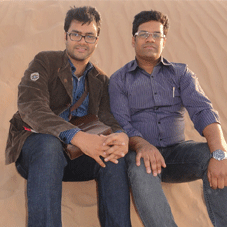 Today's youth lives an extremely challenging life. Owing to factors such as demanding work environments to long travel schedules and lack of nutrition, people living in metro cities are bogged down by over-exerting lifestyles that take a toll on their physical health. As a consequence, the demand for dietary supplements has risen substantially in the past decade. Catering to the needs of today's health conscious youth is Advance Nutratech, an end-to-end integrated manufacturer of health supplements. Armed with prior experience in the health sector, an experienced team of experts and superlative technology, the firm is addressing the need for quality health supplements in the Indian market.
Founded in 2014, the firm has expanded its range of products and significantly modified its development facility over the years. Known for producing innovative and competitively priced health supplements, Advance Nutratech has not only penetrated the Indian market successfully but is also building a dedicated clientele globally. In a comprehensive conversation with CEO Insights, Abhinav Gupta, CEO, Advance Nutratech, speaks about the company's journey so far and gives us a peek into the inner functioning of a market leader in the health supplement sphere.
What was the genesis of the idea that resulted in Advance Nutratech? How has the company solidified its position in the market over the years?
Prior to founding Advance Nutratech, we used to import health supplements from renowned manufacturers globally and use our distribution channels to supply them. Over time the realization dawned on us that Indian health brands were nowhere close to their foreign counterparts in terms of quality and were infused with harmful ingredients as well. Motivated by the lack of reliable brand name in the Indian health supplement industry, we establish Advance Nutratech in 2014. A few
years down the line, we introduced Raw Whey Bulkamino, a one-of-its-kind whey protein which is completely free from chemicals, flavors and additives.
We leverage state-of-the-art technology, which is in accordance with medical industry standards
Over the years we have soared high in every business aspect from product quality to packaging design and customer relationship. In order to do so, we leverage smart business tools, cutting-edge production techniques and innovative development solutions through abled assistance from our specialized and highly motivated employees.
Can you tell us more about the products that Advance Nutratech manufactures? Also, which medial standards does the firm adhere to?
Our products are classified into segments for men, women and youngsters since we aim to target maximum number of people belonging to different groups. Our flagship product, Raw Whey Bulkamino was manufactured owing to our extensive expertise in the health supplement industry. The clinically approved product which is processed under the supervision of skilled experts is formulated without any chemical fillers. We leverage state of the art technology, which is in accordance with medical industry standards and the product is tested on several parameters to ensure top-notch quality.
We are especially mindful of the medical standards that we deploy and are a FSSAI approved, ISO22000, WHO GMP certified facility, which is a clear testament to the medical standards that we adhere to in our production process. We also have a NABL certified laboratory where we use only the latest testing equipment.
Advance Nutratech has grown rapidly over the years. In your opinion, what sets you apart in the market and in the eyes of VCs as well?
Since consumers were tired of using products with harmful ingredients and zero-results, it was only a matter of time before everyone came swarming in to buy our products. So, in my opinion, it is our ability to understand the very pulse of our consumers that sets us apart. We take into account their suggestions and recommendations upon using our product. While their
satisfaction motivates us to go on, their dissatisfaction helps us to reflect upon where we lack and enables us to improve.

Not only do we tailor our products according to the consumers' needs, but our excellent logistics support has also helped us in pooling in substantial funding for our products. We convince VCs that we can offer them a custom delivery that other protein supplement manufacturers simply cannot. Also, unlike most manufacturers who have a somewhat localized presence, our PAN-India network can provide them access to markets all over India.

For an organization that began its journey with an innovative product, what innovations are in store for the future?
Our entire organization is standing tall upon the fundamentals of consistent innovations and up-gradations. Our mission is backed by a robust R&D team that helps us to process and formulate a highly effective range of health supplements. The team is strengthened by illustrious names such as Ashwin Kelkar, a renowned food technocrat of international repute, Shristi Manjerekar, an experienced food nutritionist, and Nidhi Bansal, a doctor and nutrition expert. The technical capabilities of our scientists further help us manufacture products in accordance with the GMP and WHO-GMP quality standards.

The R&D team carries out surveys in the national and international pharmaceutical markets periodically, which help us improve our existing range of products. Owing to the sincere efforts of our team, we have been able to fulfill the emerging demands of national and international pharmaceuticals markets. Our organization consistently upgrades its operational facilities, which enables our formulations to meet the GMP standards.

Advance Nutratech has made significant inroads in the Indian health supplement market and we are working towards consolidating our hold in the global markets. We align ourselves with every technological advancement taking shape in the industry which has kept us at the top of our game since the very beginning.

Key Management:
Abhinav Gupta, CEO
Please add a short bio of Abhinav in around 40 words.

Offices: New Delhi
Offerings: Whey Proteins, Weight Gainers and Amino Acid Gainer