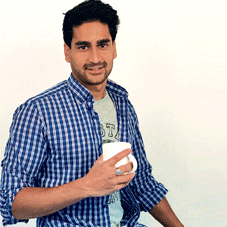 In today's health-driven ecosystem, coconut water is creating a buzz among consumers owning to its mineral packed benefits. Furthermore, coconut water happens to be the perfect substitute for higher calorie drinks like sodas or juices, and is the ultimate kick for the young fit generation of India. In fact, the natural electrolyte make coconut water a suitable match for traditional sports drinks like Gatorade. On the flip side, the rising adaptation of readymade food & juices is creating demand for instant juices and alternatives to the unprocessed ingredients. Nowadays, people largely prefer homegrown products & brands that embrace the original Indian wisdom and science, and Coconut is known in Ayurveda for its various health benefits.
Foreseeing the benefits of drinking coconut water and increasing consumer inclination towards organic, natural & healthy drinks, Arjun Gadkari (Founder, Nilgai Foods) launched Cocofly a premium coconut water brand, in 2016. With a wide range of SKUs and differing pack sizes, Cocofly bestows consumers an array of high quality coconut water drinks at affordable cost. Arjun had a brief discussion with CEO Insights where he articulates about his brand and its exclusives.
What inspired you to launch Cocofly in India and how has been your journey so far?
After completing my studies at Oxford University, I came to India with a vision to establish F&B firm and change the traditional culture of startup in the country. My entrepreneurial journey is split into two phases.The first phase included experimentation and constant evolution till I found my calling and the second phase started with the launch of Cocofly in 2016. Initially, it took lot of time for me to figure out right opportunity with market fit product and make base in Indian F&B market but the launch of Cocofly had given me all that what I
desired for in the marketplace. After four years of its inception, Cocofly brand has matured into a market leader in the coconut water arena and is stepping forward to become a superior coconut products brand in India.
Cocofly focuses on 'Healthy living,powered by coconut!' and runs on the philosophy of 'Healthy body, healthy mind'
Despite India being a startup hub, majority of startups follow old traditional attitudes which I really desired to change. With my brand Cocofly, I tried my best to leverage technology, empower employees to function independently and implement 'Lean Stratup' approach pay for what you use and remaining asset light for as long as possible. I completely achieved this where all our documents are preserved on the cloud, our offices are located at co-working spaces and entire production is carried out via a network of pre-approved third party manufacturers.
Give some insights about your brand Cocofly along with initial challenges you faced during its establishment.
Cocofly focuses on 'Healthy living, powered by coconut!' and runs on the philosophy of 'Healthy body, healthy mind'. The word Cocofly signifies 'lightness' and 'lift' that a person get when a right nutrient enters his/her body whereas its logo refers to a stack of coconuts where the letters mimic a pile of nuts that have fallen haphazard from a tree. Cocofly was incepted with a vision to bring benefits of coconut to the consumers in the form of premium coconut products that can be easily consumed. Formulated from 100 percent Indian grown coconuts, Cocofly is a true Make in India story. The brand considers healthy living as a direct route for enjoying life and thus promotes healthy active lifestyle.
In terms of initial challenge, Cocofly is not an exception. The brand confronted several challenges at its initial stage right from the supply chain to the distribution of products in such a fragmented local market. I found that even newer developments in India's food scene like online grocery websites or modern chain supermarkets are not yet streamlined for businesses like ours. Today, Cocofly products are
available online on company's website and offline at 10,000+ retail stores & major shopping outlets (Walmart, WH Smith, Easyday and Spencer) at Delhi & Mumbai. Very soon, our products will be sold on leading e-Commerce platforms like Amazon, Flipkart, Grofers and others.

Enlighten us on experience & expertise of your workforce and how their collective effort is helping Cocofly to achieve its set goal?
Our QA and sales team (comprising of 10 on-role & 30 off-role employees) upholds diverse experience in food industry and thus never led us down. The supply chain and product team features the brand in top quality products, enabling us to remain asset light in the backend by ensuring our product quality. These experts work only with a network of pre-approved third party manufacturers and US FDA approved/FSSC22K accredited and international standard plants. Going that extra mile, my team also works keeping in mind the environmental impact and selects only those plants that function in-line with our vision for a sustainable future.

Explain your future plan with focus on your new innovations.
Over the few years, our focus will be on the exponential growth both in term of revenue & products. In next 12-18 months, we will be launching various exciting products under the brand Cocofly in line with our vision of bringing benefits of coconut to the consumers. Currently, we are exploring some unique dairy products and stepping forward to capture market share of fruit juices and soft drinks. Meanwhile, we are also trying to convince existing consumers of the raw unprocessed coconut to shift to the packaged alternative for convenient & consistent quality & taste.

With such products portfolio, we are planning to expand our operation in the US and Australian markets whereas the launch of new SKUs is enabling us to access the HORECA market in a big way.

Key Management:
Arjun Gadkari, Founder
Graduated from Oxford University, Arjun started his entrepreneurial journey with a vision to change the traditional attitudes of startups in India and provide consumers with products that are natural and full of health benefits.

Quick Facts:
•Inception Year: 2016
•Location: Mumbai
•Product: Coconut Water