As kids, we were often instructed to include dry fruits and nuts in our diet. Adults too opt for these as the perfect quick-fix food to satiate those uninvited hunger pangs, especially in today's fastpaced world where we often run against time or/and are trying to stick to our diet plans. However, today's world is dealing with majorfood adulteration; dry fruits and nuts are also not untouched. To ensure that the health conscious people eat only the best quality products, Sudeep Bhati incepted Dry Fruit Hub in December 2015 at Hyderabad.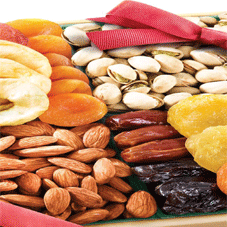 Today the company is known to offer not just best quality dry fruits and nuts but also dried fruits, spices, seeds, flakes, powders and much more, all with the mission to revitalize the consumers' daily life. Speaking largely with CEO Insights, Sudeep talks about his journey, the challenges and the mission ahead.
Take us through your journey of Dry Fruit Hub.
Before I talk about Dry Fruit Hub, let me give you a background of me and our traditional business. I come from a Marwari business family who own 'Vimal Trading' since 1997, which was founded by my elder brother Pukhraj Bhati. It is a traditional wholesale business which was conducting limited B2B business in South India, majorly offering same day order same day dispatch. We soon realized that the world is going online and if we want to expand our business, we have no other choice but to create our online platform.
But my family members were in denial when I proposed to go online and cater not just B2B but B2C as well. But once the orders started flowing in and they understood the importance of having online presence, they lent their full support to me. As we already had a well-established offline business, I just needed money to create the online
presence. Today, we have taken our business PAN India, and I would like to thank Cognitive Technologies who handle all the technical fields like website, marketing and more, and enable us run the company successfully.
Today we are one of the leading suppliers of Dry Fruits and Spices in B2B and B2C segments
Any challenges that you faced while making this shift from B2B to B2C?
Yes, indeed. Today we are one of the leading suppliers of Dry Fruits and Spices in B2B and B2C segments. But it is not easy being the market leader when your opponent is Amazon, the world's largest retailer, which comes with decades of experience and billions of dollars in its kitty. But thanks to our mission of providing best quality products at reasonable price and our focus on customer satisfaction, within just five years of its launch, our online platform has gained a firm ground and has stayed with Amazon with its multiple grocery delivery models.
Alongside turning from B2B to B2C had its own set of challenges, akin to product packaging, handling and transportation due to lack of knowledge. But none stood solid in front of our commitment to 'Nature's Best We Serve'.
You offer a wide range of dry fruits, nuts, spices and other products. How do you ensure that the quality remains world class?
If you look at our company's logo, it's a Cashew with the tagline 'Revitalize your daily life'. That is the promise we make and deliver as we know eating dry fruits, seeds and nuts boost our daily life. Hence we offer a wide range of dry fruits, dried fruits, nuts, spices and other health conscious products that are not easily available in the market or on any other e-Commerce platform expect Dry Fruit Hub.
We import unique products from different countries and offer them all at one place. We provide them the finest quality of Dry Fruit Hub Saffron which is untouched by hands. Also, all our products are
cleaned and sorted manually at our warehouse instead of machines as we believe best accuracy cannot be achieved by machines due to product size. I personally check the quality of each product post which they are packed.

We import unique products from different countries and offer them all at one place. We provide them the finest quality of Dry Fruit Hub Saffron which is untouched by hands. Also, all our products are cleaned and sorted manually at our warehouse instead of machines as we believe best accuracy cannot be achieved by machines due to product size. I personally check the quality of each product post which they are packed.

Rising health conscious population is a pro for the dry fruit industry. Tell us the opportunities you foresee in the space.
Opportunities are galore as rising health conscious population only adds to the demand of our products. But our prime priority is to provide best quality product to our customer leveraging our traditional business experience of over two decades. That is how we gain customer trust. I can proudly say that if customer connects with us for the first time, they connect every time, hence creating a line of repeat customer orders.

How are you preparing yourself for the future?
Upgrading is a daily task, whether it's ourselves or our product ranges. Considering health conscious customers' changing needs, and the ultimate mission of customer satisfaction, we innovate healthy combo packs. We also provide innovative combo boxes for corporate offices, which can be the perfect gifting options as well.

In the coming years, we look at having our own chain of stores in all the major cities of India.

Key Management:
Bhati, Founder
Kindly add a short bio about Sudeep in around 40 words.

Quick Fact:
•Founded: 2015
•Office: Hyderabad
•Offerings: Dry Fruits, Dried Fruits, Nuts, Seeds, Spices and more