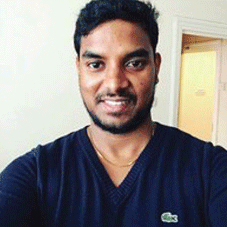 The well renowned French author, La Rochefoucauld, once enounced, "To eat is a necessity, but to eat intelligently is an art". Well, most people today are endeavouring to master this art by staying extremely health conscious and specific about what they consume. Especially India is witnessing drastic transformations among people with regards to fitness, dietary habits and lifestyle, which is projected to increase by 30-50 percent in the next five years.
Anchored across this bracket is FITJARS, a newage food & health startup established in 2017 by Shiva Kumar (Founder & CEO). Since its establishment, FITJARS has always been inspiring people to take-up healthy lifestyles and providing them the best in class products with unparalleled nutrition & taste. No wonder, it outshines as India's No.1 online destination for nutritious and tasty gourmet food today.
Currently, FITJARS is spearheaded by Shiva who is seamlessly concocting shortterm & long-term strategies for its growth as well as its consolidation in the Health & Fitness market of India. Below are the excerpts of an exclusive colloquy between Shiva and CEO Insights, wherein he articulates about his brand and its nonpareil excellence.
Hailing from the IT sector, what triggered you to plunge into the Health & Fitness market?
Firstly, I feel fortunate to have worked for behemoths like SAP and HP in the field of IT consulting, besides providing consulting advices for business transformation of Xerox. The best aspect of this journey as a consultant was that I clearly grasped the best practices across various industries, while gaining inspiration from some of their success stories. This is what drove me into the world of entrepreneurship. If you ask why Health & Fitness market, it is because I have always been a fitness enthusiast and a big-time foodie who was on the lookout for foodsthat are nutritious yet extremely tasty. That's how I came-up with FITJARS!
Being an early entrant in this market, we have the advantage of capitalizing the huge influx in demands, while our past experiences are helping us comprehend our customers' requirements and deliver them value proposition. The future looks promising too, thanks to the burgeoning population in teen & mid-age groups across India, who are our target audiences.
We focus on seamless R&D every month to create best-inclass, innovative products that can satiate our customers' nutritional requirements and taste buds
How did you overcome the initial challenges in your entrepreneurial journey?
To infuse the best of essential macros and nutrition into our products, we were experimenting with a variety of smoothies during the initial days. Later on, we added nuts into our portfolio, while exploring different types of nut butter because not many brands back then could offer top-notch yet variegated nut butter products. Fortunately, we managed to bridge this gap by initiating efficient product development processes.
Yet, the biggest challenge we faced was in edifying our customers on the health benefits of our products and convincing them to purchase, which we later overcame via brand promotion across social media. This also bestowed us with phenomenal footprint! Other challenges that we constantly encounter are tapping into the right market, product & design customization, and vendors urging us to undertake only large-scale orders.
Brief us on the core competencies and product portfolio of FITJARS.
Our brand name itself shows that our prime focus is on fitness by delivering healthy products, while our tagline 'way to stay fit' states that staying fit and adopting a healthy lifestyle isn't hard anymore. Speaking of our core competencies, we always understand our target market and varying customers' requirements, besides knowing our competitors and learning from them. In fact, we focus on seamless R&D every month to create best in class, innovative products that can satiate our customers' nutritional requirements and taste buds. This way, our agile & multi skilled team of experts at FITJARS ensures to continuously fill the voids in the market.
Coming to our product portfolio, we have a wide spectrum among which our best-selling products are Nut Butter, Almond Butter with Dark Chocolate, 7 Nut Butter, Activated Almond Butter and Cashew Orange Butter. Even till today, we are proud to have had launched the first vegan milkshake and smoothie in India. We also own other brands namely YOGABITES offering first-of-its-kind vegan Energy Bars, Protein Bars, Granola Bars, Coconut Bars(signature bar) & others, and NUTICIOUS offering Trial Mix, Assorted Dry Fruits, Signature Gift Boxes, Millets & others. Thus, we present to you the best of FIT products packed in JARS, which also signifies our environmental friendly packing only in glass jars & bottles instead of plastic. Customers can avail these products on e-Commerce platforms like BigBasket, Amazon, Snapdeal, Flipkart, Paytm & others, besides local and high street stores.

How do you envision the future of your brand?
By next year, we are planning to setup our flagship store across all major metros in India. Moreover, I spend most of my time charting the five year roadmap for FITJARS, while harnessing the best might of state-of-the-art technologies around the world. Recently, we have upgraded our production capability from machine grinding technology to traditional stone roasting & grinding methods in order to bring-out the best taste & nutrition as well as address the surging customer demands.

Being a completely bootstrapped company so far, we are hoping for future investments to expand our footprint across well developed European & US markets, thereby increasing our revenue and market presence.

Key Management:
Shiva Kumar, Founder & CEO
Shiva is a first generation entrepreneur breathing a strong vision of merging the next generation technologies, products and people.

Karthik Nagawelli, COO
Karthik has been associated with FITJARS for over three years now, and has played a key role in executing the strategies and managing the operations at FITJARS.

Quick Facts:
•Inception Year: 2017
•Location: Hyderabad & London
•Products: Spreads, Vegan Milkshakes, Smoothies, Granola, Health Drinks & Beverages, Nuts & Spices, Butters, Nut Butters & others