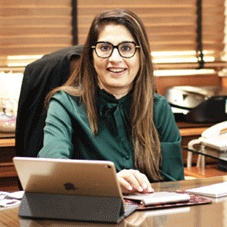 India's textile and apparel industry is strong throughout the value chain, from fiber to yarn to fabric to apparel. It has a vast array of products, ranging from various handicrafts, wool and silk products, to the integrated textile industry. Spinning, weaving, packaging, and apparel manufacturing are all part of the integrated textile industry, which is identified by the use of investment technology for the commercial production of textile and apparel products. CEO Insights interviewed ChandrikaThatai (Co-Founder), wherein she enlightened us with her entrepreneurial path and the challenges she came across to establish a successful company.
What inspired you to establish Fashion Accessories? Also, brief us about the spectrum of accessories that you offer.
When I first began my company Fashion Accessories in my garage back in the year 2000, I focused on designing a wide range of cotton bags, belts, and heavily embellished accessories for the UK and EU markets. Bed Linens (Duvet covers, Quilts, Comforters, Decorative Pillow Covers, Throws, Blankets, Drapes, Sheet sets, Bed skirts, Crib skirts, Baby quilt & Bumpers), Table linen/ Kitchen (Placemats, Runner, Napkins, Table cloth, Aprons, Mittens & Potholder) and Christmas Accessories were eventually added to the product line (Stockings, Christmas bags, Advent Calendar, Tree skirt, Wine bags & Ornaments).
What were the major challenges that you encountered during the establishment of your company? How has your journey been so far?
Building from the ground up with minimal resources and no infrastructure, I was learning, evolving, designing, re-doing, and carving out a niche for myself and Fashion Accessories along the way; there was a fear of failure, but I'm grateful for each and every one of them who inspired me to be better and do better. I am a strong believer in this and preach it to my team and
at FA Home, we have come a long way since then, and there's even more to come. It's all an output of our imagination.
Society today is witnessing the evolution of women entrepreneurship. What is your perspective towards it? Share your experience of being a women business person.
As a woman, you are continuously kept to high expectations and must constantly prove yourself to be better! You must also maintain a work-life balance. As a woman entrepreneur, I am filled with pride and appreciation whenever I see a woman take care of her business and fulfill her dreams.
Building from the ground up with minimal resources and no infrastructure, I was learning, evolving, designing, re-doing, and carving out a niche for myself and Fashion Accessories
The textile industry is facing a very tough challenge from the retail segment currently. How do you make strategies to help your company effectively compete in this scenario?
The last 12-14 months have been extremely difficult while still providing many opportunities. These possibilities include how you track your employees' health, pick customers and partners, manage cash flow, and even run your company. Our clients, supply chain partners, and employees have all had strategic and complex relationships with us. That has allowed us to collaborate and devise innovative solutions to address the pain caused by the ongoing pandemic. Our strong fundamentals, which include operational excellence, corporate governance, financial discipline, digitization, a systems approach, and creative execution methods, have enabled us to continue to sail smoothly.
As technology is ubiquitous today, what are your strategies to leverage the best of it and carve out beneficial solutions for both your company and your customers?
Fashion Accessories' manufacturing facilities include state-of-the-art inspection devices, end cutters, fusing machines, an automated
workstation for drape hem cutting, and a computerized quilting system, as well as ironing, dry-cleaning, and washing stations. From collecting orders to shipping them, we are recognized for being one of the first in the industry to implement a cloud ERP interface. For a seamless experience for our customers, we have the opportunity to display our products in 3D and virtual showroom environments. Our cloud platforms allow us to work from home while remaining safe. We have the most up-to-date technology in our facilities to improve and achieve cost savings. We also make it a point to reduce our carbon footprint year after year and we use groundnut-fired boilers for steam generation and have invested in solar panels to light our facilities.

Where is Fashion Accessories positioned in the current textiles and apparel industry of India? Also, what are your thoughts on the present scenario and future of this space?
Fashion Accessories is one of the most well-known and largest companies in the home textiles industry and is renowned for its excellent operating efficiency, on-time delivery, complex raw material supply chain, and exquisite product offerings. FA Home has continuously innovated its business and curated it to better meet the needs of its customers, as well as to adapt to changing consumer behavior and demand. In the current environment, there has been a higher-than-normal demand for home textiles.

Do you have any advice/suggestions on your mind for the budding women entrepreneurs in the same segment?
I believe that no one is more strong, self-reliant, or independent than a woman. Simply pursue your passion, set your goals, dream big, and give it wings with sincere and relentless hard work, and nothing will be able to stop you from reaching the top.

Chandrika Thatai, Co-Founder
Chandrika Thatai has completed her Science Post graduation from Miranda House in the year, and later on, got introduced to the world of textile through her husband. In the year 2000 she gave wings to her passion and established Fashion Accessories, and embarked upon a career in textiles and started building FA Home from scratch.

Location: Gurugram