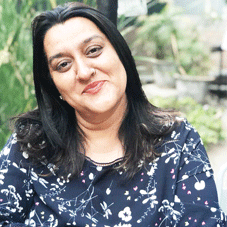 Anjana Pasi is an industry stalwart with immense industry expertise and business acumen. Leveraging her vast experience working in the international market, Anjana was able to create Mini Klub which stands for uniqueness and creativity. This ethos coupled with their commitment to never compromise on the quality of their products has helped Mini Klub to carve a niche in the Indian market.
In an exclusive interview with CEOINSIGHTS, Anjana talks in detail about her professional journey and the operations of Mini Klub.
1. Give us brief details about your educational and professional background. Also, how are you leveraging the best of these elements across your company's operations?
My entire education was from the UK & I was trained as a chef – creativity was always something that was part of my DNA, being bought up in a very disciplined environment has helped me carry values within the organisation – creativity yields creations & innovation – something I feel very strongly about. My journey started in 2002 when I co-founded First Steps babywear with my partner & husband Bob. During a period of recession in most of Europe & a boom for global outsourcing this manufacturing company specialising in 0-2 years for babies was born. Given my exposure to a European upbringing I was able to bring value to the designs & products made for major UK based retailers while helping in the expansion plans for the company. While accumulating a vast range of knowledge through the manufacturing process I was confident to bring that value to the retail industry – which in the babies sector was considered a very dis-organised area.
2. What inspired you to establish the company? Also, brief us about the spectrum of clothing that you offer?
While working with international retailers we were inspired to create the same offering to the Indian consumer. Why not offer that
beautifully designed product – stitched to the highest standards with safety in mind to an untouched market where the competition was non-existent. The 0-2 market was never explored – along with birth rates in India it made sense to offer the niche clothing to a market that was in need. The brand Mini Klub started with the 0-4 year's market in mind but on seeing the acceptability of the product offering we moved to include the 4-6 years also.
3. The textile industry is facing a very tough challenge from the retail segment currently. How do you strategize to make your company effectively compete in this scenario?
Someone once wrote, 'challenges are what makes life interesting: overcoming them is what makes life meaningful'. For me, strategy is never static – as factors change one's strategy has to be realigned, as one's life never stays the same – the same principle applies in business. We follow the simple fundamentals in our business ventures also – the 5S – Set in order – Standardise – Shine – Sort -Sustain – this includes both people & process.
The brand Mini Klub started with the 0-4 year's market in mind but on seeing the acceptability of the product offering we moved to include the 4-6 years also.
4. What were the major challenges that you encountered during the establishment of your company and as of now, where is Mini Klub positioned in the current textiles and apparel industry of India?
While starting our business a few of the major challenges we faced was building a trust between the mothers& us and convincing them we are as good as other major brands. Once the trust started building our business growth excelled at a phenomenal rate. The baby segment is built on trust – trusting the products your baby wears & uses and being comfortable that the brand has taken the upmost care. Our journey was long & challenging but we got there. Being recognised just recently by TOI as a most valued mother & child brand 2020 - reinforced that we are doing something right!!
We understand that nothing lasts forever but to be considered a key contender in this segment for years to come we need to practice
elevation. Elevation in what we create – the people we work with & most importantly the products we create – we have to believe we are capable of being trend setters & not mere followers – setting our own internal benchmarks & realigning based on strategy.

5. Tell us about the various categories across which your company offers clothing and accessories? Also elaborate on your interior fashion design team and their experience?
We specialise in 0-2 years as this is our major forte but we have extended our range offering to 6 years – the product lines range from affordable essentials which are predominantly functionality driven – to baby fashion which focuses on outerwear with novelty for extra cuteness – finishing at kids wear – which is quirky, trendy and perfectly curated for that age group that's full of fun. Footwear & fashion accessories are provided to compliment the ensemble along with soft & hard lines of nursery & feeding which finishes off the 'one stop' destination for all moms Mini Klub takes pride in being known for this. We also offer an amazing post-partum collection to make life easy for all our new mommies.

Our design team practices that Innovativeness is limitless and cannot be measured. Our teams are recruited based on the explicit skill set they have and we encourage personal & professional growth with no limitations – creativity is boundless we push everyone to dream & dream more – setting an example that nothing is unachievable if you have the courage to look beyond your own self. While creating the correct environment, creativity flows & experimenting is the key to creating. We carry this ethos in everything we do!

6. Do you have any advice/suggestion on your mind for the budding entrepreneurs in the same segment?
Retail is changing daily & budding entrepreneurs come with one thing – fresh thoughts - the fear of failure is never there as the harness is still being casted to see what one can do – dream big & your actions will follow – believe in what you're doing as faith in a business ventureis the master key to success.

Anjana Pasi, Founder, Mini Klub
Anjana is her passion to offer a unique experience for her clients consistently that has pushed her to always stay on top of her game. Evolving with the changing times, Anjana and team Mini Klub has set their sights on developing into a pioneering business organization in the Indian textile industry.