Chetan Suresh Y: Redefining The Corporate Performance Management Arena Through His Exceptional Expertise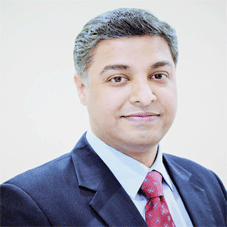 With a robust and stable economy, Qatar demonstrates an average annual growth rate of 10.5% and ranked first among countries that achieved noteworthy growth over the last 20 years. Chetan Suresh Y is one of the few Indian stalwarts who leveraged the profuse opportunities bestowed by Qatar to emerge as a significant corporate professional. He is currently managing the Corporate Planning and Performance at Barzan Holdings and its affiliates which are pragmatically engaged to assist in the revolutionization of Qatar's defense and security sector. Responsible for the multifold growth of Barzan Holdings in recent years, Chetan Suresh Y and his team are focused on capacity and human development to create lasting value in terms of knowledge advancement and financial returns for the Qatar economy.
Engaging in an exclusive interaction with the CEO Insights team, Chetan Suresh Y highlights the distinctive details of his journey as an elite Indian professional in Qatar who is redefining the corporate performance management arena through his exceptional expertise.
1. Along with your educational and professional background, do tell us about your unique skill sets and strengths that differentiate you from your peers in the industry.
I did my bachelor's in Industrial Engineering from BITS, Pilani. During my early career, I was fortunate to be a part of the elite list of highflyers in most of the places I worked. Resulting, rewarded with the employee-sponsored EPGP program from IIM Ahmedabad and later fully sponsored on-campus Executive MBA from Warwick University, the UK under the employee reward program for high achievers. I have also been felicitated with multiple employee awards like employee of the year, young leader award, etc.
I started my career in operations and moved gradually into business planning at a strategic level. This smooth transition from Manufacturing/Operations to Strategy management helped me a lot to understand the entire lifecycle of different businesses along with their functions and positional priorities in the journey.
Secondly, my comprehensive background, in various sectors such as Auto, FMCG, Personal Care, Electronics, Trading, Water, Agri, Power, Food, Advisory Big-4, Government sectors, Real estate and now in defense plays a big part in my professional success. Working in diverse geographies including India, Southeast Asia, UK, Europe, Africa & Middle east offered me a fresh and out-of-the-box perspective to challenge the accustomed way of doing and managing business practices.
2. Tell us about Barzan Holdings and your role in the organization. How has been your journey so far with it?
So far, the journey with Barzan Holding, while managing the Corporate Planning and Performance at Barzan Holdings and its affiliates, is amazing. Barzan Holdings have realized multifold
growth in recent years and is helping to revolutionize Qatar's defense and security sector. Our focused policy on capacity and human development allows us to create lasting value in terms of knowledge advancement and financial returns for the economy.
To help us achieve our mission, Barzan Holdings is built around three integral and complementary pillars: Investments, Research & Development, and Strategic Procurement.
The unique combination of wisdom, science, and craft has made strategy creation and its application a universally sought-after skill
At Barzan Holdings, we dare to think big, to imagine more and to lead the way. We are continually searching the globe for best-in-class operators, and promising SME partners so we can work together to create a tailor-made, robust defense and security industry. Currently, we have a presence in 17 countries.
3. Having more than 21 years of diverse experience in Strategic planning and strategy deployment, how do you define Strategy?
There is no definitive answer about what strategy is. People think about strategy in different ways and very few understand the difference between the Goals and Strategy. Almost a decade ago I attended a Senior leaders conference, hundreds of top leaders from different organizations have participated in the same. Since I was a part of a panelist group, had an opportunity to ask and interact with many. To a simple question, "How your organizational strategy looks like for the next three years?" I received answers like, "We are looking to increase revenue by two folds, move from customer satisfaction to customer delight, Improve the bottom line, and so on." I quickly realized that most of the leaders feel comfortable talking about their goals and fail to differentiate strategies from the goals. To me, strategy is all about answering the 'HOW' part.
Strategy is nothing but the choices you make based on the hypothesis you constantly adjust; it cannot be static. It is very important to effectively execute your strategy as quickly as possible to see if the choices you made are giving the desired results or may need any changes. Hence quick and effective execution is vital in the entire strategic management framework.
4. What's your success mantra in business, and with your vast experience how do you align the organization?
One of the biggest dangers for any organization is to discover delink of operation with strategy, which will keep the organization busy but at the same time ineffective. It is particularly important to bring alignment and synergy between different teams to work toward the ultimate goal of an organization.
The way I see is most of the organization needs three strategic level plans: corporate strategy, business unit strategy, and team strategy. And three levers to engage for the execution: Communication for everyone to understand the strategy, Approach that everyone can believe and People to engage in delivery.
5. What advice would you give to aspiring Business leaders and strategists?
The unique combination of wisdom, science, and craft has made strategy creation and its application
a universally sought-after skill. In past, mostly the Business Leaders used to come from a Sales or Finance background how-ever, now the scenario is shifting towards Business Strategy leaders. Business Strategists are being put on a fast development path to move towards taking the over-all leadership role for the business. Hence It is essential for any strategist to learn to contribute to all major parts/functions of the business while developing a deep understanding of the same.

Many businesses have strategic plans but no coherent approach to manage the execution, coordination and communication of those plans. That's where the Office of Strategy Management (OSM) plays a vital role, in execution and aligning the organization. The OSM can become an area where future leaders gain a strategic perspective on the organization. It is important to position OSM directly under Chairman/CEO office while having an umbrella view over the rest of the functions.


6. In your professional journey so far, which achievement bestowed you with utmost satisfaction?
A few years back I mentored one of my ex-teammates in his start-up venture. Worked with him and pulled out a comprehensive 5 years plan while addressing market overview, identifying value proposition, resources planning, and feasibility. Also guided him during the initial execution phase. At some point, he was a bit ambiguous and wanted to come out. But I was confident about his ability to work hard and effective execution skills hence convinced him to step forward and stick to the plan. Today his venture gown up by multiple folds and he employed a team of 30+ people. I feel pleased to help him in realizing his dream.

7. What is your version of the top-most attribute which business leaders must have?
Well, there are many qualities that are of high importance to any effective business leader including integrity, accountability, empathy, humility, resilience, vision, influence, and positivity. However, I sub-scribed to the thought that the most important attribute Is Health, both physical and mental. It is vital for company leaders to embrace their health and wellbeing. By taking care of yourself, you can better lead and make wiser decisions for the business in turn creates a healthy and growing organization.

Chetan Suresh Y, Director - Corporate Planning and Performance, Barzan Holdings
Chetan is equipped with more than 21 years of diverse and comprehensive background with prolific experience in Strategic Planning, Corporate Performance Management, Operations, Lean Systems, Re-engineering & Projects across Defense Industries, Real Estate, Energy, FMCG, Food, Tyre sectors based in South East Asia, Europe, Africa and the Middle East. Successful at Business life cycle leadership to recover from the chaos and generate no-risk change, he is an expert in strategy deployment, corporate performance management and business excellence initiatives. Owing to his leadership experience in managing a diverse international workforce, he is not only proficient in driving financial turn-around through the lean approach but also has expertise in performance enhancement, quality improvement, cost reduction and sustainable revenue generation.

Hobbies: Traveling, exploring cultural diversities, Playing table tennis with his daughter and Swimming.

Favorite Travel Destination: Kenya safari