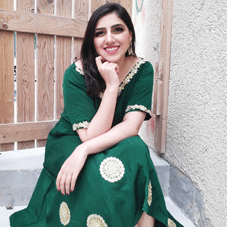 Fashion industry is a continuously evolving sector today. "I am so blessed to be meeting inspiring and passionate businesswomen daily, each with their unique ideas and surrounding myself with their energy. I believe that, in today's world, being a businesswoman is an empowering journey to learn & improve yourself, refine your decision-making skills, align your life goals better and manage your own independence, finances and living. Though, yes, it does come with its own challenges and overtime, I have been able to be better equipped to meet these challenges and continue to move forward", says Amrit Kaur, Founder of Amrit Atelier, while talking about her entrepreneurial journey. Her passion to develop a unique business entity has helped her to take Amrit Atelier to greater heights and make a name for herself in the industry.
In an exclusive interview with CEO INSIGHTS, Amrit talks more about her professional journey and what propelled Amrit Atelier towards sustained success in the industry.
Give us brief details about your educational and professional background. Also, how are you leveraging the best of these elements to add value to your company's operations?
I started my journey during high school in Qatar where I used to design costumes for annual day functions & then moved to learn the Basics of Pattern Drafting at Virginia Common-wealth University, Qatar. I received my degree in Fashion Designing from Istituto Marangoni, Paris. It is known to be one of the top 10 fashion universities in the world, where the likes of Moschino, Dolce & Gabbana, and Rahul Mishra have graduated. While I was there, I started my first brand, Amrit Kaur Paris – a performing fashion house to design your dream dress from sketch to reality. We presented the brand thrice during Paris Fashion Weeks.
From there, I toured India for a bit
and then shifted back to Qatar to expand the brand. Happy to say, that now we have expanded to create a fashion group, Amrit Atelier, under which we have two new brands along with Amrit Kaur Paris. The two new brands are Madame Mirchi – a fashion ecommerce that provides a platform to unique designers around the world to display their products & have access to the Qatari market; & Aafat The Misfit – a quirky unisex commercial line creating customized hoodies & T-shirts.
The growth started with my family who would be supporting me in these roles such as social media, delivery, etc as our business demand increased
On the side, I also studied Contract Law & Justice from Harvard. Currently, I am also picking up Fashion Styling from Istituto di Moda Brugo, Qatar, to help enhance our vision & portfolio. Learning what really goes behind creating a dress from colours, trends, patterns, fittings, embellishments, styling, etc, along with exposure of being on the ground with tailors, photographers, backstage support and contracts, marketing campaigns, has given me the know-how of technical information, team management & creativity of different minds. This leads to better management of operations as now, I have different perspectives to help me lead in each step, making it a creative & pro-active environment.
A Great leader often possesses a combination of various leadership qualities like creativity, motivation, vision, and empathy. Highlight on how your journey has been so far?
In the beginning, it was a one woman show. I was the trend forecaster, illustrator, fabric scout, pattern drafter, tailor, dyer, embroiderer, etc for the technical side. For the business side, I was the developer, public relations, lawyer, social media coordinator, delivery girl, customer service etc. It was a few years of learning from scratch with on-ground exposure. I learnt so much about what each role requires, what my customers would like, how to think on your feet & handle tricky situations. The growth started with my family who would be supporting me in these roles such as social media, delivery, etc as our business demand increased. It took a couple of years to grow to
20 core team members now constantly supporting this journey.

Highlight on the achievements that Amrit Atelier has attained since its inception? What methodologies have you incorporated to take your business to next level?
Starting the brand in Paris, presenting the brand during Paris Fashion Week thrice, being featured in top newspapers [Qatar Tribune, Gulf Times], media platforms [Qatar Living], magazines [Grazia Arabia, LLQ Qatar], and even radio [Radio Olive, One FM] in Qatar, and Winning the Design Your Dream Career competition in Qatar has all given me great joy and happiness. I live for the feeling that I have when I see the final dress fitting in its element. What start-ed out as just a thought now in front of us in full form. That feeling is worth all the struggle, sleep-less nights, pattern making cuts and other sacrifices. Mainly this feeling is when the dress goes right onto the ramp while I am backstage. Media publications & interviews have always been a great milestone. To see your name in places you never thought to be, it does motivate you to know that the work being put in is being recognized. To be able to provide women a dream dress & accessories so they can be dressed from head to toe by us with a free style consultation & fitting brings me great joy. Also, the moment when I wore my own design for the first time on the Grazia Arabia red carpet is one of the most beautiful moments in my life.

What are the marketing and distribution strategies that you have adopted to dominate the market and what are your future ideations to tap into the unexplored areas?
Easy access & customer service are 2 main strategies we keep working on to improve. Public relations & representation is critical as well to keep reminding your audience about yourself. I also believe in equal representation, my brands are covered by people whose merits are checked, not because of name or nationality. This is what I believe is most import-ant if you want to advance in a unique way. For the near future, I am currently exploring into menswear collections which would be something new for Amrit Kaur Paris. I am also expanding Madame Mirchi to bring on more unique designers on to the platform.

Amrit Kaur, Founder, Amrit Atelier
Stating true to her vision, Amrit has been able to create a unique and boutique business organization that stands for excellence and innovation.