Abdurahiman E.P: A Leader Striving To Accomplish The Needs And Desires Of Customers Through Quality Health And Care Products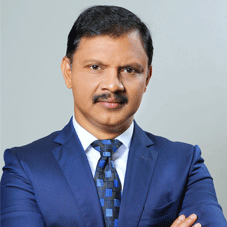 Today, through a healthy stream of public investment and support, modern facilities, and an innovative medtech segment, Qatar has established itself as a global leader in health care. In recent decades, the pharmaceutical market has also expanded its geographic reach, owning to the Covid19 pandemic, these trends appear to be here to stay. A leading business enterprise in Qatar, Care n Cure is delivering quality products and services across a range of sectors. Starting with the launch of Corniche Pharmacy in 2000, the firm has scaled numerous heights and earned a reputation for a dynamic and customer-centric organization. The Company's culture of trusted health care services through community pharmacy care and pharmaceutical wholesaling dates back more than 21 years now.
A dynamic, growing organization with a diverse group of motivated employees, all working together in an environment that fosters creativity, Care n Cure Group has surely set new benchmarks in the industry and the credit goes to Abdurahiman E.P – Founder & Chairman, a leader who continuously strives to fulfill and exceed the needs and desires of customers through quality health and care products. In this one-on-one conversation with CEO Insights, Abdurahiman E.P talks about his professional journey while highlighting his significant contribution to society through healthcare.
Can you throw some light on your educational and professional background? What are the unique skill that differentiates you from your peers in the industry?
I have completed my pharmacy studies at Calicut Medical College, Kerala. Post this, I started working as a retail pharmacist for two years in Kerala and then moved to UAE where I joined Julphar, the largest pharmaceutical manufacturing company in the region, where I worked as a quality control inspector production and packaging. This has helped me enhance my observatory power. Later I joined a sales and marketing job in a pharma distribution company in UAE where I could learn the basics of sales. From here on, I moved to join a Swiss pharma company as a medical representative which helps me improve my communication skills. So, overall, I feel my observation, analytical approach, and communication skill have all enhanced with each responsibility that I took over, thus giving me some kind of edge in this field.
Being a great leader of Care n Cure Group, Qatar, what are different roles that you have been undertaking and how has your journey been at this organization?
I started Care n Cure Group, Qatar about 21 years ago as a single pharmacy store with 2 employees. At that time, I was working for other companies as well, so I pursued this on a part-time basis by handling all the major responsibilities related to
general operations, accounts, and even sales at times. I have vested my years of expertise into this and today, we are a 375 crore turnover company, so this experience from scratch to this level has given me a lot of power.
Adding to this, I believe, my success mantra is 'Trust'; I trust the almighty and his plans for me. Secondly, I trust my team and I believe, when we trust each other we feel genuineness and openness towards each other, and this will always be rewarding. This has helped me to be what I am today.
We have a competent team wherein they take the responsibility and the ownership of the duty assigned to them and that is how we can reach this height
Through your expertise and your experience, how do you align your organization with the vision and mission and ensure to bring value to the company?
With one of our core values being service, we take pride in consistently delivering outstanding and excellent service to our customers. You won't see our values written on the walls of our offices; however, when you walk in the door, you will feel them in the environment and in our people. What we have been insisting on our team from the very beginning is we will be very straightforward and gentle. Our tagline is "our name our promise". Care n Cure is our name and that itself is our promise to the world. So, this is one thing we have been communicating to every member of the organization and we say care is from the heart and cure is from the brain. So, anything to do without the involvement of our heart is something like a body without a soul. So, we are looking at everybody from an empathetic approach and that is the way we are carrying our customers and our businesses.
As a leading business enterprise known for its impeccable customer services, what's your role in it? How do you use your expertise and experience to align your organization with its vision and mission?
Care n Cure Group started without many plans and in a way it had very centralized management. It was only when the pharmacy was branded as Care n Cure, we started decentralizing our responsibilities. We started delegating responsibilities and delegation is not just the task, it also gives a sense of responsibility to our team members. We have a competent team wherein they take the responsibility and the ownership of the duty assigned to them and that is how we can reach this height.
We also make sure that we are transparent and we have a very friendly and respectable working environment. We make sure we are giving our team members peace of mind and they keep smiling and definitely, a smiling face is always well accepted by other people as well. And when it comes to the market, we do take care of our customers by providing the best quality services and products, which is always well accepted by customers.
Our team is always ready to go that extra mile to keep up with the vision and mission of Care n Cure Group.
How do you align with the rules and regulations of the Qatar Government to accomplish your requirements?
At Care n Cure Group, we have different divisions that have different requirements. For our Pharma division, of course, there are strict guidelines by the Ministry of Health, and all retail pharmacies operate as per the guidelines of the Government authorities. Secondly, when we are importing pharmaceutical products, there are registration processes and very stringent guidelines to which we always adhere to. Our FMCG Non-food and food division have separate guidelines laid down by the Ministry, and we make sure that we are adhering to those standards. At Care n Cure Group, we always make sure we don't do something which can harm our people of Qatar.

In your professional journey so far, which are the major milestones that have bestowed you with utmost satisfaction, both as an individual and as a leader.
The best recognition for any leader is from their team members. So, for me, I believe that my satisfaction has always been when my team members accept me as their leader, and when they trust me. During this COVID outbreak, we had a lot of challenges and we called the team leaders for a meeting to discuss the scenario and how to tackle the situation, and what we should be doing. As a team, we brainstormed. I explained that we will have a turbulent sea and we have a long way to go. So, maybe we'll have to take some of the tough measures. What touched us is how our team responded by saying that they have 100 percent trust in the captain and they would contribute their best. The courage and confidence it gave us were immense, and we had individual meetings with every division and all the team members showed their solidarity and their trust in the leadership. That was the most satisfying moment for me as a leader.

"The Indian community benevolent forum, which is the apex body of the Indian embassy for charity activities, awarded me the appreciation award in 2007"

Adding to the above, when I was working in Marketing for a Swiss Pharmaceutical Company, I was awarded the "Market Fighter of the year" which is given to the best performer in the region, so, that was in 2005. Secondly, the Indian community benevolent forum, which is the apex body of the Indian Embassy for charity activities, awarded me the appreciation award in 2007 which is for our service to the community here. So, these are the two things among others that I value a lot.

In a nutshell, tell us about your experience as an entrepreneur, and what is the major factor that led you to this success?
I consider Care n Cure Group as a "diamond ring". Diamond is not the whole part of the ring, maybe if you look at it, it is a smaller part of the whole ring but the whole ring is named after that particular diamond. Diamond is the face of it and it gets maximum visibility and importance. At the same time, it is the Ring that is the major part and it is doing the purpose of it. The ring is the reason for the Diamond to be intact and can be at the forefront. So, my team playing the role of the ring and they hold the company strongly and I'm allowed to be in the forefront. So, it's a team effort and I give the whole credit to my team for all the glitter that I'm enjoying today!