Abby John: A New-Age Entrepreneur And Distinctive Indian Leader Reigning Across The Niche Industry Domains Of Qatar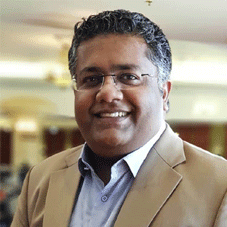 Indian leaders have always been able to mark their prominence across the globe owing to their remarkable expertise and endless zeal to learn. Owing to his ability to think laterally and apply his experience and learnings to solve the complex new-age problems across any field, Abby John stands apart as an Indian industry leader who has managed to carve his identity across intricate industry verticals of Qatar. Being a solution-preneur in attitude and approach, with a natural curiosity to know the 'why' and enjoy the process and details on projects, his unique strength lies in the ability to ideate and generate solutions. Apart from an analytical mind with a creative approach and inventiveness to problem-solving which gives him a unique recognition within the industry, Abby John's strong attention to detail, coupled with his solution-driven approach has led to success in all his professional endeavors till date.
Engaging in an exclusive interaction with CEO Insights, Abby John elaborates on his journey as a new-age entrepreneur and distinctive Indian leader reigning across the niche industry domains of Qatar.
What different roles have you been undertaking at Clover Qatar? How has your journey been at this organization so far?
When the entrepreneurial bug bites, you need to be prepared to wear a lot of hats. You are no longer responsible for delivery against your job role and you shoulder the responsibility of an entire organization. For me, it has been a huge learning curve. Having worked in leadership roles before, I could go home and switch off mentally when working for other companies. With Clover, the sense of responsibility and the need to accomplish stays with you 24/7/365. In terms of leadership, it is a tightrope walk between my faith and empowering my team to do their job and at the same time, making sure that everything stays on track without having to get into micromanaging. Along with staying focused on the bigger picture and long-term vision, it is important to empower and motivate the team on a daily basis to feel a sense of purpose and connection to our shared vision for the success of Clover.
Being a small but knowledgeable, efficient, and close-knit team, my business partners and Co-Founders Dileep Nambiar, Charu Sharma and I work together to maintain an environment where everyone feels empowered, connected and inspired to push the boundaries and do their best. Sharing the same values, we all lead by example which helps keep the team stays on task and on the mission.
What's your success mantra in business? With your vast experience, how do you align your organization with your vision and mission to bring value to the company?
When efforts are in line with the company's vision and mission, success is inevitable. For me, vision and mission are the heart and brain of the organization and they have a profound impact. Open communication, transparency and collaboration lead to trust, which is of paramount importance in business and that's our success mantra. Driven by zest and passion, we are active listeners and prioritize Emotional intelligence in our world. Resilience and irreverence are also key attributes. Getting influenced by the fabulous leaders I have worked with helped me learn great qualities from each one of them. Being a lifelong learner, professionally and personally, my varied experience and the many strong personalities I have worked with have shaped me into the person I am today.
Innovation, Novelty, Delivering Customer Delight and Cohesive Camaraderie makes team Clover appealing and ineffable
Give a brief account of how methods/strategies that you laid have transformed Clover Qatar's entire work culture and client relationships.
At Clover, we are a great confluence of innovative minds both at a leadership level with my co-founders and at an operational level with our team. We are always ready to traverse the untreaded paths. This is one of the reasons we have varied products in our portfolio, which helped us create a niche for ourselves. We have an able team to support our vision and mission; and we work collaboratively to align with that vision. We are committed to a culture of choice at Clover which makes us very contemporary in the market. In a nutshell, Innovation, Novelty, Delivering Customer Delight and Cohesive Camaraderie make team Clover appealing and ineffable.
We are seeing a growing number of consumers coming up with their own preferences & challenges.
What strategies do you follow to overcome various challenges of customers and meet their requirements and how did you make space for yourself in the industry?
Our approach to our clients is always as a solution provider and problem solver. Being active listeners and focused on addressing the client's needs, our sale is a bi-product. We connect and understand the need to ensure we serve them better. Having a holistic approach by offering a one-stop solution; helps us build trust with our clients and understand our clients in a better way. This is a quintessential step in client retention.

How has been the journey of Clover since its inception? How is the organization gearing up for its future?
At Clover, we are three equal business partners comprising of me, Dileep Nambiar and Charu Sharma. With our roles and responsibilities clearly defined, this helps us in achieving our vision and leaves no room for ambiguity.

Our employees are our strength and pride. We have empowered them to take their decisions with clients. They are literally in charge for the loss or profit they bring into Clover. They live and breathe our values and that makes it easy for us to all work together. They understand that Clover is here for the long haul and not for the short-term play, which gives them an equal opportunity to learn and grow each day.

As for the future of Clover, with the outstanding and amazing support of our primary solution partners such as Prologic First, Samsotech and more niche & solution partners, we will be looking forward to exciting, challenging yet very interesting years ahead of us.

Abby John, Co-Founder, Clover Qatar
An Aircraft Maintenance Engineer by qualification, Abby John has a unique and varied professional work history. His diverse educational background helped him hone his technical and commercial skills and enabled him to approach my professional life with discipline and a razor-sharp goal-oriented approach. As a result-oriented professional with over 18 years of rich experience in various fields with exceptional interpersonal and communication skills, his assorted professional background includes a range of leadership positions in globally recognized organizations in areas like Marketing, Sales, Business Development, Client Servicing, and Commercial operations. His immense experience across various industry verticals helped him take the leap of faith to have a start-up. Clover Qatar has seen significant growth and success over the last three years.