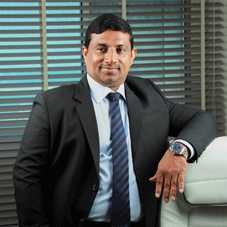 Dr. Hamza V.V is an Indian businessman from Edappal, Kololamba of the Malappuram district, Kerala. He is the Managing Director of Qatar-headquartered Alsuwayed Group and Global Max Group of companies that own and operate many companies in the Middle East and South Asia – dealing with various sectors. With a higher growth rate, Alsuwayed group is looking forward to expanding its business wings to more countries in near future. He is the winner of Doha Bank's Al Dana Millionaire award 2016, where he was selected from 2.5 million account holders.
CEO Insights is much privileged to have an exclusive conversation with Dr.Hamza V.V. Kindly peruse the following insightful excerpts that showcase his personal and professional journey.
Brief us on your educational and professional background
I was born in Malappuram district on January 10, 1970. I completed my schooling at Kololamba and Kunnamkulam where I did my Pre-degree in Unique College. After the studies, I left India and moved to Qatar where I worked with a relative in the retail sector. My first step in the business world was in 1998 with a vision of building my own empire. Starting from the water supply division, I developed the business by launching Alsuwayed Trading & Transport W.L.L in the year 2000 and expanded the business by entering into the Waste management sector.
I could develop the business further by commencing new companies like Sandflower Trading & Project development, Abston Trading & Contracting, Group 10 international, etc. This huge expansion has helped me to compete with big players in the Qatar market. Intending to strengthen my business management skills, I joined a bachelor's degree program in Business Administration and completed it in 2005.
Highlight interesting facts about Alsuwayed Group of companies
Alsuwayed Group of companies commenced its operations with a vision to become Qatar's leading
service provider intending to deliver supreme values to its stakeholders. After commencing the potable water supply business, I diversified the business to waste management, heavy-equipment rental, and Real-estate to satisfy the market demand due to the hike in construction projects in Qatar. The group also started its own Sewage Treatment Plant in 2016. By the end of 2015, the group had remarkable contributions and market share in the service sector.
It is based out of Qatar has grown into an international group with operations spread over three countries (Qatar, Oman, and India). Moreover, the company has more internationalization strategies such as moving to the USA in near future. Alsuwayed Group owns more than 300 heavy trucks and machinery which are operating all over Qatar. Apart from the core business, the group also owns several properties such as Suwayed plaza and many buildings in India under the name of Alsuwayed Developers, Future Doha Real Estate, Rusiya Dubai are the other ventures.
Considering Hamza's substantial contribution to humanity and the business community, Kings University of United States of America honoured him with a doctorate in November 2017
Enumerate on the Global Max Group of companies.
Qatar has evolved drastically with the leadership of Emir of Qatar His Highness Sheikh Tamim Bin Hamad Al Thani, Qatar's vision 2030 demonstrates its approach towards sustainable development in key areas. We have witnessed the diversification of the economy through various measures and innovative ideas. I did foresee the urgency of such diversification in the business model to adapt to the current trend in the market. I always applied adaptation and innovation to all businesses. I believed in my confidence and the almighty god, in 2016, I started the first retail outlet called Auto Max Motors in Qatar under the Global Max hood. Which was majorly dealing with vehicle Spare parts.
I was able to open another branch exactly after the first anniversary of Auto Max in the Industrial Area, Qatar called Auto Max Trading with three divisions Spare parts, Tyres, and Hydraulic. In 2018 the group commenced AutoMax Garage and car wash to meet the ongoing
demands and requirements of heavy vehicle repairs and maintenance. During 2018 and 2019, the company made a huge investment in Qatar and Oman in the Hypermarket sector by opening many retail outlets such as G-Max Hypermarket, Fresh Max Hypermarket, Sanaiyamax Hypermarket, Al Ula Max Hypermarket, Global Max Trading, etc.

Throw some light on your Personal Life
I got married to Raihanath Hamza who is one of the directors of the Alsuwayed group of companies and we have five daughters named Sahla Faisal, Sheikha Hamza, Shafna Hamza, Shana Hamza, Fadiya Hamza. We are currently residing in Doha, Qatar.

Elucidate on the socially responsible activities you have indulged in so far.
I am very closely involved in many social, charitable, and humanitarian activities both in India as well as in the Gulf countries. I donated generously towards the Nepal earthquake where 40 percent of the workforce is hailed from. I am also actively involved in ensuring the social, economic, and religious welfare of expatriate Indians in the Gulf. Considering my valuable contributions in humanity and social fields, the UN honoured me with the Humanitarian day award in 2013. It also awarded me for the contribution made on UN World water day 2016. Moreover, I support all the community events and help others to bring up new ventures.

Various government and non-government organizations have praised me for humanitarian acts such as delivering free drinking water to many places that are suffering from drought. Many families were benefitted from this kind of activity and it has been continued for many years now.

Dr. Hamza V.V, Automax Garage And Car Wash
QATAR
Alsuwayed Trading & Transport, Sandflower Trading & Project Development, Abston Trading & Contracting, Group 10 International, Future Doha Real Estate, Deep Stone Trading, Auto Max Motors, Auto Max Trading, Auto Max Garage & Car Wash, G-Max Hypermarket, Fresh Max Hypermarket, Suwayed Plaza, Global Max Trading, Global Max - Central Warehouse, Doha Max Trading - Packing & Mill, HIMAX Trading, Al Ula Max Hypermarket – Industrial Area, Al Ula Max Hypermarket – Najma, and Al Ula Max Hypermarket – Al Shamal.

OMAN
Food Max Hypermarket
INDIA
Alsuwayed Developers and Gulf Max Developer