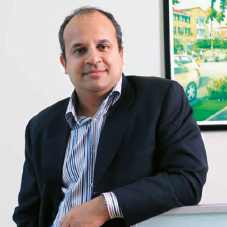 The increase in the number of HNIs coupled with factors like increasing awareness of international trends & lifestyles, more spending power & paucity in truly luxurious offers have paved way for exponential growth in the luxury residential segment. The Asia Pacific Wealth Report(2016) asserts that the population of 'ultrarich' people in India will increase by 105 percent by 2025. Consequently, developers are focusing extensively on the three factors defining the modern day luxury location, size, and most importantly, the developer's brand value. But even this opulent segment remains largely unorganized, with only a handful of development firms run by real professionals.
Established by Cherag Ramakrishnan, a real estate veteran with over 23 years of experience in the industry under various avatars,CR Realty is an ideal organization standing true to the contemporary definition of luxury. Entirely run by practiced & prominent professionals, it is well-known for transparency and excellence in its comprehensive services that includes all facets of development such as sales & marketing, execution, strategy and raising capital, while adhering to regulatory compliances. With such services that exceed expectations, CR Realty continues to be the first choice of all stakeholders, alike including lenders, land-owners, and even other developers for partnering to persistently pursue their enterprise.
In an exclusive interview with CEO Insights, the distinguished and dynamic founder of this flamboyant firm, Cherag walks us through the journey of CR.
With the luxury segment growing profoundly in India, tell us about your opulent projects through which you aim to capitalize the market.
As a real-estate development firm, we are currently catering to a mix of projects 'luxury' as well as 'affordable luxury'. Our flagship luxury projects are available in Bangalore, while in Mumbai, we are focusing on the affordable luxury segment. Providing for all preferences of customers our luxury projects, The Hamlet at Sankey Lake
& The Big Treeat Jayanagar, Bangalore come with a traditional prime location, premium finishing & amenities, and an excellent brand value. These spectacular edifices are certified & approved and will be ready for occupancy in less than a quarter of a year. Priced competitively, the apartments at Jayanagar have a price tag of Rs. 3-5 crore each, while the penthouses start at Rs.11 crore. This seven storey tower consists of 12 boutique apartments with each floor consisting of two three bedroom apartments and rooftop penthouses complete with a roof top terrace. The quant & green residential area is close to food, fun and entertainment with its strategic location at the South End Circle, wherein six roads meet, giving access to the whole city.
Providing for all preferences ofcustomers, our luxury projects come with a traditional prime location, premium finishing & amenities, and an excellent brand value
On the other hand, The Hamlet at Sadashiv Nagar features seven luxury homes set in a beautiful green surrounding with a mesmerizing view of the Sankey Lake, offering a perfect blend of design & class. Starting from Rs.6 crore per apartment, the price range goes upto Rs.18 crore for penthouses. Apart from these luxurious projects, we have come-up with 'affordable luxury'projects like Primo in Mumbai, which features smaller one & two bedroom apartments with premium finishing (including modular kitchen) ranging from Rs. 1.1 – 1.5 crore. With a belief that luxury is not always defined by the size of the apartment, but the quality of the lifestyle, we are extensively moving more towards this segment.
Tell us about your experience & expertise that has been helping in moulding strategic business for your organization. We would also like to have some insight into the way you run the company.
I have been an entrepreneur since the age of 23, entering the industry as a broker. My first accomplishment was the successful development of a dotcom called 'kheladi.com' for sports persons, from scratch. I learned a great deal with this venture like launching the company & managing people before selling it to Sify in 2001. Wearing many hats, I have served the industry in several avatars, including running the online platform for Sify, real estate
advisory business and finally the CEO for the real estate business of Essar Group eventually called as Equinox Reality.

It is to Essar conglomerate that I owe the most for allowing me to get a widespread professional experience. The phenomenal freedom they give to their CEO & their family-like culture is responsible for my first hand experience on large scale operations while managing huge principal capital. I am trying to follow the same culture & processes at my company. Most of my core team members are my colleagues from Essar, who have practically worked through the Essar lifecycle with me. This enables us to focus on deliverables and deliver on time, while adhering to compliances and processes

Are we to see any new innovations or upgradation from your side in the near future? What is the future roadmap that you have set for your firm?
According to me, developers should use minimum technology and maximum steel & concrete to ensure timely delivery of their projects. Innovation may be a challenge sometime if you want to continue delivery. We follow & advice our peer to leverage the KISS(Keep It Simple Stupid) methodology to keep their business running. If at all transformation is needed, it is in the procurement of quality materials, rationalizing amenities being provided, reducing maintenance costs, and making efficient flats.

Besides, we are constantly in touch with our peers akin to contractors & vendors who update us on latest changes in construction technology. We also have an inhouse architectural and PMC team to counsel us on all aspects of material selection, and finance team chasing & seeing through statutorily laws. Moving ahead, we want to transform CR from a full-fledged development firm to a full-fledged development management company. We want to switch-over and manage projects for large private equity institutions, land owners and lenders.

Key Management:
Cherag Ramakrishnan
A real estate veteran & prominent snooker player, Cherag possesses over 23 years of experience in handling various facets of development, under various avatars ranging from real estate advisory, founder of tech company to CEO of company of large conglomerate.

Offices: Mumbai (Headquarter)and Bangalore (Office)

Luxury Projects:
•The Hamlet, Sankey Lake, Sadashiv Nagar (Bangalore)
•The Big Tree, 8th Block, Jayanagar (Bangalore)