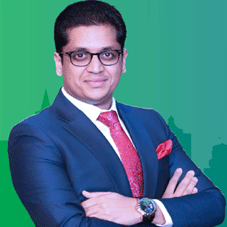 Luxury housing has evolved a great deal from its traditional paradigm into a more dynamic and complex segment in the real estate sector of India. Today, luxury living is all about bringing-out the best of technological advancements, aesthetic appeal, intricate details and unparalleled utility, while balancing comfort and style too.
Standing tall across this luxury living segment of India is M3M India, one of the most exemplary and prolific real estate developers. With a brand name that echoes 'Magnificence in the Trinity of Men, Materials & Money' M3M India has successfully accomplished some of the most iconic and theme based projects across India, thus setting new benchmarks in luxury living. Achieving this kind of unrivalled excellence is a testimony to the company's resolve and vision to develop best-in-class projects with 'quality, timely delivery & excellence' as its sole motto.
As the beloved Director of M3M India, Pankaj Bansal designs and executes its growth and diversification plans with a customer centric and forward thinking approach. Pankaj has shared a spectrum of insights about M3M India and its excellence with CEO Insights.
How has your company's journey been so far?
It has quite challenging and eventful as we have stood at the forefront to deliver projects regardless of the evolving market dynamics. In fact, this very approach has helped us to overcome all challenges in the real estate segment in India and thus, emerge into one of the leading developers. From humble beginnings, we have currently transformed into a Rs.34,000 crore worth real estate empire that is infused with unwavering dedication and passion for excellence.
What factors differentiate M3M India from other developers in the market?
We at M3M India strive to achieve the highest degree of perfection when creating diverse habitats
because we believe they are the very edifice upon which we build our lives be it office, home or institution. The other factor is 'Speed' because speed is of essence in the current real estate industry. The revised Charles Darwin theory in M3M's context is 'Survival of the Fastest'. To sum-up, speed and perfection are the two key ethos of M3M India, which project us as the value creators for our investors and all other stakeholders. Adding to its fame are its innovative, unique and unparalleled concepts, multi-dimensional realty solutions and unmatched service standards.
With a brand name that echoes 'Magnificence in the Trinity of Men, Materials & Money', M3M India has successfully accomplished some of the most iconic and theme-based projects across India
Cast some light on your spectrum of projects at M3M India.
We deal with a wide spectrum of real estate projects including ultra luxury & premium residential complexes, commercial, hospitality, IT SEZ and education. All these projects are equipped with premium amenities and facilities, spacious and well-planned homes, and top-notch construction & innovative concepts. Especially our luxury projects offer distinctive luxury lifestyles and a multitude of best-in-class amenities such as clubhouses jogging tracks dedicated sports areas, privileged facilities such as white glove services and others to our residents. We have also developed safe ecosystems amidst lush greenery to maintain a cozy, healthy and comfortable ambience for them.
M3M's luxury projects are priced from Rs.70 lakh to Rs.22 crore. I have personally spearheaded the launch of about 39 projects of M3M India in Haryana. Some of our milestone projects range from M3M Golfestate, our flagship 50+ acre uber luxury, golfresort lifestyle destination, which has won many accolades for being the best luxury project in India & abroad, to M3M Merlin and M3M Marina and many more. We have also been instrumental in building North India's first and tallest Trump Towers at Delhi NCR, which adds to our reputation as a dynamic, nextgen leader in the real estate bracket.
How is M3M India keeping-up with the technological advancementsand Government's regulations?
We have adapted advanced technologies like 3D 4D BIM, Oracle, Farvision, Formwork Systems like Mivan, DOKA, slip form, jump form & others, CRM & sales management software, Latest Material Lifting Systems, Higher-grade & Quick setting Concretes, and Import of Complete Breakdown Units of Furniture for fastest assembly and display. Since steel structures are the future our ongoing projects are structural steel based instead of concrete, while we are striving to make it purely steel structures soon. We also intend to develop our managers as future leaders through dedicated programs.

Considering Government's regulations & policies as opportunities for growth, we have the first RERA registered project in Delhi NCR in our portfolio as well as LEED certification for most projects.

How do you ensure the safety of workers at site?
Safety of workers at site is our social & economic responsibility. Each site is furnished with full-time MBBS Doctors, First aid Rooms, ambulance, periodic health check-ups, drinking water, portable toilets and others. We also have Central Monitoring team of HSE Stewards who provide Induction & Safety Training, Tool Box Meetings and Skill Enhancement Training for our workers.

What are M3M India's future plans?
So far, I along with my core team have travelled across the globe to learn about varied aspects of business and marketing techniques. As a part of delegation, we have also been to Japan with our Prime Minister Narendra Modi and to China, Finland and Norway along with our former President Pranab Mukherjee. As envisioned by our Chairman Basant Bansal, our future plan is to continue to develop best-in-class projects through innovation and speed.

Key Management:
Pankaj Bansal, Director
Graduated from Amity Business School, Pankaj is a well-experienced maven with a demonstrated history of working in the real estate industry.

Quick Facts:
•Office: Gurugram
•Projects: Real Estate Projects including Ultra luxury & Premium Residential Complexes, Commercial, Hospitality, IT SEZ & Education

•Associations: L&T, UHA(UK), RSP(Singapore), Golf Plan(US), Tata Projects and Shapoorji Pallonji Group