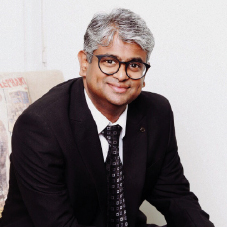 This 2003 established Bangalore-based firm is highly focused on enabling a quality lifestyle to the everevolving and aspiring customer be it in residential, commercial or leisure development. Setting new standards in the real estate sector, Ozone Group has earned a stellar reputation for its dedication to the development of superior quality properties distinguished by sophisticated design and first-class amenities. Indeed the company is renowned in the industry for its forte and also for its portfolio that includes some of the most stylish and luxurious residential properties in Bangalore Chennai and Mumbai. However, the factor that differentiates Ozone Group from other organizations is its core values that mainly concentrate on customer centricity, business transparency, and superior quality. Talking to CEO Insights, Srinivasan Gopalan, CEO, Ozone Group, shares in detail about the company, its offerings, and future plans.
Tell us about Ozone Group along with its unique elements which differentiate the company from other industry players.
Ozone's vision lies in delivering value destinations to live, work and play through innovative concepts in real estate development, abundant infrastructure and sustainable eco friendliness. We are passionate about providing luxurious as well as
affordable and holistic solutions for our customers while creating and adding value for our partners and stakeholders. Our unwavering focus on these factors has helped us to establish ourselves as one of the top echelons of the Indian real estate industry.
Talking about the Group, Ozone is a professionally managed organization and is well supported by more than 300 experts comprising design, architecture, finance, engineering, legal, commercial, CRM & facility management and other departments. We also outsource best in class expertise within and outside India, for specialized requirements of projects.
Focused on enabling a quality lifestyle to the ever-evolving and aspiring customer be it in residential, commercial or leisure development
Brief us about your offerings its uniqueness and also name few of your popular projects.
In the last 15 years, we have completed about 12.5 million sq. ft. of area, and about 30 million sq. ft. is under construction. Our offerings scale from residential condominium to business parks, and SEZs to integrated townships, where we have a diversified portfolio of integrated townships standalone residential projects, DM projects as well as commercial and retails developments. The projects undertaken by us includes Ozone Urbana, Promenade, Oasis, Polestar in Bangalore; The Metrozone, The Gardenia, Ozone Techno Park, Ozone Greens in Chennai The Gateway, The Autograph and Mirabilis in Mumbai to a name a few.
Every project of Ozone Group has well-designed infrastructure such as wide internal roads, adequate car parks for residents and their visitors, large open green spaces, effective security systems, and more. We also invest significantly to make our projects environment friendly through rainwater harvesting, solar heating & lighting, waste management and other similar ecofriendly features.
Your group has verticals for both residential and commercial. What is the revenue/profit share of both these? Who are your main clients in base mid-category or highvalue customers?
Our core segment being residential, the share of residential is 85 percent and that commercial segment being 15 percent. We are looking forward to extending our commercial portfolio and also we will soon be venturing into affordable housing.
Our projects range from Rs.30 lakh to Rs.2.5 crore and more. This allows our valued customers to choose the best product that suits their budget. We have a very strong base of NRI customers with a 20 percent share of the total customer base that we have across all projects which are 10,000+.

What is your thought on green & sustainable living?
The green and eco-friendly buildings which are designed keeping in mind the mantra of conserve recycle and reuse will not only improve the environment and ecology but can reduce energy consumption by 30 percent, water usage by 50 percent and significantly reduce waste generation by extensive recycling. With an estimated five percent of Indian construction following the Green Building norms, there is definitely a scope for future expansion and growth. In most of our projects we have adopted advanced technology to ensure zero wastage and maximum recycling. We have incorporated rainwater harvesting systems, maximum landscaping, hydroponics, Miyawiki gardens and more in our residential projects to ensure sustainable living. Also, we endeavour to ensure that our customers enjoy maximum fresh air and natural light.

At Ozone Group, we are constantly striving to deliver futuristic property solutions to our customers. We have our Polestar project in Bangalore, which consist of only smart homes.

What are your group's future plans? Any new business verticals you are looking to foray into?
In the coming future, we are looking forward to expanding our commercial portfolio from five percent to 20 percent. We are also creating a platform for offshore investors to invest in our commercial projects planned in Chennai and Bangalore. Alongside, we will be launching multiple residential projects in Bangalore, Chennai and Mumbai, which will be a mix of affordable, mid-segment, premium, luxury and plotted development.

Key Management:
Srinivasan Gopalan, CEO
A graduate from Mumbai University, Srinivasan has over 22 years of experience in audit, accounts, treasury, taxation, fundraising, regulatory compliances, sales, marketing, finance, corporate planning, project evaluation, and implementation. He has been instrumental in building the internal business structure through people, process, and technology.

Offices: Bangalore (headquarters), Mumbai, Chennai, Goa, Singapore, Australia, Dubai, US and Canada

Offerings:Residential condominiums, row houses, villas, serviced apartments,hotels, resorts, spas, business parks, SEZs, integrated townships, retail malls and more