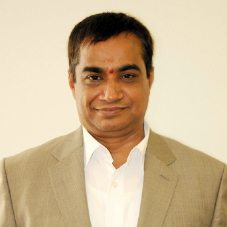 Today, owning a luxurious flat is considered as a status symbol more than necessity for millennials. On the other hand, nowadays, many Indians are travelling abroad for work where they experience an entirely different level & style of living and thus, crave to identify themselves with similar kind of lifestyle back in their home as well. Foreseeing this, many developers are coming-up with numerous luxurious projects mainly in tier-1 cities and BSCPL Infrastructure Ltd. is one such developer fulfilling every need of owning a global luxurious home.
This premier real estate development company holds a strong presence in three major cities of South India Chennai, Bangalore and Hyderabad. It's remarkable that when the real estate sector is experiencing numerous challenges, BSCPL has stayed focused on its goals and delivered projects spanning an area of 4.2 million sq.ft. till date. It was established with a vision to touch lives and transform lifestyles, delivering excellence in the process. CEO Insights interviews Manjunath T V(CEO)to know more about the features of BSCPL.
Give us a complete overview of BSCPL along with its distinct features.
As an organization, BSCPL caters to every segment of people and strives hard to satisfy each one of them with its real estate services. We ensure to serve clients who are either looking for affordable luxury homes or with enough funds to invest in ultra luxury homes with flats ranging from Rs.30-35 lakh to Rs.4-5 crore.
We take pride in our deep rooted ideology, reliability, quality and timely delivery. Since inception, we handed over every apartment as promised within the stimulated time frame (99 percent). Emphasizing on fulfilling the customers' desires, BSCPL works along with them
throughout the process which not only gives clear understanding of their requirements, but also results in long term relationship with customers. Further, we offer them maintenance services for one complete year after possession.
BSCPL takes pride in its deep rooted ideology, reliability, quality, and timely delivery
BSCPL has been using aluminum formworks from a long time and is currently reducing TAT using aluminum formworks sourced from Malaysia or South Korea. Alongside, we are implementing other robust technologies, which give better outlook to the property both in terms of look as well as quality.
Take us through your professional journey and current roles & responsibilities at BSCPL
I started my journey as Site Engineer and over a course of time became Operational Head, managing complete business of real estate starting from operations to finance. I joined BSCPL in 2012 when we were working on a single project in Chennai. Everyone at BSCPL was from infrastructure background with strong know how in construction, yet needed a push towards the real estate operational issues. However, with all the support of the team, things have shaped up and we have become one of the reliable players in real estate. With total 37+ years of experience in the industry, I started adding value to the company. At BSCPL Bangalore, all projects are taken on JD basis and in Chennai, we have our own 100 acre-land which is being developed while other projects are taken on JD basis. Hailing from Bangalore and holding good networks from my previous job, aided me to develop strong relationships with landlords, which further helped us to procure lands and expand our presence in the city.
Currently, we are functioning at three places (six projects in Bangalore, one in Hyderabad & three in Chennai) and envisioning to start our operations in Pune. Yet, we can say that Bangalore's operations laid the foundation for this huge expansion as well as successful completion of good projects.
Highlight on your luxurious project with its key amenities.
Currently, Hyderabad based
Bollineni Bion is our luxurious project which is of two million sq.ft. area located opposite to Botanical Gardens. Due to the beautiful location and features, the property is categorized as a premium luxury project offering two, three, four & five bedroom facility with ticket size ranging from Rs.1.25-6 crore. It also comprises of an Icon Tower (five bedroom units) wherein each floor has only two units of 5,700 sq. ft. each with separate club house for itself. The property is also loaded with several other unique amenities, which not only create great buzz among customers but also encourage them to invest in the property.

What differentiates Bollineni Bion is its Fibre To Home & multiple DTH service and creating a backbone for the same where a server room is developed, enabling suppliers and operators to just come and plug-in their service. Unlike old projects, this project doesn't showcase daggling of wires, instead they are concealed and perfectly placed. Apart from Wi-Fi & TV cables, this distinct cabling system also supports CCTV connection which is placed at strategic locations, aiding utmost security to occupants.

What are the regulatory compliances that BSCPL adheres to? Also, brief us about various safety measures inherited by the firm for its workers.
Prior to bank loan sanction, we acquire NOC with approval from all the required authorities including Airport Authority of India, BSNL, TSWSSB, TSSPDC, MOEF, TSPCB clearance and others. All these need to be in place including the approvals from relevant authorities. All our projects are RERA compliant. In fact, we initiate marketing of property only after obtaining RERA.

Unlike others, BSCPL not only provides labour colony outside the property premise, but also renders all medical facilities to workers. Workers are provided with free monthly health checkup and deputy safety people to take care of their regular health check-ups and maintenance of surroundings. Also, during the construction, all required safety measures are taken to avoid any accidents.

Key Management
Manjunath T V, CEO
Manjunath is a major catalyst behind BSCPL's huge expansion from just a single project to currently largescale operations at three places in India.