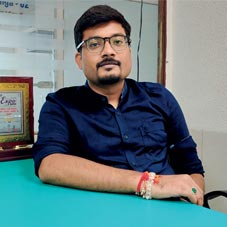 The Journey of Cymatic starts with few young folks – one day Kaushik along with others, sitting at a café in Patna and discussing the condition of education in Bihar. It was at this moment when Kaushik and his group was hit with a solution to curb all the problems of education related to quality and accessibility. They thought process was to bring in the IITprofessorsto teach rural students through online mode. This idea turned their easy life upside down. With just an idea they started making it real block-by-block, and eventually started their first smart classroom in Gopalganj District in Bihar in 2017.
From such a humble beginning, today Cymatic is serving 1000+ students from various areas of Bihar and India with an annual growth rate of 250%. Under the Kaushik's leadership, Cymatic has grown to be recognized as the Most Promising Startup in the country with the Indian Achievers Award 2020. It has been ranked among the Top 5 startups in Bihar, and is now the only EdTech company in Bihar, West Bengal, and Jharkhand to be recognized by the government of India. IIM Calcutta has also recognized the startup among the top 100 smart startups of India. Being based in Patna, the startup has managed to raise seed fund from the Bihar government and a few angel investors. It has also received a Hardware Grant from the Learning Equality, US.
Dive into the following snippets of an exclusive conversation between Kaushik Sharaf, CEO, Cymatic, and CEO Insights to know about his unique EdTech startup and its operations.
Tell us about Cymatic Edutech's approach towards the EdTech industry.
Cymatic has taken education as a service rather than a product which most of our counterparts are doing. A product like content video or gamified video does not guarantee that students will be motivated to work through the material or understand everything correctly, but a teaching service can. A teaching service offers structure, progress, and support for students at every
stage of his/her learning curve. Thus, Cymatic has taken an integrated approach of live online learning and content-based learning, taking into account the intangible aspects of service like motivation, personal interaction, challenges, the drive to succeed, and the sense of learning. Under this approach, the learning path of every student is altered based on the feedback and assessment of their learning speed, strengths, and weaknesses periodically. Thus, Cymatic is connecting the best teachers across India to students of even rural India and facilitating them to get personalized learning, 24*7 doubts solution, and mentorship.
Cymatic has taken education as a service rather than a product which most of our counterparts are doing
What opportunities do you foresee in the current EdTech market of India for your company, and how are you leveraging the best of them?
In India, with a growing internet base and smartphone users, the online education market has grown tremendously in the last few years. According to KPMG and Google report, India's online education market is set to grow to USD 1.96 billion and around 9.6 million users by 2021 from USD 247 million and around 1.6 million users in 2016. But the current Global pandemic Covid-19 has further fueled the adoption rate of online education, especially the live interactive classes, and thus, it can be expected that the 2021 projections may be achieved by the end of 2020. To leverage this opportunity, Cymatic has launched several courses like topic wise, chapter wise, subject wise and full syllabus courses where students are given free demo classes to ascertain their decision after assessing the quality of education and services provided by Cymatic. Cymatic has also launched several campaigns to outreach students, which has resulted in a 115% monthly growth rate in users.
Cymatic Edutech is an innovative EdTech product company in India. Brief us about your products & solutions, with key emphasis on your flagship offering.
Through an adaptive learning platform, Cymatic provides the best teacher across India as a personal tutor to a small group of students sitting at different places and connecting them all on a two-way interactive platform where both teachers and students are able to see, hear, write and interact in real-
time. This adaptive learning platform uses state of the art MI and Al to analyze the strength and weaknesses of a student through various modes of quizzes and examination on various parameters and suggest the learning path. With this suggestion, a feedback mechanism develops to further improve and monitor the learning ability of students.

The flagship platform is capable of operating at even low bandwidth, making the Cymatic's service accessible to all throughout India's geography without any extra cost of data packs. Adaptive live online tutoring platform, low batch strength, highly diversified courses, and most affordable pricing structure differentiate Cymatic from other EdTech platforms. Our adaptive platform enables us to video connect with even 5K+ students at the same time that too at low bandwidth, which makes us accessible to even rural India.

What is the future roadmap set for your organization? How are you updating yourself with the latest technologies/ industry trends in order to make Cymatic Edutech reach its future goals?
Cymatic has been growing 100%YoY, and with 160% of present monthly growth rate in users, we would achieve a 500% growth rate in revenue by the end of this financial year. We will expand our services in tier-II and tier-III cities of Jharkhand and Uttar Pradesh in the upcoming few months, which will be done in a phased manner. Cymatic will launch courses for commerce, arts, and humanities before the end of this, which will diversify our service portfolio to reach maximum students. As education is becoming more personalized these days, Cymatic is working on its next generation of adaptive learning platforms, making learning fun and more comfortable through gamification backed by Artificial Intelligence-based learning.

Kaushik Sharaf, Co-founder & CEO Cymatic
An EdTech visionary & an ecosystem builder, Kaushik from a very young age was passionate to address education needs in the remote markets of Tier 2 and Tier 3 cities in India. It's his personal mission to ensure no students anywhere in India lacks access to education. A relentless advocate of the emerging technologies – AI, ML, Blockchain, Kaushik is passionate about revolutionizing education through Technology

Apart from being a serial tech entrepreneur, Kaushik is also a keen traveler fond of discovering new places and people. A relentless optimist who believes there is no failure, only feedback.