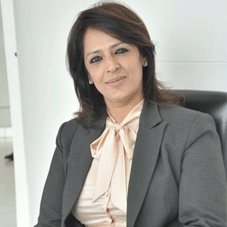 What do we do when we develop an ailment? We all know the answer; go see a doctor. How ever, we are never taught what to do and who to go to when lives throw challenges upon our paths. For years, the focus has been on Intelligence Quotient (IQ) and gradually Emotional Quoteint(EQ) has come into picture that has made people aware of the importance of understanding and managing our emotions. However, Dr. Ramon Llamba, a celebrated life coach and meta-physicist, speaks of another emerging factor, Spiritual Quotient(SQ) which speaks about the current generation's openness towards strengthening their spiritual health.
A human psychology enthusiast, Dr. Ramon believes that people today have become more self-aware about building their emotional, mental and physical health alike. Turning her mother's dream into reality, Dr. Ramon is committed to helping people understand life from a scientific perspective, thus providing them with a clear vision of how to build a successful personal and professional life. In a candid chat with the CEO Insights team, she speaks about her areas of interest, her work and the future of Golden Age Transformation.
Life coaching as a sector is still considered very niche. How did you embark on a journey in the life coaching industry, and what was the underlying objective to found Golden Age Transformation?
I had always been inclined towards helping people, and from a very early age, I knew that helping others was my life's purpose. As I was growing up, upon facing life challenges on my own, I realized that we are taught every practical subject while growing up, yet we are never taught how to manage our emotions and take charge of our lives. I found myself drawn towards the deeper questions about life such as life's purpose, the human energy aspect of human life and the non-physical world among others. I started studying energy science and
learnt a few healing modalities. Gradually I felt like that was not enough so, I pursued a degree in psychology from the American Institute of Psychology and focused on studying human emotions, past life karma & its impact on our life, among others. This led me to get a PhD in quantum physics.
My purpose while founding Golden Age Transformation was to help people gain a grip over their lives, to aid individuals to understand their emotions better and teaching them how to be the creator of their reality.
We merge neuroscience, quantum physics and spirituality and package it in a powerful way to empower our clients
Tell us about your areas of expertise and what are the factors that make Golden Age Transformation a one-of-a-kind organization?
I believe that our relationships, finances and health form the most important parts of our lives; when any of them get derailed, we experience a barge of negative emotions and often feel lost. My life coaching programs often revolve around resolving relationship breakdowns, financial breakdowns and health disorders (physical, mental or emotional). I also work with clients who are looking to evolve spiritually while taking a scientific approach and teach meditation.
We are one of the very few organizations in India that merge science and spirituality. We merge neuroscience, quantum physics and spirituality and package it in a powerful way to empower our clients. Additionally, Golden Age Transformation addresses every aspect of human life, mind, physical body, emotions and the soul. This 360 degree approach helps me see every individual's challenge as a whole and not in isolation.
You've been in the personal coaching industry for almost a decade now. What were some of the major challenges that you have had to face in your journey?
Since my work deals with addressing deep rooted energy fields of human existence, which do not exist in the physical world, it was tough for me to even get people to understand what I was talking about. 14 years back, when I came back to India from US after
completing my life coaching certification, I faced a thorough rejection from the corporate world because at that time nobody used to speak about Emotional Quotient. However, with time and exposure, the corporate world has become more open towards accepting the importance of human emotions and its impact of productivity.

Another challenge that I faced was in terms of building a base and making people understand the importance of having a life coach. In my almost two decades long experience as I life coach, I have never marketed my expertise as a commodity. Instead, I talk about the facts and truth of life which lead people to understand the need for these services. I create a realization within people about the need for these interventions.

Can you tell us about some interesting initiatives that you are looking to bring to the market in the near future?
I have designed a program called life school of energy and consciousness, which is an 18-month long initiative aimed at fostering complete transformation and helping people get a grip on their life. It is a logically, intricately and holistically designed program aimed at teaching people the logic and science behind life.

In today's age every time an adverse situation arises, we do not know how to deal with it, but we all possess the capabilities within us to overcome these challenges. Through this program, I am trying to address that missing link. I believe that information coupled with experience brings about sustainable transformation. The program will provide participants with the information and the experience will be rendered through four retreats, where people will get to disconnect with life and reconnect with themselves.

Apart from this, I am also planning to train other life coaches and am looking to create more centers across India. My end objective is to bring some peace into people's lives so that we can collectively create peace on the planet.

Kay Management
Dr.Ramon Llamba, Founder, Golden Age Transformation
Armed with a decade long career as a life coach, Dr. Ramon is the sole trainer at Golden Age Transformation. Propelled to help people realize their true potential, she takes a holistic approach and empowers her clients to live a life out of choice and not out of chance.