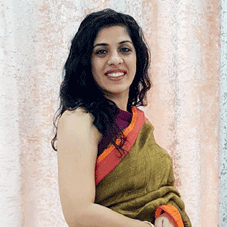 All it takes to make or break a person is his/her belief. While the world is encountering increasing cases of mental illness, the social stigma pushes them far from accepting the fact that they need an expert's help to break the chain and live happily ever after. Helping such people achieve a fulfilled life is Kumud Gandhi, Founder of Adorn Life, and a Life Coach, Reiki Master & Angel Card Reader. A corporate professional for 15 years, she was always inclined towards understanding the human behaviour and provide solutions to their never ending pain and suffering.
Through her firm, Adorn Life a training, consulting and a holistic healing centre Kumud provides life coaching services, various healing therapies like Reiki Theta healing, Ho'oponopono, Angel therapy and certified courses & workshops on Reiki Numerology and Angel therapy. Kumud divulges more on her offerings& strengths, and how she is making a difference by bringing about a positive change in people's life with CEO Insights exclusively.
This was the beginning of my spiritual journey, and then, there was
From a corporate professional to a life coach, how did you transmute throughout the journey?
I, being an empath, always liked to solve people's problems or help them in any way that I could. I believe that I have an in built ability to coach and mentor people, which inspired me to establish Adorn Life. While working in the corporate world, I was always fascinated to understand the human behaviour pattern and anything which is beyond the limit of a logical human mind. I read several psychological and supernatural books. I even explored the options and in the year 2010, I came across Reiki as an energy healing technique. I obtained my certification in Reiki and eventually became a grand master.
no looking back.During the journey I did certifications in life coaching Theta healing, Angel therapy, Angelcard reading Ho'oponopono and Numerology. This was when I found the purpose of my life and hence quit the job in 2015 to completely devote myself to making Adorn Life one of the best training, consulting and holistic healing centre for children, teenagers parents corporates and individuals.
You provide a number of services to the clients. Could you throw some light on them? Also, share with us the factors that make you unique among the other coaches.
Life coaching and training are my forte. I conduct trainings and workshops on various aspects from communication to stress management, relationships to parenting, meditations to affirmations and many more, apart from taking certified courses on Reiki, Angel Therapy and Numerology and providing physical, emotional and mental healing &solutions using these modalities.
Each individual has a specific purpose in life to fulfil,but it is an elusive task to know and understand that purpose
These modalities require greater degree of involvement with the client. Hence, it becomes very easy and natural for any coach to catch the energy of the client and give a biased solution, while only a professional coach knows how to be disconnected while still being connected. My strength is my ability to separate my own intellectual and emotional functioning from that of my clients. While I am in emotional contact with my clients, I am still autonomous in my own emotional application.
Q.Please share your counselling/therapy process.
A. For any counselling session to be successful, the most important aspects are listening with open heart & patience, and comprehending the problem. It is equally essential to understand the client as a person his body language his interaction method choice of words, interests, reactions physical & emotional energy and others. The next step is to connect with them yet being on your side of the line. Once the under standing and connection are set it is very easy for
me to provide the right solution to them.

How do you ensure to instigate holistic development and trigger awareness on unleashing the client's inner potential?
Every person is unique and so are their ways to react and their approach to handle a situation. Hence, I provide coaching to people accordingly, to their behavioural pattern. I conduct one-on-one sessions, which are very effective and provide personal attention to an individual. Life coaching is a cognitive science and has to be applied as per an individual's need. Each individual has a specific purpose in life to fulfil,but it is an elusive task to know and understand that purpose.

I help them find their life goal, show them the path to achieve it and thus help them lead a meaningful and fulfilled life. I also help people who are stuck in their personal or professional situations who do not know the way forward to get back up and find a solution and show them the light to the path meant for them.

The industry you are in needs the trainers to keep themselves constantly updated. How do you go about this?
There is no end to learning and unconsciously, we learn every day from our lives, situations, surroundings, friends and even our clients. I follow several renowned coaches and their work, which helps me in enhancing my knowledge. Some of these experts are Dr. Deepak Chopra, Dr. Brian Weiss, Abraham Hicks, Brian Tracy, and Lucinda Bassett.

What's the future script that you have penned for Adorn Life?
Currently, Adorn Life is a one man show. I am now creating a team of professionals specializing in any one area related to my line of work. I wish Adorn Life to be a one-stop centre for all the physical, emotional, mental and spiritual issues. I would continue helping people and grow in the field and bring a positive shift in as many lives all over the world.

Key Management:
Kumud Gandhi, Founder Adorn Life
A Masters in Finance from the University of Portsmouth, UK and a graduate from Delhi University, Kumud was always inclined towards transforming people's lives with positivity and light, thus bringing more love, care and peace to the world.