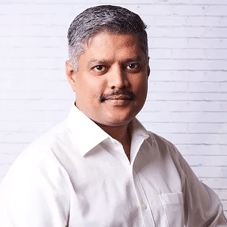 In today's VUCA(Volatile, Uncertain, Changing, Ambiguous) world, professionals, especially senior managers and entrepreneurs, are grappling with severe mental stress, sleepless nights, anxiety disorders, spiking blood pressure, and many more issues. The outcomes of these issues are unstable work performance, business stagnancy and a lot more, which not only effects works but also wrecks their relationships at home. Johncey George, popularly known as, Coach Johncey encountered many scenarios like these over his 23-year long leadership career. He witnessed that leaders were lonely at the top level, team members were afraid to voice-out and overall goals and thoughts were not aligned leading to a lot of unnecessary struggle.
Inherently, Coach Johncey believes that effective leadership coaching can help people experience a sense of fulfilment like never before, enhance their self awareness, clarify & reduce their stress, and eventually help them succeed and achieve their dream goals. This was indeed his primordial inspiration behind establishing his own executive coaching and consulting firm Johncey George Consulting Pvt. Ltd. Coach Johncey has exclusively narrated a spectrum of aspects about himself as well as his firm with CEO Insights. Here are the excerpts!
What are your firm's prime goals?
Our goal is to impact a million lives through coaching. We provide Leadership Coaching aimed at performance improvement of individuals and teams at corporate firms. Besides, we also help people in acquiring their goals and companies hitting their ambitious targets. We offer coaching with true compassion to our coachees, thereby igniting a deep sense of meaning, hope and purpose in their lives. We help them become the best version of themselves!
Tell us about the various challenges that you were posed with. Also, brief us on your journey so far.
Over time as individuals we get labeled aggressive, lack of confidence, lack of potential and others, which truly doesn't represent
us. Our coaching helps individuals redis cover who they really are, what they really want, and their purpose of living. We then help in charting-out a forward looking plan on unlocking their potential and defining a path to greater achievements. Coach Johncey helps people envision an ideal future in all aspects of life, not just their current life and career stage. This is the true essence of coaching and this is what most people misunderstand. Educating people on this, has been a challenging task for us! We are constantly striving to publish different blogs, videos and sample sessions to edify people on the benefits of coaching.
We offer coaching with true compassion to our coachees, thereby igniting a deep sense of meaning, hope and purpose in their lives
This journey has been very soul satisfying for us, since we are witnessing a horde of people transforming into a better version of their own selves. Their testimonials help us to sail smoothly even across the uncharted territories. Moreover, my educational foundation at IIM, ISB & Harvard, 23-year corporate experience, rigorous coach training programs, and above all, genuine interest in helping people give me an edge in creating and executing mindful modules of coaching.
Walk us through your brand Coach Johncey's programs.
We do one-on-one coaching for senior executives, business owners, and 2nd & 3rd level of leaders in diverse organizations. Our flagship program 'Create Another Leader' is about coaching high potential leaders on the mindset to create more leaders, which can certainly enhance the organization's growth. Our other programs for corporates include Performance Coaching, Coaching for First Time Managers, and Coaching for Individual Organizational Value Alignment. We also coach introverts who are sometimes get classified as 'non leadership material' in building their strengths to lead teams, overcoming their labels, and adapting to situations as per the need of the hour.
What unique methodologies do you deploy across these programs?
Everyone is short on time today and hence we have developed DIAL(Deep Impact Accelerated Learning) methodology where in content is delivered in bite sized modules so that it is easy to understand and yet it gets rooted in the deepest recesses of the mind. We conduct these sessions through live online videos, telephonic
conversation, and also in person. We follow Coach For Life's Core SELF Tech methodology in which we discover who you really are what your greater purpose is, and what will be truly satisfactory to you. While emphasizing on all aspects like health, wealth, stress levels and inner peace we also coach the clients' souls in being a better human and creating a path to accomplish their potential.

How do you stay attuned to the latest developments in the field of coaching?
By regularly attending various coaching programs and online seminars, reading latest books & articles and being an active member of various coaching communities. I also am part of several communities where various leaders and entrepreneurs meet officially and unofficially and it helps me understand the challenges in the organization.

Brief us on your future plans.
Like I said, our plans are to Impact a million lives.Coaching heightens awareness, and some time tools are required to improve specific skills. Hence to ensure that we deliver a fantastic experience to our clients we are collaborating with other training, coaching and organizational development companies in India to be a one stop solution for organizational challenges like sales growth, vision alignment team alignments and developing employee culture. Besides we are constantly monitoring the evolution of AI in the field of coaching and also determining the best way to deploy it in supporting our clients without losing human element and compassion.

Key Management
Johncey George, Executive Leadership & Life Coach, Johncey George Consulting
Johncey has helped a range of Executives, Senior Leaders and Entrepreneurs in accomplishing their business and career goals, besides coaching introverts to break out of their shells and become bolder in their approach.

Johncey's Hallmarks:
•Two decades of corporate leadership experience
•An Associate Certified Coach (ICF – ACC) with International Coaching Federation
•Certified Leadership & Life Coach from The Coach for Life Institute, US
•Deploying world-renowned tools like Fulfillment Coaching Model and Core-SELF Tech
•Coaching Engagement in conformance with ICF ethics, ICF core competencies & ICF PCC Markers
•Author of the upcoming book titled 'The Awesome Leader 7 Building Blocks to become a Successful and Loved Leader'