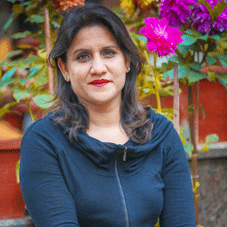 India is the most depressed country of the world. According to a study by WHO, at least 6.5 percent of the Indian population suffer from some form of serious mental disorder. Our ability to recognize mental illness or even accept that we are unwell is largely governed by the social taboo, which results in more suffering. What they need is support, a patient hearing, a coach to guide them and restore their life. Indu Seth, Founder & Life Coach, Peace Within, believes that we as humans have almost forgot to balance our emotional, physical, spiritual and intellect. For that to happen, we need to admit that there lies a problem and there also lies a solution, which can be found by visiting a life coach.
A stained glass artist for almost 12 years, when Indu realised the pain, depression, frustration, anxiety, OCD and others among her clients, she decided to take a plunge into the world of life coaching to handhold her clients to the world of happiness. Sharing her journey, the therapies and the future roadmap with CEO Insights is Indu.
You sold your well running stained glass business to incept Peace Within. Tell us your journey from an artist to a life coach.
This calling wasn't something that happened overnight. I used to observe that everyone is under some form of stress. There is anger, suppressed emotions, isolation all around and hardly a person laughing freely from deep within his/her heart. Being into a creative work, my intuition nudged me to talk to people. I found that I was able to soothe many nerves. It became a passion for me to listen to people in utmost confidentiality and suggest whatever would come to my mind.
I eventually sold my business and started developing my skills, learning on developing my intuitive abilities and eventually got certified in series of modalities in the sphere of life coaching, finally setting up Peace Within for personal
development. I have handled endless cases ranging from matrimonial disputes, depression, isolation, OCD, relationship issues, stress, career stagnation, emotional trauma and others. It's truly a feeling of joy to see my clients recover one step at a time rising above their problems and shining out to be light hearted and joyful people.
Interesting! You have been a constant learner, always sharpening your skills. Tell us more about your qualification.
I am a graduate in Philosophy, who became a stained glass artists certified from US, but eventually found my calling as a life coach. I have certifications in various modalities. Today, I am also the Access Consciousness Facilitator, Reiki master, breakthrough coach Hyponsis, NLP & EFT practitioner, entity clearing and energy healer.
I try to empower my clients and unleash their true potential by shedding the layers of past and breaking & bursting the bubble of false pretences of a superficial life
I am a firm believer of constant learning. This quest led me to study deeper into each of the modalities and getting certified from different masters. I bow humbly to each one of them for passing on their knowledge to me.
How unique are your therapies?
With my experiences, I have come to understand that there can be no single medicine/therapy for all problems. Hence, instead of thrusting one healing modality for any or all issues, I started using different therapies or even combination of therapies coupled with my intuition and past experience to resolve problems and heal my clients.
I focus on all the four quadrants emotional, physical, spiritual & intellect for making a balance between them and bring about a positive change that is permanent. I extensively use NLP techniques, hypnosis, energy healing, Reiki, EFT and medication to cause a shift that is healing as well as everlasting. I have created Peace Within as a safe haven for people to speak their heart out while I listen to them free
of judgement, offering a patient ear. This helps them leave their worries and shed their masks so that they can be free to express their innermost feelings without any fear.

Explain your approach to counselling.
I believe that all of us have the ability to lead a happy and fulfilled life. What stops us in doing so is our own limiting believes. Hence, I try to empower my clients and unleash their true potential by shedding the layers of past and breaking & bursting the bubble of false pretences of a superficial life. I help connecting them to their original shining self and find their true purpose of being in human form. Hence, I follow a holistic approach to help clients get the sense of calm, see from a different perspective and shift them from negativity to positivity permanently.

During discussions, I help them see a deep rooted issue that got deeply embedded in the past years. I figure-out the old links, the patterns caused by their past experiences, and then dismantle their thought structure to help them look at a wider perspective. I work with them on a one-on-one basis, going through a series of sittings in my centre or even on call/Skype and others. Even if they happen to slip back into the old patterns, they now have the ability to see what's wrong in their thinking, their behaviour and correct themselves again.

What is the future script of the company?
I envision my centre to be a sanctuary for different masters and students. Peace Within has a very calm and unique energy and thus holds the potential to soothe troubled nerves with its positive vibes.

It's not a commercial business, but a place for people to spread peace and happiness, touching lives and bringing back lost joy. My roadmap shows a growing community of like minded people who come to mend their lives and heal the non-physical injuries.

Key Management:
Indu Seth, Founder & Life Coach, Peace Within
A certified life coach and Access Conscious bars facilitator, Indu believes that there is no single medicine for all problems, and hence provides different therapies or combination of therapies to resolve client's problems & heal them

Office: New Delhi