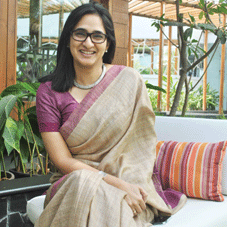 Healthy relationships form the bedrock of a harmonious life. Be it a relationship with self, family, friends, peers, bosses or clients, building strong bonds is one of the most critical yet challenging aspects of one's personal and professional life. Saloni Suri, an executive life coach, corporate trainer and founder of The Coach, believes that these issues run deep and when one learns the laws that govern the outcomes in life, individuals become better equipped to manage situations, events, circumstances and people with ease and comfort.
Having observed this common thread of pain faced by professionals across the globe, Saloni embarked on a journey to render people with the tools and techniques to implement these laws successfully. The proficient trainer and author has thus designed and implemented a plethora of leadership training sessions aimed at equipping individuals with enhanced narrative skills that they can actively use in their professional and personal lives. In a heart to heart conversation with CEO Insights, Saloni speaks to us about her guiding philosophy, training modules and journey as an executive life coach & corporate trainer.
Could you give us an insight into your area of expertise and interest as a coach?
I am a selftaught coach with an interest in neuroscience and my coaching workshops largely focus on rewiring the mind. I believe that our brain is the most important muscle in our body and learning its mechanisms is the most fascinating part of my work. It is my life's purpose to learn and share how this muscle can be utilized to its optimum capacity to help unlock the potential that lies within each one of us. Through my workshops I teach the principles of personal mastery using neuroscience tools that can help individuals take action towards desired outcomes and develop a
growth mindset.
How did you find the inspiration to venture out as a corporate trainer and life coach? What challenges did you face during the initial days of your journey and where is this journey headed in the years to come?
I believe that when one finally finds their purpose in life, it is a liberating moment; for me that moment came to me at 48. I had been working in the communications industry at different capacities for over 25 years. Throughout this journey,I had the inspiration and motivation to follow my dreams, all I needed was to give my vision wings with a powerful intention of building a model which could be easily understood by people.
My first year as a trainer was quiet tough since L&D heads at corporates always asked for coaching certification. I let the impact of my workshops speak for itself and within a short span of time,I was able to get traction and work with various organizations. I proved that results do speak louder than degrees and self-taught coaches can also make impact.
Through my workshops, I teach the principles of personal mastery using neuroscience tools that can help individuals take action towards desired outcomes and develop a growth mind-set
What has helped me keep my growth momentum going upwards is staying aligned with research and new insights that are emerging from the frontiers of neuro science. I study for at least an hour every day and am always on top of my game. Currently I am working on developing a MOOC that can be easily used by people and my five-year goal is to at least touch the lives of 100,000 people.
Can you take us through the underlying principles that form the basis of your life altering workshops? How is The Coach positioned in coaching industry?
My premise and teachings are based on five simple principles the first being that 85 percent of our success in the business word is our mind and the thoughts in our mind determine the quality of our life. When one understands the
governing principles of the mind and learns to collaborate with the mind, the words align automatically. The results you get in your life are a reflection of your internal story. The quality of your self-identify matches your income and when you change your thought, you change your life

All of my training programs are based on the latest research in neuroscience. All the workshops are experiential, immersive and transformative in nature. A sustenance program and follow ups are built into the very fabric of the program design. I believe The Coach is very uniquely placed in the current coaching segment in India as it gets to the core of a person's potential by empowering the individual to take action towards his/her goals. I focus on the alignment of thoughts, words and action and teach 10 techniques that work in complete harmony with the way our brain is designed.

What are the various coaching modules that you have developed for your clients?
I have developed three modules that focus on unleashing the power of the mind, and help leaders and emerging leaders open the doorway to success. I believe that Creativity, Innovation, Agility (CIA), happiness, prosperity and abundance are all inside games. The doorway to success and happiness opens inwards not outwards. When leaders lift their inner game the results they get are a mere reflection of their personal mastery.

I offer three niche programs; one focuses on enhancing communication skills in leaders and the other is a 'Maximum Achievement Formulae for leaders and emerging leaders'. At level two, I teach the 'Leap to LEED' program that works on the premise that learning, exploring, experiencing and doing is the way we are designed to live. Research tells us that when organizations design working environments to ensure that LEED is activated among employees, their CIA instincts fire up. These are the skill-sets required to stay relevant and effective in the current VUCA environment that we work in.

Key management
Saloni Suri, Founder, The Coach
A seasoned communications professional with 25 years of industry experience, Saloni is an avid neuroscience enthusiast and a self-taught trainer and life coach. She is committed to empowering clients with the tools to lead a satisfying and successful life.