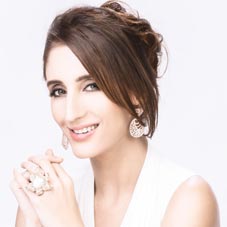 After completing her graduation in History & Economics, Farah Khan Ali experimented with many fields and genres, from television advertisements to making films and working with her mother's designing firm, all in the quest for her true calling. At the age of 22, ever on the search for something new, she signed up for a jewelry design course in Los Angeles, hoping it would help cultivate her creativity. In reality it was a highly scientific and mathematic program, but determined to make her parents proud, she ended up topping her course anyway.
Upon her return to India in 1993, Farah Khan was hungry for experience in the industry and worked with India's top jewelers, gaining more and more recognition for her work and designs, eventually leading to her establishing her eponymous brand in 2004. Since then, the brand's journey has been a rollercoaster ride, with every setback making her more resolute to bounce back stronger than ever. A significant instance of this was in 2014 when she launched a co-branded collection with Tanishq, which sold in 40 stores across 23 Indian cities for over two years.
In the 27 years of her design journey, Farah has successfully built an internationally recognized and acclaimed brand that seeks to continually break new ground and even ventured into Lifestyle in 2018.
Below is a snippet of an exclusive interview between CEO Insights Magazine and Farah Khan Ali, where she takes us through the challenges and triumphs of her entrepreneurial journey.
What are some of the challenges you encountered during your entrepreneurial journey and how did you overcome them?
When I returned from the US, getting started in India was quite challenging. Launching a jewellery brand requires a substantial amount of liquidity, and you really need to earn the trust of your customers as well. My father was of the firm belief
that I had to do it my way so I started out by selling designs initially and made bespoke jewellery for my clients. I was a perfectionist so I put in all my creativity in my work never compromising on anything.
Through word of mouth by reputation grew and one thing led to another. So, in the year 2004, I officially launched my brand FARAH KHAN successfully with a well-known jewellery retailer. That partnership lasted a little under 2 years after which I moved on to stocking my brand under various retail jewellers who sold under my brand name during the years 2006-2012 but this also exposed me to the risk of plagiarism, where copies were made of my designs and sold without my knowledge. We work in an industry where I believe trust is paramount; unfortunately, I trusted the wrong people and even had to go to court to secure my brand. It was part of a steep learning curve for me.
I wear many hats and juggle many responsibilities at my company. I oversee the management of my teams, head design and supervise marketing and communications as well
Eventually, I set up my own factory and launched a co-branded collection with Tanishq, India's largest retail chain store of jewellery. I was the only jewellery designer to co brand with Tanishq and Farah Khan for Tanishq sold in 40 stores across 23 cities from 2014 to 2016. The collections were very well received and for me, that was one of the high points as it was a great learning experience. It opened my eyes to the mass market and the kind of jewellery that most people were buying, and took me across 23 cities all over India, interacting with people from all walks of life.
What would you say are your biggest strengths? And what is your role at Farah Khan World?
I find most fulfilment in inspiring my team, guiding them, teaching them. If I learn something, I am always interested in sharing that learning because I believe that when we share our experiences, we enlighten people. I'm also a big believer in teamwork, and I think it's very important to acknowledge and appreciate everyone's effort in building a company.
I wear many hats and juggle many responsibilities at my company. I oversee the management of my teams, head design and supervise marketing and communications as well. I am also committed to troubleshooting and making the backend process smooth and seamless.

How do you see the market evolving, and what are your strategies to create the most opportunities for your brand?
The strategy right now is to have an international presence. I was planning to expand across India first, but the pandemic has halted proceedings on this front for the time being. The immediate plan is to grow internationally over the next few months and by early next year I believe we will have a stronger international presence in various global markets.

I am very keen to revisit domestic expansion, especially in second- and third-tier cities. I see some great potential for my work here because I understand the Indian ethos, our traditions and culture and the market very well.

There are also some collaborations down the line with an Indo-German company that I cannot name yet. It could be in the realm of lifestyle and home. The possibilities are there, and the future looks promising.

What is your advice to budding women entrepreneurs?
Read! Please read about people's lives and journeys. Not only are they endlessly inspiring, they are a hotbed of new ideas and perspectives. The world is going through immense change right now and we all need to adapt and thrive. The more open you are towards change, the quicker that success will follow.

Farah Khan Ali, Founder & CEO
A Graduate Gemologist from The Gemological Institute of America and a History & Economics graduate from Sophia College, Farah Khan took an offbeat route in her career when she pursued a course in Jewelry Design in the US. Highly creative and with an adventurous streak, she's never hesitated to attempt something new throughout her entrepreneurial journey. As she says "I don't love to design, I live to design."

Hobbies: Reading, sketching, Travelling.
Favourite: travel destinations: Italy, Brazil, Greece, Kashmir, Rajasthan Goa and Andaman Islands.
Favourite cuisine: Japanese, Indian and Thai
Favourite App: Procreate