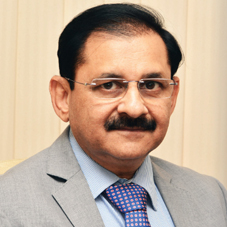 What makes an ordinary leader a great leader? "The very essence of leadership is that you have to have vision. You can't blow an uncertain trumpet." ~ Theodore M. Hesburgh. Girish Vaze (CEO, MD & Chairman, Elcom International) believes that a leader must have a vision into the future which can conceptualize and materialize advantageous business ideas, which provide a win-win advantage for all stakeholders. And so he has been constantly visualizing the changes in the market scenarios and steering the business (Elcom) to be in-line with the changes.
Established in 1981, with its factory in Kolhapur and headquarters in Mumbai, Elcom International has transformed from components manufacturing company to an Electromechanical & Electronics (EM&E) Solutions provider with a focus on developing a world-class product-mix to cater to the requirement across a wide range of industrial, manufacturing, and renewable power market segments. Its state-of-the-art manufacturing facility is equipped with an R&D facility and is in compliance with Integrated Management Systems (IMS) certifications including ISO - 9001:2015 – Quality Management System, ISO -14001:2015 – Environmental Management system, and OHSAS 18001:2007 – Health & Safety Management System.
Speaking at large with CEO Insights, Girish, a recipient of several accolades, spills the beans on his secrete sauce and the way he runs Elcom.
What are your essential traits as a leader?
Vision is one of the most important factors that differentiate a leader from executive. I have been constantly visualizing the market change and steering my line of business accordingly.
Alongside, reliability is another factor because of which people rely on their leaders, and own their vision while remaining committed to it. On the other hand, there can be a myriad number of business activities within the purview of an organization. If many of these are not documented and formalized, there are possibilities of lapses as well as organization being people-dependent than 'system-dependent'. A leader's Orientation towards systems, rather bringing in systems in everything, will determine the success of future leaders.

And I strongly hold the above three factors much close to my heart and brain while follow them like a ritual.

Tell us about your educational background and how are you levering the professional experience to steer the company in the right way?
After my graduation from Medical School, I started with developing medical electronic products. And due to my passion and experience of leading a business gained during the last 35+ years, I have been able to build this business and take it to where it stands today.

I was always enthralled by the idea of making a positive dent in the world by designing and manufacturing world class products, and my passion for electrical and electronics industry has only multiplied manifold over these years. As the CEO, MD & Chairman of the company, I have been involved at every level of building and strengthening this organization during its journey. On the way, I wore several hats including that for product management, manufacturing, engineering, strategic planning and business development.

Having spent my 35+ years in the industry, I have developed a thorough understanding of the industry and have built strong relationships with the stakeholders. This industry experience has helped me in keeping the business in a leading position in spite of the challenges in the market and the business environment in India. I leverage this experience to identify the areas of growth and ability to organize and execute. This is how I forayed into various business verticals. I believe in the basic elements of business – People, Process and Strategy to develop. This has helped me in strengthening
a world class product portfolio in electromechanical, electronics, and power management solutions for Data Centre market segments.
A great leader creates the next line of leaders. How do you encourage the leadership traits among your employees?
True! Innovate to create value for all – is our Manan statement – which is the reason for our existence. I firmly believe in empowering people to innovate and encourage creative thinking while designing the products. Even if they make mistakes, they learn to independently design products which add value for the customers.
On the other hand, I always share my wisdom with fellow industry peers when I get the right platform.
A Leader's Orientation towards systems rather bringing in systems in everything, will determine the success of future leaders
What is your mantra to strike the right balance between personal and professional life?
Deploying the right people at the right place and subsequently following the right approach of getting things done makes half of life simpler. Also, I have clearly demarcated a line between my personal and professional life.
With so much in hand, how do you keep yourself updated with the latest happenings in the industry?
We participate in several exhibitions and conferences which help me stay abreast with the upcoming developments in the market. Networking with customers and industry peers in addition to reading about new market initiatives always help in updating my knowledge about future trends.
Key Management
Girish Vaze, CEO, MD & Chairman
A graduate from Medical School, Girish has been the linchpin in steering Elcom to where it stands today. It is his persistent efforts that the company today is certified by ISO 9001:2008, ISO 9001:2015, ISO 14001:2015 & OHSAS 18001:2007.