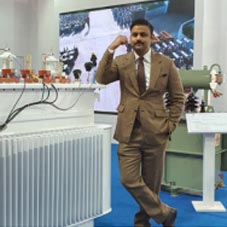 Albert Einstein once wisely said, "The only source of knowledge is experience". Many leaders in India have stood-out as a manifestation of this quote and achieved wonders through their profound experiences. Outclassing across the Indian Power & Distribution Transformer industry, Chakradhar S (CEO, Vijai Electricals Ltd.) is one such maven who has been leveraging his rich industry experiences to upscale his company to newer heights.
Seven years ago, Chakradhar kick-started his career as a trainee at Vijai Electricals and later worked across the Distribution Projects vertical for two years. During this tenure, he was greatly inclined to gain first-hand, onsite experiences by visiting a lot of states in India. To quench his deep-rooted passion, he also received detailed training on how to develop products first-hand across all departments of the industry, especially in planning, marketing, materials and others.
Chakradhar has also been serving as the Vice President of Transformer Manufacturers Association and proactively participating in its meetings. Leveraging the above experiences and learnings, he has been relentlessly fostering Vijai Electricals to concoct new ideas, implement them, and thus develop innovative products for the industry. His five-year journey as the CEO at Vijai Electricals is indeed an inspirational story for the budding CEOs. To learn more about his story, peruse through the following excerpts of an exclusive colloquy between Chakradhar and CEO Insights.
Brief us on your journey so far at Vijai Electricals.
I take utmost pride in serving as the CEO of Vijai Electricals, a pioneering manufacturer & exporter of Power & Distribution Transformers in India (up to 15 MVA, 66 kV class), for almost five years. The journey has been extremely phenomenal! I'm extensively elated and proud of the fact that the company has unveiled a lot of first-of-its-kind products under my supervision, while bagging
200 percent growth in its turnover YoY. In fact, there are a swarm of milestones that greatly augmented its excellence in the past five years. Some of them are plunging into exports across England, Afghanistan and other countries, developing a first-of-its-kind compact substation in accordance with Australian standards at Haridwar, designing & manufacturing transformers with highest energy efficiency, in addition of state-of-the-art machineries at the factory, and many more. We are also looking to cater to European markets in the coming years.
How are you harnessing the best of your industry experiences to shape business modules for your company?
Vijai Electricals has been adopting extremely successful business modules right from the point of inception. This ISO 9001:2015 & NABL accredited company imparts strong fortes in pioneering leadership, remarkable vision, strong customer focus, and a relentless commitment to quality & innovation. No wonder, it stands-out as one of the most trusted & reputed brands among a vast clientele base entailing EPC companies and Government utilities.
Harnessing my industry experiences, I always ensure that effective systems are being implemented perfectly from time-to-time at the company
Harnessing my industry experiences, I always ensure that effective systems are being implemented perfectly from time-to-time at the company. Even when the entire industry believed that transformers with lowest losses according to BEE 5-star rating and European eco design-2 standards are impossible to be created, we made sure to develop them, test them rigorously and launch them across the market.
This way, we have engraved an unbeatable name for ourselves in the industry by creating highly efficient, in-house products as solutions to the challenges faced by the Government as well as our clients. At times, we have also created them way before the challenges even arose! We are also geared-up for the future by constantly garnering information about the emerging technologies,
materials, specifications and standards, and staying updated on the same.

What strategies do you follow to leverage the best of technology across various processes?
Based on our clients' requirements and concerns, we devise appropriate products while seamlessly upgrading our expertise in design engineering and input materials. On the other hand, we also deliver them the requisite specifications to design and develop the best products that can solve their problems in the Distribution Transformer industry. For instance, we stand at the forefront to deliver any kind of technical help to Transformer Manufacturers Association as well as Indian Government.

Maintaining top-notch quality is etched in our DNA! We adhere to a very intricate quality procedure, that involves performing 250+ quality checks for each product even after being loaded and dispatched. Apart from this, we also send the installation manual to clients so that every product matches their requirements.

How do you encourage creative thinking among your people?
All of us frequently attend brainstorming sessions to bring new ideas to the table and discuss about them. I personally articulate examples from my experience, ken or perspectives on new technologies in the industry during these sessions. To encourage employees on developing new products, we make the person with brilliant product ideas as the team leader for implementing them, thus bestowing him/her with utmost responsibility. Moreover, we stay in constant touch with diverse suppliers and industry experts across the globe to learn and share about new fangled trends & technologies.

What is your take on maintaining a perfect work-life balance?
Speaking of work, I ensure to inculcate tremendous self-discipline, right diet, 'early to bed & early to rise' motive, and other habits so that I can work for long hours and not fall sick. I also make it a point to workout every day, no matter when I reach home, while spending quality time with my family early in the mornings, evenings and Sundays.

Chakradhar S, CEO, Vijai Electricals
Having worn diverse hats in his professional journey, Chakradhar currently outshines as the linchpin of Vijai Electricals who is steering it towards success even amidst the uncharted territories.