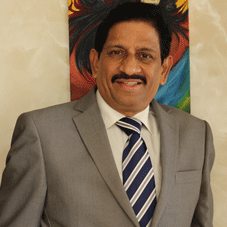 Image Consulting is not just about achieving sartorial elegance. It is about transforming lives of people personally and professionally. This transformation can be made possible through image consulting only when an expert garners a thorough understanding of each person's personality & aspirations, and accordingly recommends solutions. Having mastered not just the art of customized Image Consulting, but holding this as its first passion is Image Gurukul Training & Consulting Pvt. Ltd., a Mumbai-based Image Consulting firm. Strongly adhering to the philosophy 'People listen with their eyes, so speak with your appearance', Image Gurukul offers holistic solutions to its clients that focus on their image inside-out, purpose and passion. The company helps its clients become 'Image-Ready' with a first impression that is not only lasting, but impactful and influencing success.
Image Gurukul's linchpin – Suunil Kini (Managing Director & Principal Trainer) has explained volumes about his firm and its portfolio during an exclusive colloquy with CEO Insights.
What motivated you to plunge into image consulting?
Back then, I was hesitant to try-out new clothes and embrace style since I was obese. Thanks to an optimum diet and exercise plan, I not only lost 16 kgs in a year, but also gained utmost confidence that spurred me to foray into style & fashion. That's how Image Gurukul was born. Shifting from Financial Services to the Image Consulting domain was quite daunting yet an enjoyable experience. All the credit goes to my partner in life who had faith in my success, and Team Image Consulting Business Institute (ICBI) India!
Besides being ICBI's alumnus, I was chosen as ELITE Consultant for my high level of accomplishments in corporate and business school sectors. I was a part of ICBI initiated TV series 'Image Banani Hai' on Zoom TV as one of the consultants assisting makeover of candidates. I was also featured in an advertisement for ICBI in the Times Ascent for conducting 100+ workshops by an Image Consultant, and also as an Image Consultant making news in the ICBI News
letters.
Brief us on the Image Consulting services that you provide.
I personally believe in 'If you look good, you feel good, and if you feel good, you do good', which means a good image of you enables people to respond to you in a positive way. Following the 'Keep it Simple' approach we offer bespoke services like Corporate Training, Individual Consulting, and Education Sector Initiatives. We offer 30 modular and practical programs to corporates by following a byte sized concept. Only after addressing the corporates' focus areas through analysis exercises and discussions, we conduct interactive activities, quizzes, presentations and live demonstrations for them.
We deploy audio-visual aids, webinars, video & video playbacks, live demos, and other tools to ensure that our learning modules enable our participants to analyze the need to make changes in them
Individual consulting is offered through U.A.E (Understand Evaluate & Advise) approach, wherein we augment the strengths, utilize resources available, and work with recommended Image Science approach to enhance an individual's overall presence. Thus, we help people to make pleasure the main motivation for developing their personal style. Lastly, under Education Sector Initiatives, we have so far successfully trained 2000+ B-School students through Image Ready Campus to Corporate program. Our panel of experts further imbue students with Corporate Expectation & Interview Readiness to excel in their campus placements.
Do you deploy any advanced tools for the same?
Yes! We deploy audiovisual aids, webinars, video & video playbacks, live demos, and other tools to ensure that our learning modules enable our participants to analyze the need to make changes in them. We also post our real time updates on Facebook, Instagram, LinkedIn and Twitter, and our feedback, achievements and Image Mantras on our interactive website.
Are there any challenges that you currently face?
Yes! A lot of people still don't understand the importance of image beyond the frontiers of beautification, make-up, hair and heels. There also lies a dearth in professional experience and exposure among image consultants today. At times, even the dressing and style recommendations offered
are not according to the comfort of the professional, but blindly based on know-how.

Throw some light on your team of experts.
We have a panel of experts with deep subject knowledge in various fields. Our team consists of Dieticians & Nutritionists, Cosmeticians, Psychologists and HR Veterans. Apart from myself, we have a senior veteran resource who is a Certified Global Management Consultant, a Senior Advisor who is a Certified Executive Coach, and an Associate Consultant Image Consultant.

What innovations do you have in the pipeline?
We will be unveiling Executive Coaching, Happiness Workshops and POSH Workshops across our portfolio very soon. Meanwhile, we ensure to stay abreast through connections with acclaimed image consultants from Manila, Philippines, Singapore and Sri Lanka, international associate memberships with AICI, ICBI and IMPAA, and webinars & LinkedIn connects with international forums & professionals.

Tell us about your future roadmap.
To become an aggregator of various professional & personal training offerings, focus on new skills & advancements in Image Consulting & Coaching, and spread our representation through associates in APAC Region.

Key Management:
Suunil Kini, Managing Director & Principal Trainer
With 30+ years of rich experience across Financial Services, Investment Banking, IT Education and Manufacturing, Suunil is currently focused on scaling Image Gurukul to newer heights.

Suunil's Certifications:
•Internationally Certified Image Consultant
•Essential Skills Trainer
•International Certification in Fashion Styling from Conselle LC Institute of Image Management
•International Certification in Personal Shopping from Diana Jennings of BrandU Image Consultancy
•Certified Trainer from Dale Carnegie Training India
•Certified Executive Coach from Erickson International in 'The Art & Science of Coaching'
•Certified Happiness Coach on Science of Happiness designed by Berkeley Well-Being Institute, California conducted by Happitude India

Date of Commencement:
2004

Office: Mumbai

Offerings: Corporate Training, Individual Consulting, Education Sector Initiatives, Executive Coaching, and Happiness Coaching @ Workplace