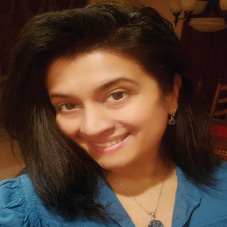 All of us have unique stories to share whether they stem from childhood memories or recent experiences. In fact, there are stories all around us in the form of short films, perspectives, poems and more. All these tales bring people together and propagate hope and inspiration. With this vision, Kadha (www.kadha.com) has been spurring us into those unique & inspiring stories of individuals, over the last 2 years. Founded by Julie Madhusoodanan, the initiative brings tales of real people who are willing to open up and be vulnerable, with the goal of making people realise that they are not alone. Through the organization, Julie hopes to lend a warm hug by sharing real life stories that inspire and uplift each other through life's varied situations. The company catalogues the beat of life's reality, one story at a time. Now, we are happy to share the story of this fearless woman, Julie Madhusoodanan.
Could you give a brief account of your professional background and experiences?
Born in a family that has been in the newspaper industry for multiple generations, I was exposed to media and the power of storytelling at a very young age. My forefathers founded a newspaper company primarily to raise awareness about the caste system in India and promote egalitarianism, which is now a 110-year-old brand. I grew up watching the industry evolve and learnt the essence of storytelling and its positive impact. I learnt that media can be used as a tool to shape society and raise social awareness. In the same industry, my father was instrumental in digitizing newspaper printing in India. That was perhaps my first exposure to technology, which fascinated me the most. Eventually, I pursued both my Bachelor's & Master's degree in Computer Science which took me on a different route from what my family conventionally pursued. At this point, I have had over 27 years of experience with giants such as Microsoft, Hulu/Disney, Google, LinkedIn and other organizations. While working at Hulu I was reminded that technology and media can come together to both entertain and make sweeping changes in society. It revived my deep-rooted love for stories.
At this time, I was pursuing an Exec MBA from the Foster School of Business at the University of
Washington, which further enabled me to leverage my love for stories and foray into entrepreneurship. Storytelling is not just limited to entertainment but is prevalent everywhere. For instance, even in the software industry, you must narrate the features and capabilities to the end user to help them connect with the product. Thus, Kadha was founded at the very end of 2020 to inspire people through stories. While spearheading Kadha, I'm also deepening my tech experience in my current role as the Director of Engineering and Product at LinkedIn.
Stories bring people together in harmony, across the world,despite perceived differences on the surface
What inspired the establishment of Kadha? What's the underlying motivation of the company?
You can find so many curated stories of celebrities, leaders, and superstars. There is incredible coverage of them, but I really believe that there are inspiring stories happening right around us every day stories of commoners like you and me. And there isn't necessarily the opportunity to showcase those stories.
On one hand, I wanted to make this platform an opportunity for regular people. And on the other hand, inspire people and encourage them by letting them know that they are not alone. Thus, I founded Kadha to bring hope and inspiration through reallife stories in the form of written narrative, short films, podcasts, music, poems and paintings. One of the many stories that I loved sharing was that of a school teacher who started her own organic farm with the intent of promoting awareness on keeping our planet green (Namaste Herb Farm on YouTube).
Highlight the toughest challenges you have encountered in your journey?
Well, there were many challenges along the way, but a simple example that most people can relate to is that of self-doubt. I was uncertain of my ability to succeed in tech as there were very few women in the industry, 25+ years ago. What helped me most during my career was the courage to share my dreams and aspirations, and invite others to do the same, thereby creating a sense of shared trust and belonging. This exchange led to the discovery of incredible stories. Then, in 2020, I knew I wanted to pursue story telling but was unsure if and how I could pull it off. It was scary to launch my own business. However, I knew that I had a knack for making people share their stories and that these stories could have a multiplier effect in inspiring many others.
This gave me the courage to move forward. Irrespective of the
challenge, along the way, I narrowed down certain principles and values that I operate on, to keep going and stay focused. The mantra then is to reflect on a few questions Why am I here? Why am I doing this? Does it bring me joy? Does it help others? Does it align with my core values? These questions and values ultimately become a playbook that you can always return to making it easier to overcome challenges. My values center around independence, trust worthiness, kindness, family and giving back to the community. The key is to hold on to your authentic values, get clear about your purpose and pursue that purpose relentlessly. Simply put, follow your heart fearlessly, believe in yourself unapologetically and enjoy the journey through the ups and downs. These purposeful pursuits only serve to enrich your experiences, knowledge and life itself, irrespective of the outcome.

Going forward, what roadmap have you envisioned for your initiative?
One of the things that I have come to realize is that the pandemic and subsequent isolation has made us better understand and appreciate the impact of human connection. I want to leverage that realization to continue to build those connections with more stories; by travelling to different places worldwide making documentaries and capturing stories onsite. I also want to expand the charitable segment of Kadha called "Stories for Free", which aims to provide free educational stories and resources to children worldwide.

To accomplish these goals, I see the need for the organization to grow in terms of the team and have offshore employees who can capture local stories regularly. In terms of making this a sustainable business, we look forward to building on adbased revenue and a subscription based model for premium content in the future. Longer term, I see Kadha becoming synonymous with Storytelling. Whether you want to share a story or read an inspiring one, Kadha becomes the defacto destination to serve your needs. On a personal level, as a woman in tech an entrepreneur and a single mother, I want my work to serve as an inspiration for other budding women entrepreneurs.

Julie Madhusoodanan, Founder, Kadha
Despite being a technocrat, Julie's childhood ignited her passion to share untold stories of common people that are inspirational epitomes. She is a TEDx speaker, an international film festival award- winning director and producer, a humanitarian, and a spiritually savvy and charismatic leader who is driven by core values to make a difference in society and the world. But there is much more to this individual a tennis champion, foodie, classical singer non-profit volunteer, mentor, avid traveller, and voracious reader, she hopes to dedicate her life to spreading joy and hope to every one.