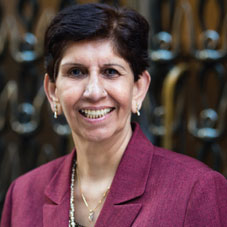 An international education leader, passionate teacher, and influential change-maker, Jaya Bhavnani has been creating positive impacts on students' learning journeys by capturing their interests and giving them enjoyable and worthwhile learning experiences.
Jaya began her association with Dwight School 14 years ago, initially as the Director of Scheduling, and IB CP Coordinator, and later moved on to being the Founder & Executive Director of Dwight Global Online School. As a member of the senior leadership team, she works closely with all areas of the school to ensure that the IB program meets the standards of excellence and ignites the spark of genius in every student. She has over four decades in international education spanning four continents and multiple curricula with extensive experience in international education reflected in her positive attitude and multilingual skills. Moreover, Jaya has been actively involved with the International Baccalaureate as a Workshop Leader, Site Evaluator, Consultant, and Examiner. She serves on the Evaluation Team for the Council for International Schools and has also been a frequent guest contributor for professional development and curriculum alignment and review.
She is a strong believer in the power of education for creating a better world for children and society education that fosters values of resilience, empathy, compassion, tolerance and helps young learners make the right choices for their future!
Let's hear it from her.
What inspired you to establish Dwight Global?
The idea to establish Dwight Global came into existence when we came across a group of students who were training for a sport or ballet on a pre-professional level. We wanted to support their passion and that is when we decided and planned to use technology to create online
courses for the classes students were missing at school. Moreover, the greatest inspiration behind the concept of our campus in the cloud is our Chancellor, Stephen Spahn, and his belief 'if a student cannot come to school, why not bring the school to the student?' Dwight Global today has more than 300 students from 26 countries. Here we support students that are home schooled, performers, athletes, and artists that seek flexibility in their schedule as they follow their passion.
Inspiring students to be the next generation of global leaders through entrepreneurship, innovation, leadership, and service
How has your path to success been and what is your success mantra?
I believe, the path to success becomes truly rewarding if you are walking together. I have been extremely fortunate to have a supporting family who made my journey comforting while I worked with some of the most inspiring leaders and amazing teams of passionate educators. My spark of genius is to try and find the best solution to challenges and problems and work with teams to resolve issues. Along the way, my mantra has been to be resilient, carry a positive attitude, celebrate every success however small, and be open to new learning.
What makes Dwight Global unique from the other competitors in the sector?
Dwight Global is a world leader in grade six to twelve online education creating a personalized learning journey for every student through an academically rigorous curriculum, realtime video conferences, and one-on-one support. Through our Spark Tank incubator program, students are empowered to share their creative ideas and solve real-world problems that are of personal interest to them. We invite our students for optional onsite residential experiences at our New York campus during orientation and graduation. In addition, we host the STEAM (Science, Technology, Engineering, Arts, Mathematics) weekend where they experience science labs and dive into design and engineering processes. Along with weekly advisory sessions, students have the opportunity to join over 50 clubs, attend Spark Talks by guest speakers, and participate in our Dwight Global
conferences and performances. These experiences help our students to develop communication, social, and leadership skills and teach them to be responsible, and accountable while they reflect and learn.

Dwight Global has earned the rank of the second best online school in the United States by Newsweek magazine and NICHE and selected by the International Baccalaureate as one of two schools in the world to pilot the prestigious online IB Diploma Program.

What is your approach to leadership?
As a community, we strongly believe in the power of positive relationships where there is trust, transparency, compassion, and respect. Over the years, I have followed a few leadership tips: talk less and listen more, recognize and motivate hard work, be open to change be humble and most importantly delegate work and trust your team.

What is your take on the dynamic technology trends in the education sector and their interventions in your school?
Technology is a regular component of our student's learning experiences. A combination of synchronous and asynchronous learning helps cater to the diverse needs of our learners and breaks the barrier of time, pace, and place of learning. Hybrid learning, with the technology used to boost student engagement and motivation, enhances skill-based learning. In addition, it personalizes the learning experience for each student, creating a positive and flexible learning environment. We continue to explore the potential of the recent developments in AI language modeling for smart learning in education.

Jaya Bhavnani, Founder & Executive Director, Dwight Global Online School
Jaya is a seasoned education leader whose breadth of knowledge, empathetic approach, belief in personalized learning and the power of positive relationships have given new wings to technology in education.

Awards & Recognition: Honored with the GESS (Global Educational Supplies and Solutions) Award for Outstanding Contribution in Education 2019, GFEL (Global Forum for Education and Learning) Top 100 Leaders in Education Award, EdTech Leadership Award