Koovers: Organizing the Indian Automotive After market by Simultaneously Catering to Car Owners & Workshops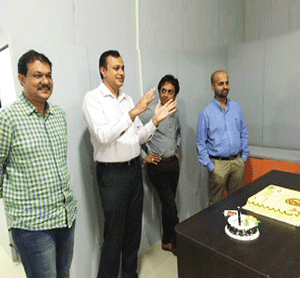 Despite being one of the drastically growing sectors in the country, Indian automotive after market still remains awfully unorganized. Although the industry is anticipated to touch Rs.75,000crore by 2020, almost 95 percent of the workshops & spare-parts shops remain strictly local & discrete, while on the flip side leaving car owners with broken trust, transparency famine, and mediocre experience. Killing the two birds with one stone through a unique B2B2C business model is Koovers–a one-stop solution for car owners to book & manage their car service at an affordable price as well as for workshops to get the genuine spare parts at the right time & price.
Came into existence in 2016, Koovers has already disrupted the Indian aftermarket, especially the Southern geography, which constitutes more than 75 percent potential of the country's total market. Having kick-started its operations from Bangalore and later extended its footprint to Delhi NCR &Surat,the company has beenappreciably successful in doing its part in organizing the aftermarket in these cities by hand holding both car owners and workshops simultaneously through a franchise model.
While providing the end-customers with an alternative experience for their car service through utmost transparency, convenience, affordability, and trust, the introduction of technology, automation, and state-of-the art equipment is some thing that makes Koovers the most awaited revolution in the after market. To comprehend more about this revolution in the making, CEO Insights indulges in a conversation with Sandeep Begur, CEO & Co-Founder, Koovers.
What's the driving factor behind
choosing a niche segment like aftermarket and what were the initial challenges that you had faced while building up Koovers?
I originally started my professional career with my dad in the electronics manufacturing industry. In 2007, by the time we sold that company to an American investor, I had recognized an opportunity to organize the exponentially growing aftermarket in India. I entered the Aftermarket trade a decade ago.

"The deep automotive experience of Koovers'founders has played a huge role in rolling out this innovative concept"

In 2016, I incidentally joined hands with three of my former classmates –Kantharaj Urs, Vinayak YB, and Rajesh Krishna – to incept Koovers. Besides B2C (service centers), we also wanted to include the B2B (spare parts) supply chain in our radar, which is another major disrupting point. Availability of the right spare at the right time is a challenge to any workshop. Thus, in addition to providing a good experience to the car owners through our service centers and franchises, we started addressing the supply chain challenges by helping workshops to get the spares at a better price on a real time basis with transparent pricing structure. Today we are growing around 30 percent YOY. The deep automotive experience of Koovers' founders has played a huge role in rolling out this innovative concept.

How do you ensure providing an alternative experience to the car owners?
Our target customers are post-warranty car owners. They come out of the dealership, but usually go back to them in the end, experiencing the uncertainty from the local workshops. We fill this gap by ensuring transparency, convenience, affordability, and trust, while also catering to the end-to-end spectrum of cars. The well-trained staffs and involvement of technology make it really an alternative experience.

What are the technology interventions in your company that provide customers with a seamless experience?
We strive to make the experience unique right from the time a car comes into the workshop.We have a pickup & drop facility. The car owners get an estimate and Job Card within 30 minutes, and they
could decide on the job from anywhere in the world. Once the owner approves, the work will be commenced as soon as they get the notification through our integrated CRM & DMS (Dealership Management System) platform. When it comes to the repairs, we use the state-of-the-art repair technology and tools. In every step of the process, the notification is sent to the customer, and once the service is done, an online payment gateway will be automatically opened for the customer to make the payment.

Your company is well-known for innovations. What are some of the innovations pipe lined in your way forward?
We are bringing an entirely new model into the after market through Our Workshop Mangement Software, which can be used by any workshops from big service centers to a roadside kiosk workshop. Regardless of the car's make and model, the SAAS Platform enables them to give a better customer experience. We are also enabling supply chain Using our SAAS Platform, where in the door delivery of the required spare will be enabled at a TAT of 4-24 hours. The innovations are projected towards organizing the entire sector

Key Management
Sandeep Begur, CEO & Co-Founder
Sandeep possesses 20+ years of experience in Automobile Spares with a network of 500+ dealers.

Kantharaj Urs, Co-Founder
An automobile veteran with 20+ years of experience, Kantharaj owns TATA,Renault,Fiat, Jeep and MG dealerships.

Vinayak YB, Co-Founder
Vinayak has 20+ years of experience in Technology leadership roles across solution architecture and data analytics.

Rajesh Krishna, Co-Founder
Rajesh formerly decorated leadership roles at Infosys and Genpact across America & Europe and has 20+ years experience in possession.

Offices:
Bangalore, Delhi .Surat and Chennai

Offering:
End-to-End Car Care Services