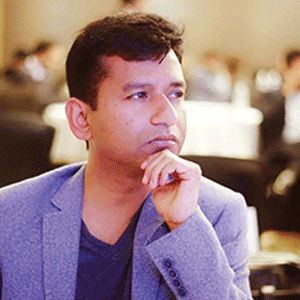 During the late 20th century, increased emphasis on women rights powered the onset of various platforms, directed to support women empowerment worldwide. Today, the broadening horizons of education give women the freedom to think, evolve, lead and explore new vistas of knowledge. Thanks to internet, women are exploring opportunities on an equal scale and emerging as leaders in multiple communities and societies. One such women-only community platform offering support, resources, opportunities and interaction scope is SHEROES, a safe space of narrative-rich and diverse opinionated users shaping the new internet for women.
Under the aegis of Sairee Chahal(Founder & CEO), SHEROES has engineered a digital version of friend circle for working professionals, creators, homemakers, freelancers and students, enabling them to share their stories and explore opportunities at par. Pillared on the ethos of trust and empathy, SHEROES' web portal and application offers counseling support to women in crisis situations and steers their journey towards empowerment. The platform also offers a range of enterprise products such as brand solutions, SHE – prevention of sexual harassment at work platform and Managed Remote Solutions program, which enables companies to bridge the gap between 'Do More' and 'Do Good' for women.
Laurelled with IAMAI digital Awards under 'Social & Economic Empowerment' category, SHEROES provides suite of services under one roof, right from product, technology, videos to business development and content. Highlighting SHEROES' ecosystem where everyone works smart and plays hard, Ankoor (Vice President at SHEROES) explicates how SHEROES' collaborative and fun environment brings revolutionary thoughts into effective action and converts them into user experience and business goals, in an exclusive conversation with CEO Insights.
Reflect upon SHEROES inception story and how the platform is enabling women to realize their dreams.
The platform was initially rooted by Sairee Chahal(Founder & CEO) in 2013 to create a support system for women every where. Leveraging technology for scalability and community approach for support,
Sairee is looking to build up women's internet by curating a large space that is constructive, engaging, and inclusive. We have many first-generation digital users coming on our platform every day where internet's first impression via SHEROES encourages them to express and build their online narrative, hence creating a powerful impact every day.

"At SHEROES, trust is our unique currency and empathy is deep-rooted in our platform where women support each other"

At SHEROES, trust is our unique currency and empathy is deep-rooted in our platform where women support each other. Every woman's need is carefully embraced through communities that help them realize their dreams. Narratives such as #self love and #mespace further enables users the freedom to engage in different activities while #Take Charge women reflects SHEROES' proactive spirit. For us, our users, user experience and our data is of utmost importance.

How is SHEROES a safe space for women to interact,share and update themselves?
We call SHEROES platform as'women's internet'. Every day you receive a better and improved experience and it all happens here in India itself! Our in-built multiple communities for different interests and genres make it convenient and easier for women to join the platform. Available on both Android and iOS, SHEROES' vernacular feature(multiple languages) provides the option to view and engage with the app content, be it Hindi, Bengali, Telugu, Marathi and other languages. So, if you are a woman and want to engage with the SHEROES network, all you need is a Smartphone and mobile data /internet.

Besides, we also perform qualitative offline initiatives at scale, an example being SHEROES' community program taking over Indore. We work with brands to understand how we can solve a purpose together while weaving a story.

What methodology do you follow to safeguard user's data while leveraging latest technologies at its best?
Data confidentiality and our intent driven by empathy have made us a trusted and go-to-platform for women. Our in-house product, technology and data science teams continuously work towards making the user experience better and ensure spam detection and blocking males and fake profiles. Our strength is our algorithms that are designed on the backbone of Artificial Intelligence. Alternatively, chat-based helpline serves trustworthy functionality while certified experts provide professional counseling, irrespective of interests and genres.

How do you help your personnel strike the right chords of work-life balance while steering their spirits to achieve future endeavors?
We organize internal hackathons with deadlines and jury that does
wonders. Our teams come up with unbelievable growth hacks, some of which are released in just one sprint! Everyone challenges themselves to do more. The culture is such that pressure is rather 'Eustress', which enables smooth work-life balance among colleagues. At SHEROES, we believe that empathy starts inside out.
Our aim is to empower 100 million women through SHEROES platform. To bring in more depth and user-first approach, we have made two acquisitions – Babygogo (parenting category) and Maya(women's health category). As SHEROES VP,I keep return on relationships intact and evangelize deeper with brands and media while ensuring that our go-to-market strategy is in tandem with product initiatives. Closely working with all teams is one thing that keeps me on high energy. At SHEROES, I feel strongly for the initiative that Sairee has started; it inspires each one of us in the team and in the ecosystem.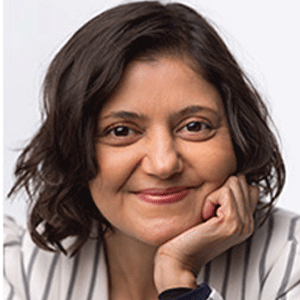 Sairee Chahal, Founder & CEO
Key Management:
Sairee Chahal, Founder & CEO
An Aspen leadership fellow, Sairee is an evangelist for women at work. She has received multiple achievements globally including Femina Achievers Award, Devi Award and Most Powerful Women in Indian Business, Outlook Business Women of Worth 2019, amongst others.
Ankoor Dasguupta, Vice President – Special Projects, Brands & Marketing
A passionista at heart, Ankoor believes in the power of energy & energize while bringing to the table a pedigree of 19 years. He works around building deeper relationships with brands and media agencies and in tandem evangelizing the SHEROES voice. Ankoor is an avid writer and speaker and various forums.
Avinash Hindupur, Vice President – Data Science & Engineering
Avinash he is responsible for building on our machine learning products and data science team enabling data-driven decision making. He comes from a diverse background with experience developing technological solutions in various industries including telecom, entertainment, healthcare, and social networks.
Headquarter:
New Delhi
Offerings:
Jobs for Women, Mentorship, Community, Work from Home, Growth Network for Women, Happy Place for Women, Flexible Jobs, Consumer Platform, Community Platform, Campaigns, Corporate Partnerships, Events, Recruitment, Diversity Consulting, Social Network, Support & Engagement