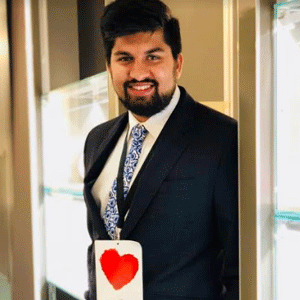 It is a universally accepted fact that jewellery is one of the best gifts you can give to your loved ones. Being so close to one's skin, a jewel embodies the sense of physical, emotional & spiritual intimacy and safety. With more and more women empowered to buy their own jewels, today this intimate accessory also facilitates them to express themselves. Unfortunately, luxury jewels are often associated with a heavy price tag or a high-end brand. Bending the history with a fresh concept of bringing luxury jewellery to mainstream fashion is TALISMAN – the offspring of Gem India Exports, an award-winning group with over 30 years of experience in designing & manufacturing high-end jewellery pieces. TALISMAN considers every jewellery piece a lifelong emotional investment, hence it has created a platform of superior quality products, delivered with an exceptional consumer experience.
Having lived in India, Europe and U.S., Sambhav Kothari (Co-Founder) brings a global perspective and knowledge to the business world. As he has worked closely with a prestigious Italian Brand for nearly four years, he also understands the Italian Standards of quality assurance and optimizing the production capacity /efficiency by understanding & subsequently implementing the mass-finish technology. Sambhav in an exclusive conversation with CEO Insights illustrates TALISMAN's offerings and CSR endeavours.
What is TALISMAN's unique selling proposition that makes it outshine the prevailing competition?
We make our own mark in the industry with a set of collections that are made in 925 sterling silver, featuring high-end precious gemstones (versus brass and crystals, which is usually the case) yet comfortably priced between Rs.1500-2500 only. Predominantly targeting the demographic of females aged 18-35 years, TALISMAN creates luxury pieces that gives customers the ability to create infinite combinations aligned with their individual taste. Simply put, think of TALISMANas a design studio that offers you a unique space to create, innovate and be yourself.

"TALISMAN creates luxury pieces that gives customers the ability to create infinite combinations aligned with their individual taste"

Handcrafted with love, passion and creativity, TALISMAN's jewellery is colorful, vibrant, confident, and has something to say. Spearheaded by an advisory team with 50+ years of jewellery experience, our team comes together to conceptualize pieces that can unfold memories and help express oneself in a fun and distinctive way. Our extensive library of personalized pieces includes Beads (abstract-shaped charms featuring striking enamel colours & gemstone combinations), Dangles (hanging charms adding a sense of movement & flexibility), Fillers (abstract in design and adds beauty & funkiness), Bracelets (to slide the charms on - available in silver, leather & silicone), Rings (hand-made stackable rings) and Earrings (another funky addition).

How do you leverage the latest technologies & trends to design your products and scale TALISMAN's presence in the market among customers?
We have design studios in Jaipur and Hong Kong, which are equipped with start-of-the-art rapid prototyping machines for 3D Modelling. Enriched with a team of 30 designers proficient in every aspect of jewellery designing, we utilize recognized jewellery designing software for product development. Every design is first tested in our PD Cell for functionality and durability before it's brought in to the main-stream.
Our parent company exhibits in various international shows held yearly in Vicenza, Basel, Hong Kong, Bangkok, U.S., and China, which helps us in keeping-up with the international trends, technology and standards.Lastly we reach out to our customers with a four-pronged marketing strategy: partnership with premium marketplaces like Myntra & Jabong, our own e-Commerce platform, retail partnerships & cross selling, and concept stores & store-in-stores.

You seem to have taken the less travelled route in your CSR endeavour as well. Kindly enumerate on it.
Despite being a young organization, we have concocted an initiative that would contribute towards the society's betterment – and more importantly, something our valued customers could be part of. After a lot of travelling, researching and soul-searching, we found ourselves in a remote village of Karnataka completely in awe of the exquisite age-old local technique of Lac turnery. The TALISMAN packaging boxes are made of the native dhoodi wood: chiselled with intricate details and accuracy, owing to the level of hand movement involved by the artisans who have been striving to keepthe art alive.With every box that we buy, we let these local craftsmen live their dream, which is to them valuable beyond measure. When someone buys TALISMAN's jewellery, they are buying a story, unlocking the years of history behind an Indian art form, and ensuring that this rich heritage stays alive for years to come.

Key Management
Sambhav Kothari, Co-Founder
Having earned his BS Diploma in Entrepreneurship &Corporate Innovation from Cambridge Judge Business School and worked closely with a prestigious Italian Brand for nearly four years, Sambhav brings a global perspective and knowledge to the business world.

Offices:
Jaipur(design headquarter), Bangkok and Hong Kong

Products:
Personalized & Affordable Charm Bracelets, Rings and Earrings