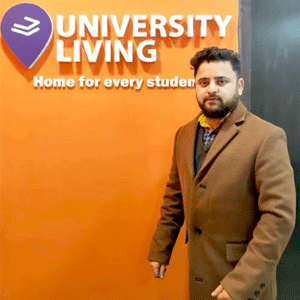 The brainchild of Saurabh Arora (CEO), 2015-founded University Living is a global student housing marketplace assisting students to handpick right accommodation close to their university. With an expert support in action 24/7, the organization's core competency in student accommodation enables students to choose from 750,000 beds in 5,500 properties across 130+ cities in UK, US, Canada, Europe, Australia, New Zealand, Korea, Dubai and Singapore.
Everything, from room replacement, guarantor assistance, and room essentials to setting up student bank account, Forex support, education loan and many more, University Living excels in offering end-to-end solutions with promise of delivering exceptional living experience. In an exclusive conversation with CEO Insights, Saurabh shares insights on University Living's journey that tracks down the transformation of a personal experience into unique business venture.
What propelled you to plunge into entrepreneurship & how has the journey been so far?
Before plunging into entrepreneurship, I pursued a managerial career in banking for four years. The interest in student accommodation was inspired by my experience during a student exchange program in the UK. Even today, only one out of six students is able to secure campus accommodation, leaving the rest to
the world of private accommodation. Mayank Maheshwari, Co-Founder & my former room mate, too faced similar dilemma that got us talking about pressing need for secure and verified accommodations equipped with campus-like facilities.

It was in 2015 that we established University Living and since then have helped over 37,000 students transition smoothly into life abroad. From helping them choose the best place(based on their budget and preferences), navigate the paperwork and find a guarantor to matching them with the right flatmates, following up after check-in and delivering room essentials right to their doorstep, we aim to please every step of the way. Also, students are offered room replacement service within 30 days, if the need arises. While students receive a holistic and hassle-free living experience, the journey for us as well has been truly rewarding.

"We believe in a two-pronged approach towards innovation"

What makes University Living the most sought after accommodation service provider amongst international students?
While students' socio-cultural background often informs their priorities, the needs are largely similar when it comes to accommodation. Location, budget, security, and value for money are the key factors that seal the deal. From shared and en-suite rooms to private studios and apartments, we have something for everyone! Besides, our properties feature modern amenities under one roof including onsite gym, laundry, games and study areas, amongst others. With all our properties curated and verified by us and channel partners, and equipped with 24/7 security, CCTV and swipe card access, both students and parents take a sigh of relief throughout.

What methodologies and strategies do you adopt for transforming palatial spaces into safe and sound accommodations?
As the target audience is students traveling out of their native country, we go the extra mile to ensure all properties recommended by us live up to the highest standards of comfort and security. To ensure secure living, we work closely with superior-quality accommodation providers recommended by universities, licensed by city councils and approved by Unipol. Each property brought on-board undergoes extensive assessment for confirming their quality parameters and is personally visited either by us or our global partners to ensure that it ticks all the right boxes! As I am not a believer of one-size-fits-all approach, my team and I continuously work towards improvements, invest in meeting
diverse needs of students and also accommodate their special requests and individual preferences.

How do you help your workforce strike the right chords of work-life balance while staying abreast with latest trends?
University Living has developed annual and quarterly training modules to ensure all employees are updated on our latest offerings and able to make a real difference to students worldwide. Along with a travel program in action wherein experts travel overseas to gain first-hand onsite experience, we conduct special workshops for personnel for sharing their travel experiences and personal insights with the team at large. As for work-life balance, University Living as an organization is fuelled by young blood. We hustle just as hard as we party, and that's worked in our favour so far!

How are you constantly innovating your services to sustain University Living's success graph in future endeavors?
We believe in a two-pronged approach towards innovation. While constantly enhancing end-user experience on digital marketing front strengthens our business' backbone, investment in in-house personnel training sessions helps in solidifying customer-centric approach. These programs involve the encouraging themes of Stephen Covey's Seven Habits and Lean methodologies that add real value to their lives.

As part of tech-innovation, we have upgraded our website and implemented both machine learning and AI to ensure a seamless booking journey. Having expanded operations to Asia, Europe and the US, we are excited to navigate these new markets and tackle the obstacles faced by international students with our promise of end-to-end solutions. We are also in talks with boutique property providers to explore the possibilities of providing inventory management solutions in the future endeavors.

Key Management:
Saurabh Arora, CEO
An enthusiastic leader, Saurabh is perfectly acing his professional expertise to deliver a more personalized experience to students worldwide. He formulates strategic plans, executes business policies and keeps the wind of teamwork flowing to reach new heights in every endeavor.

Locations:
New Delhi (HQ), UK, Australia, New Zealand, USA, Canada, UAE, European Union, Korea, Singapore

Offerings:
Student Accommodation,Room Replacement, Room Essentials, Forex, Bank Account, Education Loan & Guarantor Assistance