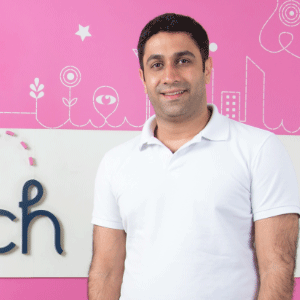 Back in 2012, the kids fashion space was not as evolved as it is today. Indian parents had limited access to unique and trendy clothes for their kids back home. The striking difference in price points as compared to the rest of the world and the sheer accessibility of brands was the genesis of India's leading kids fashion brand. With a well-devised business strategy and a goal to bridge the gap between aspiration and accessibility, Rahul Anand(Founder & CEO) launched Hopscotch.in.
Through a path carved by data driven decisions, Rahul took only three years to pioneer a kids' attire line that aligned perfectly with the aspirations of Indian parents. The data-backed intrinsic designs and well-informed decisions on price points churned out astonishing results. Today, Hopscotch launches more than 500 unique styles every day to its PAN India customer base, while technology continues to play a pivotal role in decision- making. CEO Insights unfurls the exciting story of Hopscotch through an exclusive interaction with Rahul.
It's always a tough task to break the ice. What drove you to the inception of Hopscotch and how did you manage to create such an impact on the market?
Right after my Harvard days,I joined the management team of Diaper.com, which went-on to become America's number one children's online platform. The company was soon bought by
Amazon and I had the privilege of employee stock option. Some of the liquidity helped me to start Hopscotch.

"While offering all the latest payment options, it's not only that we don't save any card detail in our server, but also perform audits to ensure that our payment gateways boast of the highest degree of security available in the country"

The huge but untapped Indian market was a real surprise. The existed foreign brands were in truth unaffordable to the mothers in the smaller cities. So I had to unlearn my experience in the U.S. market and study the pain points of sophisticated consumer market in India. Heavily leveraging a combination of data science and machine learning, we mined data from across the country. For instance, we were looking at diversity wherein a mom from Gujarat typically loves seeing their kids in bright colors, while the one from down South goes with the lighter shades. We got into the nuances and ensured that our platform offers something for everyone at a highly affordable price with value for money.

Quality is another predominant aspect of our propositions. The major segment of our audience is the 300 million households across the smaller cities in India, wherein the quality perception of an affluent shopper in South Delhi differs from that of a shopper from Kanpur. So, we spend time in understanding what they really value and what they don't.

Data security and Data Privacy are increasingly becoming the buzzwords in the consumer market. How do you cater to this rising demand?
Our strong data policy is never confined to the financial credentials, but we respect our customers' right of data privacy as well. While offering all the latest payment options, it's not only that we don't save any card detail in our server, but also perform audits to ensure
that our payment gateways boast of the highest degree of security available in the country. We capture hundreds of frames of customer behavior on our website every second, and store them in highly secured environment. We assure that we don't share the list of our shoppers with any third party.

While going forward, what are the kinds of innovations we look at?
For us, innovation is a constant. For instance, a year ago, we realized that most of the e-Commerce providers were imitating the communication model of their foreign counter parts, where in email is the predominant form of communication with the customers. But that's nothing Indian. Many of our customers don't even have an email address. Hence, we transformed our front end to become more mobile centric. Today, more than 95 percent of our business happens on mobile phone. Likewise, we recently found that in smaller cities, more often than not fathers do the shopping for the sons, while moms shop for their daughters. We are now striving to make shopping more exciting for fathers.

We will continue to invest deeper in technology to ensure that we understand our customers much better and serve them with the right product at the right time & price. In the coming years, we would take our business model to the next level, including physical stores wherein the technology will play a pivotal role.

Key Management:
Rahul Anand, Founder & CEO
A Mechanical Engineering graduate from the University of Michigan and an MBA graduate from Harvard Business School, Rahul was born & brought up in Mumbai. He started his professional journey way back in 2000.

Headquarter:
Mumbai
Offering:
Kids Fashion Apparels