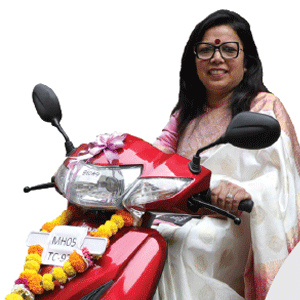 Women empowerment is finally at every home's gate. No country in any part of the world can sustain its development if it under utilizes its women, who constitute almost half the population. Remember, we are not talking just about the elite class anymore. Women, regardless of socio economic trace are today equitably contributing towards nation-building, while the government interventions like Companies Act Amendment of 2013 that mandated participation of women in every listed company's board of directors (BOD), and initiatives like Stand up India, engender a propitious milieu around them.
Despite this, it took further courage for Revathi Roy to venture into the highly competitive & traditionally masculine Indian Logistics industry and incept Hey Deedee –India's first all - female hyperlocal & last-mile delivery startup. Hey Deedee is not merely an organization today but a silent revolution,providing employment opportunities to women from low-income families by turning them into well-trained delivery agents supporting India's online shopping outrage.
An Impeccable Leader Making Things Happen
An award-winning serial entrepreneur, Revathi(Managing Director& CEO) in fact boasts of standing against the gender oriented challenges even before the aforementioned supporting ecosystem came into existence. Way back in 2007, she pioneered Asia's first women-operated cab service: For sche, which was sold to IL&FS in 2009, before venturing into her second organization in the same domain. "Though I was an early mover, once Uber & OLA came into the picture, the price war that they managed to forge made it impossible for anyone else in the market to sustain. Hence, in 2016, when online shopping service industry was skyrocketing, I realized that there is a huge business opportunity for us to seize and if I can empower women/girls into doing this brave task, it could be a winner for all of us," asserts Revathi, who had won NITI Aayog's 'Women Transforming India Award' back in 2016.
A couple of years back, Revathi along with JagdishGothi (Entrepreneur &Investor) co-founded Hey Deedee with a great vision & intent. But this is the real world and yet another woman-centric platform won't serve its genuine purpose, since our country, besides the lack of opportunities, is confronting a greater concern – lack of skills. According to the National Sample Survey, out of the 470 million people of working age in India, only 10 percent receive any kind of training or access to skilled employment opportunities. This is precisely where Hey Deedee makes a difference. The Mumbai-based startup is not only about women performing the last mile deliveries on two & four wheelers for the first time in India, but at the back end, it's also a skilling company that engages& grooms the trainees for a prolonged period to ensure that they become good riders and drivers.
Engendering Skilled Women-Force
The extensive 45-90 days long training program grooms women(trainees) based on public relations, hygiene, road signs, traffic rules, and an array of other vital aspects that would help them alongside driving classes. Taking the convenience of trainees into account, the driving training is conducted in two parts– simulator - based training for the first ten days (both four-wheeler and two-wheeler), which is followed by a month (or more) spanning hands-on on-road training. In other words, Hey Deedee makes sure that its wonder-women hit the ground running! This methodological training accounts for 'Deedees' (denoting sisters in Hindi) delivering parcels within the stipulated time period, while the company ascertains their safety through advanced security measures including constant monitoring of vehicles using GPS. Hey Deedee always has a protective eye on its women-force.

"Hey Deedee is not merely an organization today but a silent revolution, providing employment opportunities to women from low-income families"

"We in truth start from hand-picking the women who aspire to learn skill and are committed to working hard. Hence, we have developed a robust team of social work postgraduates who explore every possible avenue including several communities, NGOs, and political parties to get in touch with women from low-income families," adjoins Revathi.

A Collective Effort towards Women Empowerment
It's a great sight that the society is lining up under this common cause; for instance, the major part of the training program is funded by CSR foundations. Even the response from investors has been overwhelming to the tune of Hey Deedee successfully raising pre-seed funding of $500,000 (from Meta form Ventures LLC), which has provided the company with enough thrust to have an ideal take off with a strong fleet, a keen focus on technology, and a prestigious customer ecosystem. Nilesh Jain, a first generation entrepreneur, saw a huge potential in this company and concept and decided to invest.

Hey Deedee is presently running on a model of B2B wherein tie ups are made with e-Commerce companies and others wherein it undertakes last-mile delivery for companies like Amazon, The Curry Brothers, The Bohri Kitchen, Subway, Herbivore, Shophop, Brijwasi, Pizza Hut, Ecomm Express, Ziptown, Spicebox, Everyday Gourmet Kitchen, Pitaburg, Birdy's, Snack box wallah, Godrej Nature's Basket, and Fresh India Organics, among thousands of other customers.

A Valuable Mission
Interestingly, the company already has 2000+ women registered – all under different stages of training, and currently has 100+ riders on the job across Mumbai, Bangalore, Nagpur and Pune. The other model which Hey Deedee is successfully building is the Franchise model, which has been successfully implemented through passionate partners in Ranchi, Jamshedpur, Kolk atta, Punjab, Lucknow with many more to follow to reach the target of 100 cities in a year's time. But this is just a bijou piece of the big picture that Hey Deedee paints, as it aims to become the largest solution provider for hyper locals & last mile delivery services within the city through its hub and spoke model.

Key Management:
Revathi Roy, Co-Founder, MD & CEO
A serial entrepreneur, Revathi accomplished her Masters in
Economics from St. Xaviers College, Mumbai and then the Mumbai University. She commenced her entrepreneurship journey by pioneering Asia's first women-operated cab service in 2007, which it sold to IL&FS in 2009. Her second venture, before starting the Hey Deedee journey was also a cab service. She had won NITI Aayog's 'Women Transforming India Award' in 2016.

Jagdish Gothi, Co-Founder
Jagdish is the owner of Kamdhenu Departmental Stores, which is one of the best shopping destinations in Andheri. The second generation entrepreneur with flagship businesses in retail, plywood, infrastructure, and construction, Jagdish has now forayed into the new age business of funding startups and building value such as skilling for employ ability and food processing.

Nilesh Jain
Nilesh, Founder, Clinivantage Healthcare, is a passionate innovator, & energetic entrepreneur, working to solve problems that impact a billion lives. He has spent nearly 2 decades in the Silicon Valley as an entrepreneur, lead and founded companies and now is an active angel investor/advisor to the next generation of entrepreneurs, his way to give back to the startup ecosystem.

"We in truth start from hand-picking the women who aspire to learn skill and are committed to working hard"

Hey Deedee in Spotlight:
• India's first all-female hyper-local delivery startup

• Providing employment opportunities to women from low-income families by turning them into well-trained delivery agents supporting India's online shopping revolution.

• The all–women fleet is a group specially trained by Hey Deedee( A unit of Zaffiro Learning Pvt Ltd), which aims to empower underprivileged women by skilling them in two-wheeler riding and soft skills

• The company has 2000+ women registered & enrolled all under different stages of training programs, and has 100+ riders on the job

• Its extensive 45-90 days long training program grooms women (trainees) based on public relations, hygiene, road signs, traffic rules, and an array of other vital aspects that would help them, alongside driving classes.

• The company helps its employees own a scooter worth Rs.60,000 through soft loans and help them evade the unfortunate 'below poverty line' stigma.

• It aims to become the largest solution provider for hyper locals & last mile delivery services within the city through its hub and spoke model.

Quick Facts:
Year of Establishment:
2016
Offices:
Mumbai(Headquarter), Bangalore,
Nagpur & Pune
Offerings:
Last-mile delivery of:
•Gifts
•Invitations
•Bouquets
•Food
•Groceries
•Documents
•Cheques
•Bills
•Lost & Found Goods
•Parcels/Couriers