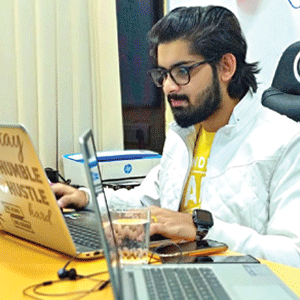 The evolution of the BPO industry is nothing less than a wonder. Some thing that started in the 2000s as small as a supporting call center function to save cost and time, the industry today has grown as the growth driver of several billion dollar organizations. The name of the game has changed from mere cost cutting & time saving to growth enablement using futuristic technologies.
The startups and young entrepreneurs make their mark at a shut eye time, as they decode the technology trends quickly. Thane-based LeadCorp is one such startup that has made its mark within three years from its inception. A young pool of IT talents marshaled by a young entrepreneur, Suyash Sakhalkar(Founder & Director), LeadCorp's success recipe has been its ability to interpret the market dynamics ahead of time and real time adapt to the latest trends. While the young passionate minds keep upgrading the technological leverage with respect to the entailments of clients, a veteran quality team consisting of four strong layers stamps the quality hallmark of LeadCorp on its each and every activity. Having started his career as a BPO executive as early as 18 years of age, the young turk Suyash comprehends the reality right from the ground and always chooses the pragmatic solutions. It constantly results in LeadCorp walking the talk.
The company offers a range of BPO services, including Lead Generation, Customer Support, end-to-end Sales, Data Analytics, and Financial Product Marketing to its clients comprising of healthcare organizations, medical equipment
companies, and largest BFSI organizations, medical equipment companies, and largest BFSI organizations like HDFC and Axis Bank. LeadCorp is today one of the fastest growing BPO organizations in the country, opening up ahuge doorway of opportunities, especially for the young talents. CEO Insights interviews Suyash to know more about LeadCorp's endeavors.
We don't give any room for a run time error or down time
How has been your journey so far in this crowded industry?
I started my journey as a bottom level executive in an international BPO company. I left the organization for a better opportunity and started climbing the ladder from team lead to management in my subsequent tenure. When I had enough experience at my side, I started a BPO organization in partnership. But it was not profitable for me. Hence, in 2016, I started LeadCorp. We had a humble beginning with just five people. Over the past three years, we have never looked back, growing exponentially to the tune of being home to 50+ talented people.
What were the challenges en route and how did you tackle them?
The ever growing dynamics of technology is always the biggest challenge. We grew up with a bunch of IT wizards on our side, and today, whenever a new technology arrives in town, we ensure to make good use of it. We don't give any room for a run time error or down time. In addition to having a robust data security division which abides by our strict data policy, we are currently building our own CRM platform as well. A complete package, it includes highly integrated APIs & services and is going to provide highly customized dashboard for each customer; not to mention the security benefits of having our own platform. We are also building a database involving everything from cold calling to email and SMS marketing. That will further improve our service to the customers.
Quality is one decisive factor in
BPO industry. How do you cut the loose ends?
While our management consists of young talents, we have on boarded a team of highly experienced veterans. They embed our deliverables with a four layer quality analysis process with stringent check points. Thus, if team A doesn't spot a crater, team B definitely will.

All the teams directly report to me, and thus I have ensured that there is no gap in the management. I speak directly with both my teammates and clients on a daily basis. It helps in efficiently using my team's skills, and also understanding the requirement of the client.

The BPO industry is only going to grow bigger and get denser. What is the future roadmap set for the company?
I constantly update myself with the technology landscape through social platforms. That's vital for our growth. Currently, we are catering to around 12-15 clients at a time. I look forward to increasing our client base to more than 50.

We started this journey with a vision to not perceive our employees as employees. We, the management team, have experienced how harsh it feels like. It's a great feeling that remains true to that vision. We want to be at least 200 people strong organization within the next five years.

Key Management:
Suyash Sakhalkar, Founder& Director
Having kick started his career in the BPO industry when he was just 18 years of age, Suyash understands the ground level dynamics of the industry. This has been an instrumental factor in LeadCorp's success. The 24-year old Director, who is blessed with leadership skills, is always an inspiration to his team.

Office:Thane

Offerings:
•Business Process Outsourcing
•Inbound Marketing Outsourcing Services in India
•Call Center Services/Call Center Outsourcing in India
•Customer Support Services