BPO is a buzzword among the corporates today. Gone are the days when service functions were developed by the corporates in-house for captive use. Corporates nowadays benefit significantly from outsourcing of business processes almost everywhere on the planet. Looking at the growth and government's support, BPO is being recognized as a specialized sector in India. Contributing to this growing industry is Radical Minds, a leading BPO services provider that offers consulting, outsourcing and staffing services to Fortune 500 and mid-market organizations.

Incepted by Sanjoo Sharma (Founder & MD) in 2010 with just six people, the Gurugram-based firm today stands tall with more than 5500+ employees renowned for its professional integrity & service delivery excellence. An industry veteran with 23 years of extensive experience in Management, Sanjoo holds the responsibility of navigating the challenges that enterprises face when integrating multiple generations of systems and applications as part of the business strategies.

Under his aegis, Radical has emerged as a dominant player in the BPO sector with its top-notch services catering to various business segmentations including Travel, BFSI, Logistics, Health & Wellness and Telecom. In an exclusive interaction with CEO Insights, Sanjoo elucidates a spectrum of details about his stint towards entrepreneurship, his diverse skills & experiences, and much more. Here are the excerpts.

Tell us about the inception story of Radical Minds and the journey so far? Also, tell us about your team members and their contribution in the growth of your organization?

After completing my graduation in IT Engineering, I started my first job as a Product Support Engineer in 1996. Gradually, I reached to the senior level (CTO, Director of IT and CISO) before starting my own venture. In 2010, I established Radical Minds in a small room with my own investment. Initially, the challenges were high with low business opportunities. We started with domestic and international campaigns, which were just outbound campaigns (sales). Our business skyrocketed after getting the opportunity from Times Of India (started with 25 seats and reached upto 250+ in two years) and Goibibo (from 25 seats to 500+ seats across various lines of businesses (flight, hotel, stuck, supply, social media, content management, international hotel sales and others)).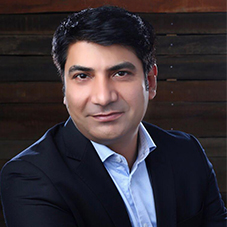 That is when Radical Minds caught the attention of other organizations. However, the firm would never have achieved its dreams without the seamless help and support of Stuti Gaekwad (COO – Travel & Health) who was with the company since inception and handled various processes and departments, Pratap Kumar Singh (COO – BFSI & Logistics) who joined in 2018 and Varadarajan Srinivasam (Principal HR Advisor) who dedicated their expertise throughout our journey, bringing the organization at the top position today.
At Radical Minds, our clients are presented with a value-driven approach. Fostering a positive experience at every stage of the customer journey is what we aim for. In short, our high engagement, customer-centric modus operandi is what sets us apart in the industry. We offer them the broadest range of BPO services underpinned by operational excellence and cost-effectiveness. Apart from that we focus mainly on four factors – Fast Execution, Flexibility, Availability, and Transparency.
At Radical Minds, our clients are presented with a value-driven approach
What are the factors that differentiate Radical Minds from others? Also, tell us about the services that you offer.
We are not a traditional BPO & contact center unlike others. We are associated with premium clients and provide them premium customer services for their existing customer. We presently work with renowned names from various industries, including brands like Ibibo Group, MakeMyTrip, Vistara Airlines, Zomato, Swiggy, Ixigo, 1mg, Ola, Dr Lal Path Lab and many more. But what differentiates us is our capability to handle various lines of businesses for our clients. We don't just work on the Voice & Customer Support segment, but we also take care of their back-end office work including Chat, E-Mail, Social Media
Complaints and more. While every other company focuses on CSAT, we additionally focus on CES (customer effort score), which shows how much effort customer is putting to resolve their issue. Our focus is not to satisfy just our client's customers, but also ensuring that those customers are putting less effort/no effort in the process.

Apart from that, we play a key role in terms of technology. We help our clients with creating their dashboards, making new changes in the CRM and more by using automation on Artificial Intelligence and Machine Language. Alongside, we have developed our own Dialer, IVR, Call Logger, CRM and more that are in compliance with Technology & Information Security. Hence, we are a complete independent BPO firm with totally secured IT infrastructure and support services.

The BPO industry worldwide is growing by leaps and bounds. How do you ensure to leverage the best of emerging business opportunities?

Besides the Indian market, we also focus on the Middle-East and the European regions. At present, we have a couple of Middle-East clients and we are the only company handling their Arabic traffic.

What is the future roadmap set for your company?

We are coming up with products like ChatBot and VoiceBot, which will be added to our existing products & services catalogue. Besides, a couple of CXOs on the top level will be joining by the end of this year, who will take the company to the next level. One of them is Umesh Nair (Chief Global Growth Officer). His contribution will be a great help for Radical Minds in the international market for travel, health & BFSI.

Key Management
Sanjoo Sharma, Founder & MD
A certified ISO 27001:2005 Internal Auditor & Lead Assessor, Sanjoo has gradually climbed the corporate ladder to emerge as a Director during his 15 years long corporate stint.

Location: Gurugram (headquarter), Mumbai and Bangalore

Offerings: Complete contact centre solutions including Inbound, Outbound, Backend and E-Mail/Chat, packaged as per client's need