In the past few years, India has seen the growth of Private Security Agencies (PSA) in double digits owing to a number of factors such as increased concerns regarding the security of men, money, material, and more. According to FICCI-Grant Thornton Report, the Indian Private Security Industry (PSI) is expected to grow exponentially to reach Rs.800 billion by 2020.

Contributing to this industry is K9 Secure Solutions, a PSA headquartered in New Delhi, known for tailoring integrated solutions for its clients. K9 was founded by Gaurav Kant, currently on sabbatical, a security professional with a demonstrated history of running smooth operations for seven years. Gaurav shares his journey of developing K9 into a professionally operated PSA in an exclusive interaction with CEO Insights. Below are the snippets!

How did you end-up entering such a competitive industry?

In 2012, I was heading security for MOOZ Entertainment. We faced operational issues while working with the PSAs we had hired for different events. To cut a long story short, I saw a problem that could be addressed and the entrepreneur within me was born.

When did you become a Security Entrepreneur?

I quit MOOZ in 2013 and Co-Founded GN9 Security Solutions in July 2014 with my closest friend at that time. GN9 tasted success from the first day. Within six months, we had successfully secured multiple events, including IPTL in December. By the first anniversary, we had spread operations across NCR, had 300 employees approximately, and developed expertise in securing events and VIP Protection. Sadly, best friends can end-up being worst business partners. Due to certain negative elements within our team, differences arose between me and my partner, eventually leading me to sell-out towards the end of Fiscal 2015-16.

When was K9 Secure Solutions incorporated?

K9 was incorporated on 11th February 2016. Two of my team members can be considered Co-Founders of K9.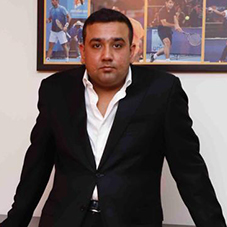 Budgets aren't discussed in VIP Protection. The entire focus is laid on how to proactively protect the client from all potential threats
Firstly, Sampat Sangwan, who was my second-in-command at that time and had been with me since the first day of GN9. Secondly, Gunjan Jha, who joined as an Accountant, two weeks before the split. He has played a vital role in the development of K9 into a professionally run organization. Today, he's the General Manager of the company.
Tell us about your services and work-force?
K9's got bandwidth to provide 15 types of different services to clients. Majority of revenues for PSAs come from manned guarding. Our core specializations are Securing Events because of my expertise in that field and VIP Protection. Budgets aren't discussed in VIP Protection. The entire focus is laid on how to proactively protect the client from all potential threats. We've started facilities management for select clients and are aiming to develop a full-time systems integration vertical by end of Fiscal 2020. Training is given in accordance with PSARA, and is tailored to suit threat levels faced by clients as well as their budget. General training covers access control procedures, fire-fighting, basic crises management procedures, and first-aid assistance. Specialized training covers Anti-Sabotage Check Procedures, Counter Assault Operations as well as Disaster Management Procedures.
Please give us an insight into your projects?

We've secured sporting events, concerts, conferences, college festivals as well as protected over 20 Bollywood personalities. The journey began with providing protection services to Randeep Hooda in June/July 2016. I had already handled celebrity protection operations during my stint at MOOZ and GN9, so giving Randeep what I call 'The K9 Experience' wasn't a challenge. K9 has been an integral part of his entourage ever since. We've been providing similar services to Base 52 Entertainment when its artists are visiting Delhi. The biggest star we've protected for them so far is Govinda. We've worked with sporting events in the last 3.5 years, with the India Badminton Open in March being the most recent project. In Guarding, our first major breakthrough was BAG Films & Media Ltd. They've been our most generous client so far. We've been guarding their premises since March 2016 and recently started facilities management for them. Amongst other clients, some prestigious clients include The ARDEE Schools and OMAXE Ltd in the guarding segment, as well as The Narinder Mohan Hospital and The Greater Valley School in the Facilities Management segment. Each client has been a benchmark in some aspect or the other.

Tell us about your company's future roadmap.

I'd say the aim would be enhancing operations for existing clients as well as increasing the number of portfolios. K9 is aiming to be work with 20 more schools in NCR by end of 2020. Based on increased presence in the education sector, the team shall develop a centralized crises management mechanism for the schools being guarded by K9. The company is aiming to obtain PSARA Licenses in six-seven states by end of 2020.

KEY MANAGEMENT:
Gaurav Kant, Founder
Popularly known as Chanakya amongst the people who've worked with him on Security Operations, Gaurav has been a Security Entrepreneur since 2014.
Location: New Delhi (Headquarter), with presence across North India.

Offerings: Manned Guarding, Events Security, Executive & Celebrity Protection, Systems Integration, and Facilities Management.