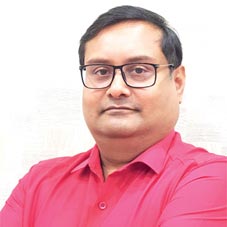 India's IT industry is one of the significant growth drivers of the country's economy, contributing approximately 7.7 percent to India's GDP (as of 2017). The role played by this sector is so crucial, that it can be described as the engine which runs the digital world today, without which everything will come to a standstill. But, the flourishing and thriving of this industry is only possible because of the flawless support of the IT services & solutions providers, who back the industry with their offerings, hence it can be concluded that they are the base of the industry. Contributing its best to the realm while helping clients reap the benefits of best-in-class IT services & solutions is Bangalore-based Madhu Infotech India Pvt. Ltd., a full-service 360-degree IT solutions maestro, specialized in IT services, solutions, and hardware supplies.
Established in 1999, Madhu Infotech is an independent growing organization that developed a firm understanding of the marketplace in India while helping clients grow in their respective space. Today, under the aegis of Manjunath H.V, Founder & CEO, the company has cemented its hold in the IT industry as one of the leading organizations that operate as a highly professional partner for a gamut of IT services and solutions. When interacting with CEO Insights, he has articulated numerous aspects of Madhu Infotech. Here are the excerpts!
Walk us through your company's journey so far. Where are you positioned in the industry right now?
Madhu Infotech was initially started as a printer service company, but then we moved into IT services and offered maintenance contract service along with networking solutions to our clients. Progressively we added new verticals in our service portfolios such as computer & IT rentals, leasing of equipment, training division, and much more. Currently, we are covering almost all the
verticals in the IT realm, but we still endeavour to explore, expand, innovate and excel in the space by fulfilling the ever-changing requirements of our clients.

Today we have the honors of serving several Clients who envy our services. Over a period of time, we have structured the way the service industry needs to work with a workforce that is available to our clients just a call away. We can say it's our sheer dedication towards the industry, along with the commitment towards customer satisfaction that has led us to become one of the reliable IT service and solution providers of India.

Tell us about your offerings and the service portfolio that you bring to the table.
We are into the business of all kind of ITrelated hardware solutions. From delivering to configuring and setting-up of infrastructure, we take care of the A-Z requirements of our client, especially MSME clients. To offer a seamless experience, we have partnered with top brands including Dell, Lenovo, HP, Microsoft, and McAfee to name a few. Apart from that have four different divisions and two products under Madhu Infotech, which are WorthIT, Lease Tech, Extend Works, Optibiz, CLINX and STOLT.

WorthIt is a unique portal where customers can buy reliable refurbished products. Now we have also added brand new products in the same portal. I used the term unique here because the portal doesn't just offers commercial products at great prices, but also provides GST credit, discounts on bulk buying and most importantly option for buying products with up to six months EMI without any credit cards.

Lease Tech is the rental and leasing division where we offer short term, long term and hire purchase of IT-Infrastructure solutions. We specialize in offering support to customers with unique requirements. CLINX is an online business platform for enterprises engaged in any kind of businesses. Through CLINX we aim to empower SMEs, manufactures and retailers to increase their business profitability by offering them Digital identity, CRM, Social media creatives, enterprise class business mail, marketing tools, industry wise chatroom and much more. Last but not least, STOLT is an accessories brand that focuses on MSME and large enterprise to fulfill their gifting and personalized merchandise needs. STOLT is more focused on
products that helps solving any issue. Apart from that, STOLT's forte is promoting brands, quality, support and next day delivery after personalization.

Tell us about your strength which is also a facet of Madhu Infotech that segregates it in the industry.
Where most of the players in the market don't even care to quote a small-scale requirement, we strive hard to go beyond the norm and cater our clients by supporting them with the smallest need and never say no to any requirements. This is the kind of commitment we offer to our customers. To be fair, this is all possible because we follow a dedicated approach of capitalizing our strengths, along with upgrading our modus operandi and investing in developing our capabilities to fulfil the demands of our customers. To be more specific, our strength is the huge inventory of state-of-the-art IT products and our capability in serving customers' requirement in the shortest time period. These are the factors looking at which our clients rely on us and the same is the reason that segregates us in the industry.

Are you coming-up with any innovations for the future?
Innovation is an ongoing process and in the very DNA of Madhu Infotech. We have set a clear roadmap of developing our divisions while embellishing our forte. We are continuously upgrading our service capabilities and will be launching customer self-service portal for quick and easy support. In the next 18 months we will be adding about 6 new products in STOT which will be very useful for corporates in their day to day operations. We are upgrading CLINX with new features. Now our customers can hire manpower at zero cost leveraging the CLINX platform. They can also get funding from banks with which we have tied up at very low cost.

Manjunath H.V, Founder & CEO
A self-made entrepreneur, Manjunath is a professional with 20+ years of extensive experience in the industry and excels in handling all the operations within the organization.

Head Office: Bangalore
Divisions:
• WorthIT
• Lease Tech
• Extend Works
• Optibiz

Products:
• CLINX
• STOLT